May 14, 2015
Two Wheel Gear Introduces "The Classic" 2.0 Garment Pannier
The updated version of the Bike Suit Bag comes with added features that make it a perfect multi-mode commuter.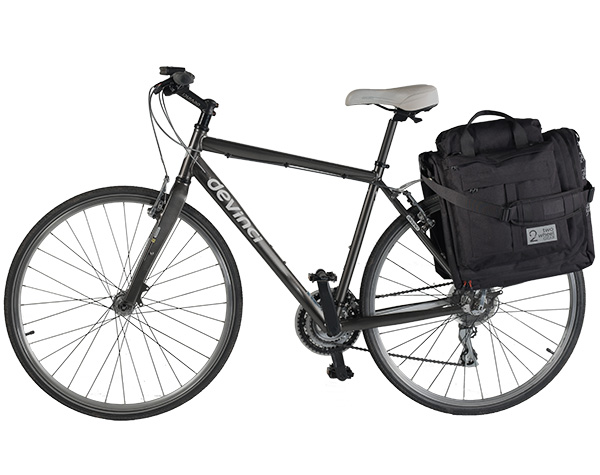 A common hesitation many people have about biking to work is that they don't want to arrive at work frazzled, sweating through their work clothes with helmet head and a flushed face. In reality, over half of the American population lives within five miles (8 kilometers) of their workplace, making bicycle commuting a relatively easy, sweat-free endeavour in most climates and terrains. For that segment of the population, bike commuting in sporty clothes with a packed change of clothing isn't really necessary. You can easily ride a bike in suit!
However, for some, a perspiration-free bike commute simply isn't an option. Whether it's steep hills, a long ride, a hot climate, or some combination of the three, some people will simply get sweaty. Packing your work clothes away in a backpack or pannier is an option, but for many people the idea of balling up your blouse and blazer into any old bag is about as desirable as using a garbage bag for a raincoat. It's the right idea, but it just doesn't work.
Fortunately, Two Wheel Gear has a solution. The recently released Classic 2.0 Garment Pannier is a bicycle-compatible version of the classic garment bag, designed with the clothing-conscious urban commuter in mind.
The double pannier is made of 600D Polyester with TPE waterproof backing to ensure your clothes stay dry, while maintaining a stylish, understated exterior that wouldn't be out of place in the office. A top hanger lets the pannier hang vertically for easy packing, while 3 internal mesh pockets, a padded laptop pocket, and deep side pockets allow for easy organization of shirts, ties, shoes, makeup, or whatever you need to carry.
Since most of us have to eventually get off of our bicycles, the Garment Pannier is designed to easily convert into a multi-mode commuter. A detachable shoulder strap enables easy carrying on foot, and even with 55L of carrying capacity (approximately 3-5 garments worth), the pannier still meets standard airline carry-on requirements. Whether you travel by bike, car, plane, or train, The Classic 2.0 Garment Pannier has the design and functionality to ensure you arrive at to your destination with crisp, clean, wrinkle-free clothing.
The Garment Pannier is available now in the Momentum Shop.
Autumn Gear Guide
Find inspiration in our Gear Guide that will keep you out on your bike through wind or rain.
Download Now