November 24, 2015
Islabikes CNOC 16 Kids Bike Review
We review the IslaBikes CNOC 16 kids starter bike.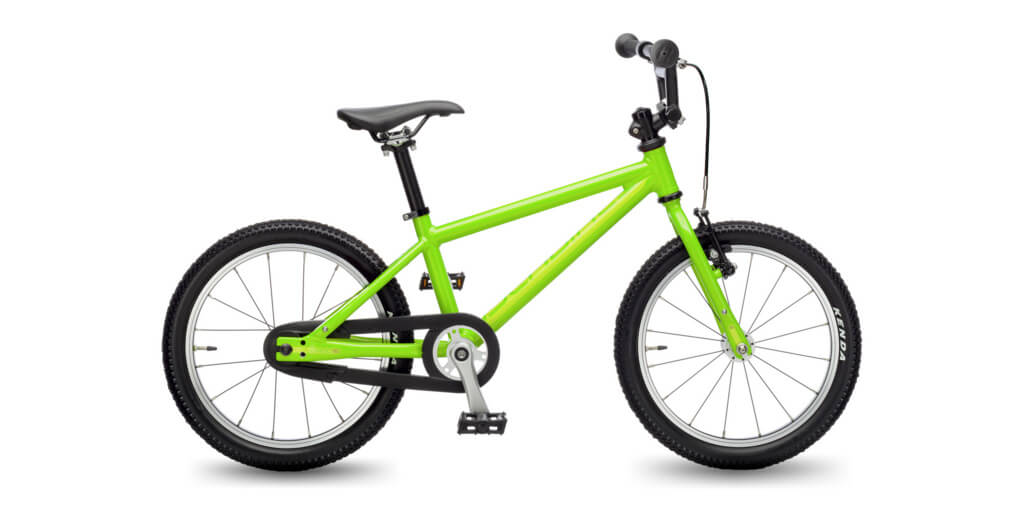 PRICE $309 USD
FIND IT AT  islabikes.com
SUMMARY
The CNOC 16 is a lightweight starter bike for kids age 4+ with a minimum inseam of 16.5 inches (42 cm). It has an aluminum frame, weighs 13.2 lbs., has a hand brake optimized for tiny hands, and has a fully enclosed chain. It has fittings for training wheels, and is available in Orange, Lime Green, and Pink.
TELL YOUR FRIENDS 
This is a thoughtfully designed bike, designed specifically for kids by Isla Rowntree, (great to see a female bike designer!). From the light action braking for tiny hands to the frame to the fully enclosed, free-floating chainguard and you can even add a fender that fits for those kids who ride in the rain. When I look for a kids bike, the first thing I look at is how much it weighs for two reasons. 1 for the kids to have a good experience and 2. for the car light parents who have to carry the bike on their cargo bikes or trailers when the kids get tired. At 13.2 lbs it is one of the lightest weight bikes available on the market
The Isla CNOC 16 is a perfect fit for 4−6 yr olds with a minimum inseam of 16.5 inches and a height of 41 inches. Isla Bikes has a very good size guide.
Because the Isla CNOC 16 is lightweight and has only one gear the bike is very easy to pedal and climb hills. If your child is using this bike for fun, for commuting, for sport then this bike does it all with ease.
WISH LIST
My wishlist, or rather my kid wished, that there was a kickstand and a basket. We can't wait to try the Isla Beinn 20 which looks like it has a bike rack and a kickstand and 7 speeds.
Autumn Gear Guide
Find inspiration in our Gear Guide that will keep you out on your bike through wind or rain.
Download Now