January 23, 2018
50 Bikes for 50 Kids – Building a Better Future
The event's strength lies with its ability to put a wrench in the hands of all.
What started off as a simple idea, to match volunteers with kids to build bikes, has turned into an annual one-day community event where over 200 volunteers donate 900+ hours.
"Kids, bikes, volunteerism – it doesn't get much better," said Abbey Stumpf, a founder of 50 Bikes for 50 Kids.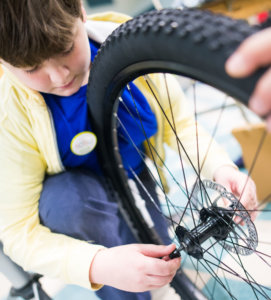 In 2008, Stumpf started the 50 Bikes for 50 Kids program in Alaska. This community service event takes place every Martin Luther King Jr. Day, a National Day of Service. The event highlights 50 amazing youth who are nominated by local leaders for exhibiting exemplary character traits throughout the year.
Kids are matched with teams of volunteers to assemble their newly awarded bikes. Volunteers are not bike mechanics and range from novices to cycling enthusiasts. The event's strength lies with its ability to put a wrench in the hands of all. Not only do the kids learn, this boosts everyone's self-confidence.
"50 Bikes for 50 Kids has a goal of not only putting bicycles in the hands of deserving youth, but creating an atmosphere of mentorship and learning. We are hopefully fostering a life-long love for bikes," continued Stumpf.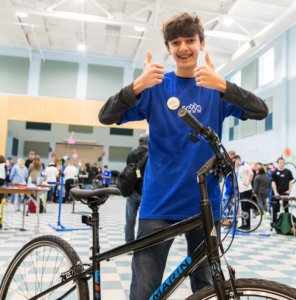 After several years of bike-building success in Alaska, Stumpf moved to Sacramento and joined the North Natomas Transportation Management Association (NNTMA). Now in its 6 th year in California, the event is going strong and more popular than ever.
"Business donors, who value mentorship make ithappen! The community loves this day and supports it year after year," said NNTMA Executive Director Becky Heieck. "In 2018, ninety businesses, organizations and individuals donated more than $30,000 toward this event."
"I'm proud of all that's accomplished through 50 Bikes for 50 Kids. It's empowering for both kids and adults. We are building a better future for our community – one bike at a time," concluded Stumpf.
To learn more about the 50 Bikes for 50 Kids event, visit NNTMA.org/50Bikes.
---
Autumn Gear Guide
Find inspiration in our Gear Guide that will keep you out on your bike through wind or rain.
Download Now