December 1, 2015
Arc'teryx A2B LS Men's Shirt Review
We review the A2B button-up performance shirt from outdoor outfitter, Arc'teryx.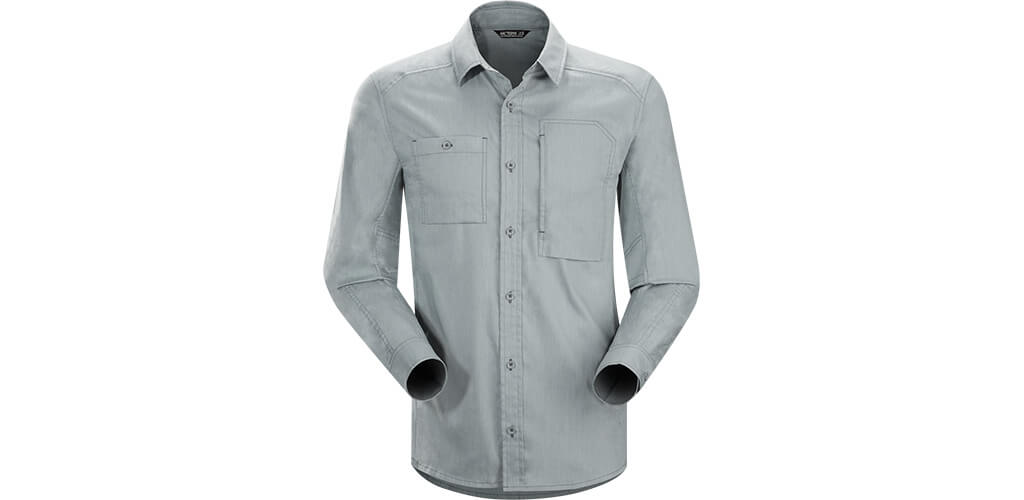 PRICE $99 USD / $100 CAD
FIND IT AT arcteryx.com
The A2B line from Arc'teryx is specifically designed for movement. For the A2B Long Sleeve shirt, this means a relaxed cut with subtly longer arms, articulated elbows, gusseted underarms and a back that won't reveal when in riding position. Available in three muted colors and constructed with Wye, a cotton/poly blend, for a lightweight, moisture-wicking and slightly stretchy shirt.
TELL YOUR FRIENDS
The attention to detail is what first caught my eye, an attribute this company is known for. The fit was shapely yet not too tight, allowing me to move freely while buttoned up and looking like I could ride right into a board meeting. I am familiar with the comfort of gusseted pants, but a gusseted shirt felt good in all the right ways. The zippered front pocket for smartphones or passports is a nice touch, and the zipper remains quite hidden from sight, too.
WISH LIST
I took this shirt while traveling on assignment – involving bicycles naturally – as my standard button down. While it performed quite well riding in humid conditions, the shirt needed much more care after unpacking from the suitcase as it seems to wrinkle easily. Although the care instructions advise not to iron, I found a pass with the iron on lowest setting was needed to eliminate the creases.
SUMMARY
Dressing up is fun to do, and long sleeve button-down shirts are my go-to when a t-shirt just doesn't cut it. Sure, it has a slight technical look to it with the zippered pocket and extra seams along the arms, but it's easy enough to pop this on and step up your game. The button cuffs gave me the freedom to roll the sleeves up a few times and the torso length is just right untucked (I am six feet tall and tested a size large). Aside from the post-travel wrinkles, and the fact I need to bust out the iron sometimes, it's a fine shirt that looks and feels good on me. It's the freedom of movement that really makes it.
---
David Niddrie is Momentum Mag's Creative Director. @DavidNiddrie

Autumn Gear Guide
Find inspiration in our Gear Guide that will keep you out on your bike through wind or rain.
Download Now