June 1, 2015
The Beret & Baguette Ride Comes to San Francisco
The fun-focused ride and picnic brings classic French bike fashion to the streets of San Francisco.
On June 7, 2015, the streets of San Francisco will more closely resemble the Parisian streets of yesteryear, as beret-clad bicyclists wielding baguettes and bottles of wine cruise through the city in celebration of cycling and vintage French fashion. It is the Golden Gate city's first time playing host to the Beret & Baguette Ride and Picnic, a social bike ride which began in Paris in 2010 as the French response to the London Tweed Run.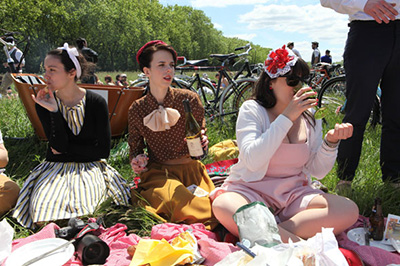 Having organized San Francisco's Tweed Ride last year, fashion blogger Melissa Davies of bikepretty.com decided the city needed a Beret & Baguette Ride as well to round out its cycling cultural education. Cyclists dress up in vintage French apparel for a fun social ride across the city, ending with a French-themed picnic in Golden Gate Park.
There will be a Schwinn Bicycles cruiser giveaway, as well as prizes for best-dressed, best picnic, and prettiest bike. Riders are encouraged to throw on a beret, roll up a blanket, pack as much fromage et baguette as they can fit in their basket, and come on down to experience the sheer joie de vivre in classic French fashion.
The ride kicks off at 11:00 am on June 7, 2015 at Dolores Park, finishing with a picnic lunch at Hellman Hollow in Golden Gate Park around 12:30 pm. For more details or to RSVP, check out the event's Facebook page.
Autumn Gear Guide
Find inspiration in our Gear Guide that will keep you out on your bike through wind or rain.
Download Now