March 16, 2015
Bikabout is a One-stop Resource for Bike-friendly Travel Planning
The curated city guides are a go-to reference for traveling with or by bicycle.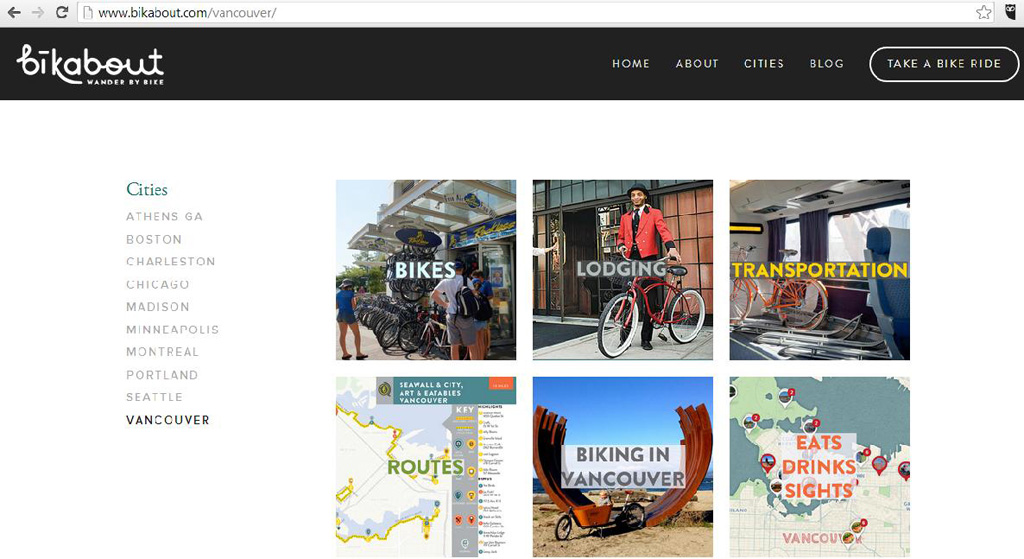 Megan Ramey, Founder of Bikabout, wants her site to be your go-to reference for bike-friendly travel. The site launched in January 2014 – first in Boston but almost simultaneously in several other North American cities. "I had been planning my own city vacations by bike and combining over 30 resources to make the trip happen, then not documenting it – so when friends asked me to recreate it for them I had nothing," said Ramey.
Bikabout is at its essence a referral service. Pick a city and then start with the ambassador-curated city guide. This spells out for you what transportation providers will get you to that city and lists which airlines, trains, or buses go there and what their bike policies are – all in one place.
The site also provides accommodation listings with a lodging directory of over 120 bike-friendly hotels. The listings include if the hotel has complimentary bikes, if there is secure parking, tools, or if the place offers extras such as a picnic basket lunch for your bike ride.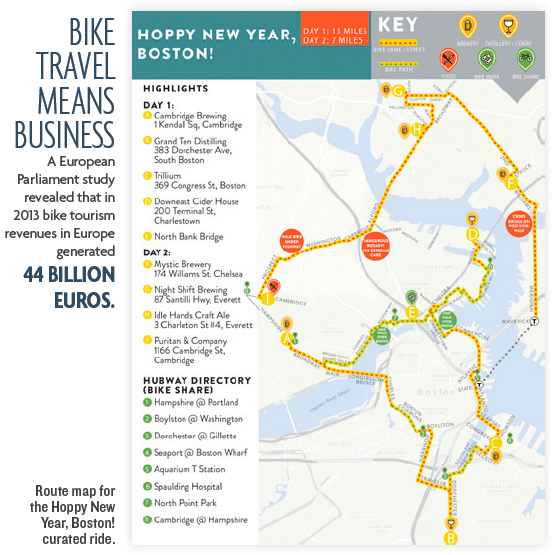 "There were three things that influenced me," said Ramey. "Wanting an online travel guide to reduce barriers in vacation planning by bike, trends of people interested in visiting cities and getting around by bike, and so many women – perfect strangers or friends and family – who said 'I would love to bike like you do but I'm too scared or don't know where to go'. From my own journey I know it's a gradual process. It takes a social, fun ride to get you hooked. Bikabout provides the gateway drugs for the bike curious."
Bikabout city guides also list local bike rental options, including bike share and Spinlister. Each city guide also has short blurbs on bike etiquette, culture, safety, and other tidbits specific to each city. "We recruit local ambassadors and they curate their favorite bike ride of the city," Ramey explained. These routes can be printed on one piece of paper double-sided or downloaded to your phone as an image.
"The routes are like mixed tapes," said Ramey. "You love listening to someone's mixed tape based on their personality and the routes are like that. You identify with the person who curates the route." The routes are all designed for use by anyone from age 8-80 and are less than 20 miles (32 kilometers) long with few or no hills and fun, scenic, and often delicious recommendations. Routes can include short day trips, longer day trips outside the city and back again, and weekend getaways. As travelers continue to look for ways to bike confidently around destination cities, Bikabout is there to help travelers improve these experiences.
---
Tanya Paz is a sustainable transportation consultant who lives in Vancouver, BC. For kicks she chairs the city's Active Transportation Policy Council, paints bikes on canvas, and copyedits for Momentum Mag.
Autumn Gear Guide
Find inspiration in our Gear Guide that will keep you out on your bike through wind or rain.
Download Now