October 11, 2018
The Gear You Need to Start Bike Commuting
There are many great reasons to cycle to work and you don't need much to get started.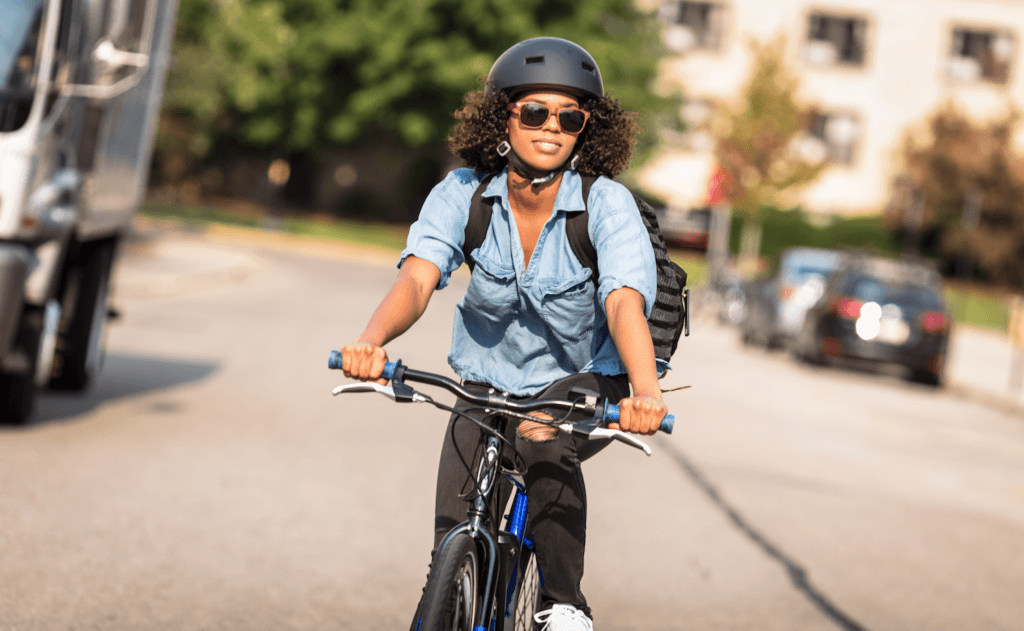 So you're finally ready to try riding your bike to work! Maybe it was the idea that you could save a ton of money by biking that finally convinced you it's time to hop on the saddle. Or perhaps it was being stuck in traffic and seeing cyclists ride by with smiles on their face. And don't think for a second that those smiles were just your mind playing tricks on you while going stir crazy in the car. Studies have found that bicycle commuters are happier than their car-caged peers. Whatever the reason it's time to sort out what you're going to need to make commuting by bike a reality.
You'll be happy to learn you really don't need much to get started! Here is a list of the essentials you need to start bike commuting as well as what's beneficial to have based on your individual needs and preferences.
The Absolute Essentials
Bicycle
This is the most essential item of them all. If you don't already have a bicycle you're going to need to invest in one. It'll be one of the best decisions you ever make. Before you buy try a few different bicycle types out so you can determine what the best bike for you is. Finding the right fit is also important because if it's not comfortable you're not going to want to ride it. Schwinn has a wide selection of bikes for all rider types and is a great place to begin your search.
Helmet
While we don't believe a helmet is absolutely essential, in many cities it is the law to wear one. Good bicycle infrastructure will save way more lives than a city's mandatory helmet law. However, if your city lacks safe bicycle infrastructure, you're new to cycling, or your riding style is on the more aggressive side helmets can provide the much needed protection and safety you need in case of a fall or crash.
The City Cyclist Essentials
Lights
Don't ride at night without bicycle lights! In fact, these should really be part of the absolute essentials and we encourage you to use lights during daylight hours as well. A helmet might protect you when you get hit but lights will help prevent you from getting hit in the first place. Lights help ensure you have the safest ride possible and keep you visible. You'll want a white light for the front and a red one for the rear.
Lock
If you commute to work there will most likely be times when you'll have to leave your bike for an extended period of time. This makes bikes susceptible to theft. A bicycle lock will help to deter thieves and keep your bike secure. Use this bike lock guide to help ensure your bike is properly locked.
Pannier/Bag
Planning on carrying your lunch, laptop or other work essentials during your commute by bike? You're going to need a pannier or backpack to carry everything in. A backpack traps heat on your back so if you're trying to remain sweat free a pannier is the best option as it moves the weight onto your bike.
Rack
On most bikes you can install a front or rear rack. If your bicycle doesn't come with one check with your local bike shop to make sure a rack is compatible with your bike. A rack will make it easier to carry things by bike and is required if wanting to us a pannier.
Fenders
If it begins to rain while you're on your bike or you think you might want to ride during the rainy season(s) fenders will stop wheel spray from getting you even wetter.
Bell
A bicycle bell helps to alert pedestrians or other riders that you're approaching. If you're ever going to pass someone be sure to give it a ring. If you don't have a bell use your voice and let them know you're about to pass.
Autumn Gear Guide
Find inspiration in our Gear Guide that will keep you out on your bike through wind or rain.
Download Now