June 1, 2016
Bikes and Beer are a Winning Combination for This Portland Bar
How do you increase your bottom line while staying true to your values? Pretty easily, as it turns out.
Given the many understood dangers of drinking and driving, one might be inclined to think a parking lot adjacent to a bar would remain only as a rapidly-fading relic from a less informed past. One would be wrong. Parking lots attached to bars remain ubiquitous in North America, and to an almost baffling degree, everybody seems to be pretty okay with it. So okay with it, in fact, that when Jesse McCann set about transforming the parking lot attached to his Portland, Oregon bar into an outdoor patio and bike parking corral, the neighbours thought he was the crazy one.
"Some were surprised at the 'novel use' of such a large outdoor space that had heretofore only been myopically considered as a parking lot," McCann explained. "Many thought the 'sacrifice' of 4 or 5 car parking spots in exchange for seating for 180 and bicycle parking for 63 was somehow unwise."
Six years later, booming business at McCann's APEX Bar has more than proved them wrong. On a warm night, the patio tables of the lively beer bar are packed, and the 63-spot bike racks are full to occasionally overflowing. McCann estimates that 25% of his year-round clientele arrives on bicycles, a figure which jumps to 75% in the summer months. But aside from enabling many more people to park on site than auto-parking would have allowed for, the conversion has also been a great way to organically attract new customers, and close up shop every night with a clear conscience. "The bike parking is a high visibility symbol of a welcoming and vibrant bar scene to entice the passing public," McCann said, adding, "I feel more responsible as an alcohol-serving establishment knowing that I'm not contributing to the ease of people driving drunk."
While people may show up to APEX Bar for any number of reasons – their ever-evolving selection of 50 beers on tap and 250 in bottles, to name a few – many come back because they know they'll have a secure spot to lock up. In a bike-happy city such as Portland, that kind of customer support goes a long way to building an appreciative and loyal clientele. But for McCann, it isn't only about the bottom line. "Bikes are cool, whether or not they're part of the current fashion," he said. "I've always loved riding bikes, and wanted to share that passion with others through a community space where you can get a good beer and have bikes be a priority instead of an afterthought."
A tandem bike hangs from the ceiling of the bar, and vintage cycling posters adorn the walls. In addition to showing motorcycle races and all the matches of the Portland Timbers soccer team, APEX also regularly shows bicycle races and cycling videos to keep people in the mood. On any given night throughout the year, you'll find more than a few happy customers who have cycled up to the bar to watch one of the races, play a round of pinball, or simply sit on the patio and people-watch over a cold beer. Those who doubted McCann's decision in the beginning have long since changed their tune, and his "unusual" use of his parking lot has become a successful business model that many other local business have sought to emulate.
"Beers and bikes, make those a priority and success will follow," he said. "That attitude has served me well."
---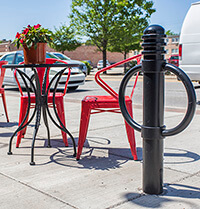 Want to attract more bike traffic to your business? Reliance Foundry offers several bike parking options—including bike racks, bike bollards and bike lockers—to suit any location. You neighborhood cyclists will thank you! View our products and read our blog at reliance-foundry.com.
Autumn Gear Guide
Find inspiration in our Gear Guide that will keep you out on your bike through wind or rain.
Download Now