October 16, 2012
Raleigh Clubman Bike Review
Momentum Mag reviews the Raleigh Clubman in size XL 62 cm.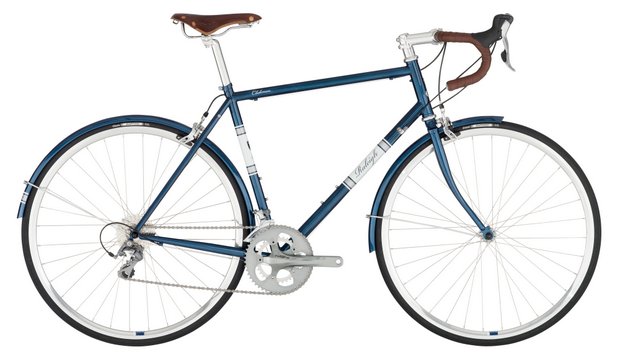 Price $1,200 USD
Find It raleighusa.com
Available Currently only available in US bike stores The Raleigh Clubman features a steel touring frame outfitted with a Brooks leather saddle, painted metal fenders, 20-speed Shimano components, and comfortable drop down bars. The test bike size was the XL 62 cm frame.
Tell Your Friends
The bike is beautiful and capable of almost everything. People will literally stop to wave at you, whistle, and yell things like: "Wow nice bike!"
Wish List
The stock pedal set is not comfortable for big feet. I had to remove the standard, medium size clips that come on the bike. The available gear ratios on the 20-speed are not ideal for places with super steep hills.
Ideal Rider
The touring frame makes this bike ideal for a city rider who may also want to take long leisure trips on the weekend. Rack mounts and a steel frame mean that the Clubman can handle the added weight of full panniers and bags.
Overall
Straight from the shop this bike is ready to roll! For its class, the Raleigh Clubman is a great buy and noticeably light at only 24 pounds (11 kilograms). The bike is beautiful, versatile, and suitable for people of all heights. The bike rides smooth and the shifting was seamless. Overall it handled like a dream.
This bike was generously put together by American Cyclery in San Francisco, CA. americancyclery.com
Autumn Gear Guide
Find inspiration in our Gear Guide that will keep you out on your bike through wind or rain.
Download Now