August 26, 2015
Buddy Bike Celebrates 10 Year Anniversary
Buddy Bike celebrates 10 years of bringing cycling to special needs children.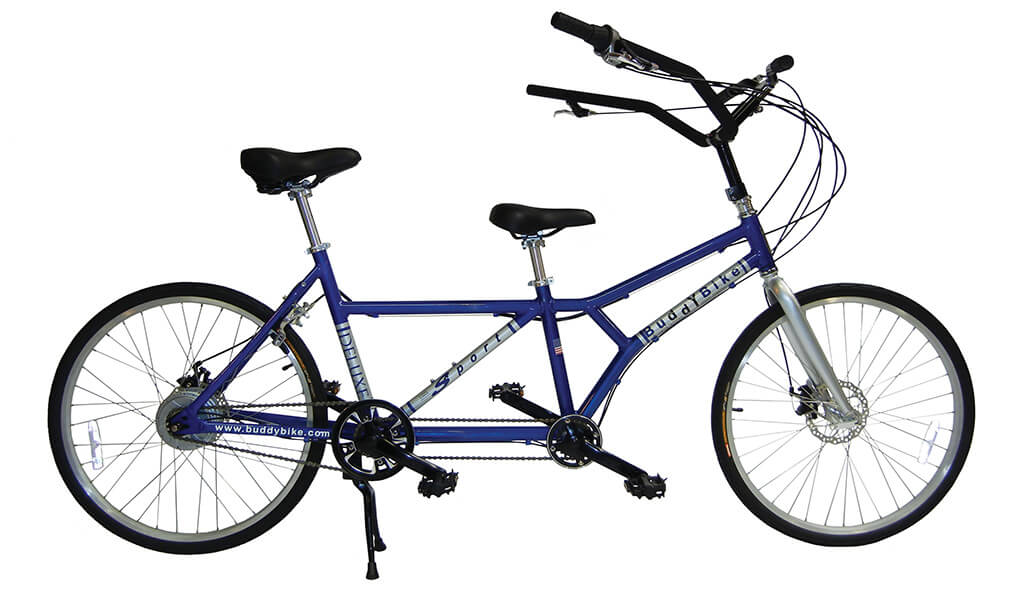 When Robert Gardner of Willets, California created "The Love Bike" in the early 1990s, he initially just wanted to market the bike as a family bicycle for parents to ride with their children. However Barry Nelson, a leading estate planning attorney in South Florida, recognized the specific capacity of the specialized tandem bicycle to bring joy to children with special needs. After riding "The Love Bike" with his son Jesse, who has autism, Nelson saw how happy Jesse was on the bike and how comfortable it was for himself as a parent. In 2005, Nelson purchased the patent and transformed The Love Bike into The Buddy Bike, hoping to encourage more families to cycle, especially families with special needs children who might otherwise never enjoy the thrill of riding a bicycle.
The Buddy Bike® is an in-line tandem bicycle that places the stoker in the front seat while the rear rider controls the steering. It has a lower front seat so both riders can safely enjoy the view.
Now celebrating the ten year anniversary since the first official sale of a Buddy Bike in 2005, over 800 Buddy Bikes have been purchased and shipped to families, schools, camps and organizations worldwide, providing outdoor recreation and therapeutic activity to countless special needs children.
Although cycling is great form of exercise, we are finding more and more that the benefits of cycling for children have numerous advantages beyond only physical health. Biking also supports the mental well-being and long-term mental health of children. With that in mind, it follows that physical activity would have positive effects on children with special needs as well.
To learn some more about the Buddy Bike in general and its positive therapeutic uses, we got in touch with Shelley Patterson, Director of Marketing and Business Development at Buddy Bike, LLC. Patterson, who has been Nelson's Marketing Coordinator since before Buddy Bike, had her work cut out for her when Barry called her about the patent purchase, stating simply, "I bought a bicycle, I need a logo." Patterson joked that she "almost had heart failure because I knew he needed much more than that!" 
When the company first went public, it was tough to find information specifically about biking as therapeutic recreation for special needs children, however, Buddy Bike was fortunate to be able to have The National Lekotek Center test and rate the Buddy Bike as a play product for kids of all abilities using the AblePlay Product Evaluation.
As a therapeutic tool, the Buddy Bike promotes better core muscles for stability and balance, provides visual and tactile stimulation, motor planning, as well as nurtures stronger visual processing and attention skills.
Moreover, the Buddy Bike also encourages better communication between the rear rider and the child since it is necessary to coordinate pedalling, turning, braking, or stopping. Patterson noted as well that it is "beneficial that the riders are so close together as it is very easy to communicate and practice verbal skills or to give words of encouragement." She also mentioned that in attending events, she has really been able to see the impact Buddy Bike has on parents to feel the sense of teamwork with their child.
Best of all, of course, is that biking is fun. Patterson related that while she can't see the face of the rider in front of her, she "can see the faces of the parents and the tears in their eyes when they see how happy and free their children are while riding the front of the Buddy Bike."
In respect to the bike itself, Patterson chose bright colors (Orange, Red, and Blue) "for safety and visibility." Although they are very happy with the current model, which is twenty pounds lighter than the original model, Buddy Bike is "constantly developing and improving our bicycles and adding new features as they become available."
For 2016, there are plans to build a 30 speed Buddy Bike Sport that will be arriving by the end of the year. As well, they are currently working on a special edition for The Great Bike Giveaway 2016 by The Friendship Circle, a non-profit organization affiliated with Lubavitch of Michigan. The bike will be manufactured in their light blue with The Friendship Circle's logos.
Buddy Bike sponsors The Great Bike Giveaway each year, donating two bikes to the contest as well as offering a discount to the organization to fundraise in order to add more bikes to the contest. "The Great Bike Giveaway has been by far the biggest triumph!" Patterson said. "The contest allows us to give our bikes away to families while still making sales so we can build more bikes for more families!"
The current Buddy Bike model includes custom handlebars, however, most other parts of the bike – such as the pedals, seats, and grips – are all standard and other accessories can easily be added. Patterson suggests that "the most beneficial accessory would be to add a bike holder for a tablet so kids with autism can have their communication devices right in front of them while riding."
Buddy Bike works very hard to put families in touch with funding options as the bikes can be expensive for many families who have special needs children. In addition, Buddy Bike, LLC offers a discount to any non-profit organization that helps families obtain adaptive bicycles.
When asked about where she would like to see Buddy Bike in another ten years, Patterson's said that her "dream for Buddy Bike is to have a van to go on the road to promote adaptive cycling with bike rodeos. I think a lot of families and medical professionals don't know what is available. It would be amazing to bring a variety of bikes to them for actual hands-on experiences and fun!"
Autumn Gear Guide
Find inspiration in our Gear Guide that will keep you out on your bike through wind or rain.
Download Now