May 21, 2015
Cadence Collection Raw Denim Review
Momentum Mag reviews the Raw Denim cycling jean from Cadence Collection.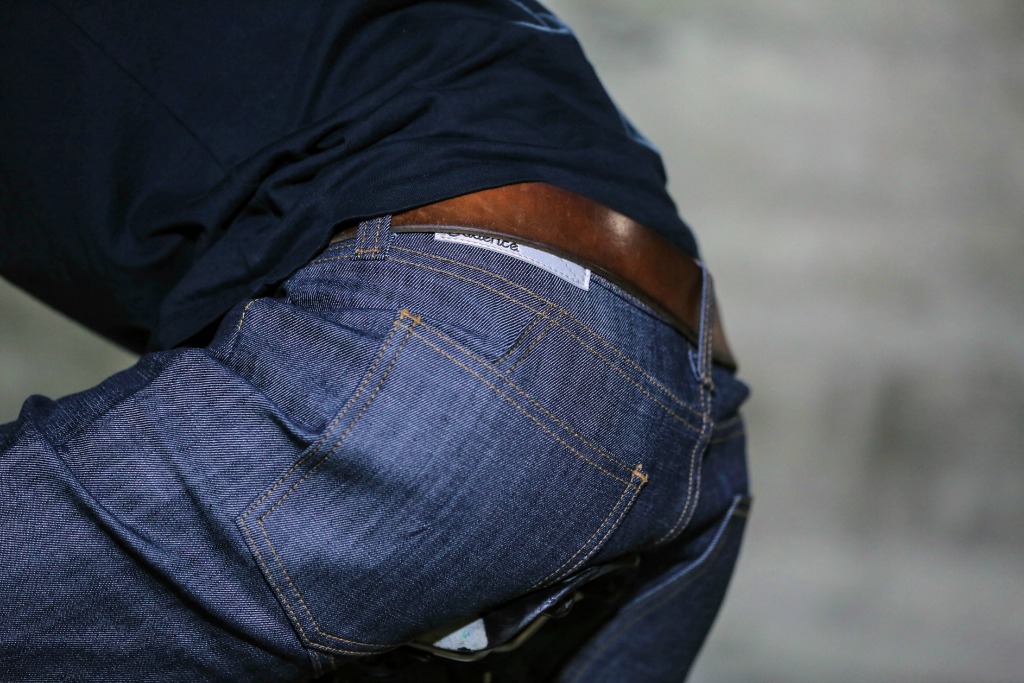 PRICE: $110 USD
FIND IT AT: cadencecollection.com
Raw Denim by Cadence Collection is made of raw, untreated 12 oz. with 2 percent Lycra. The patented Cadence seat reinforcement is designed to slow blow out from riding and the back pockets are double layered. The fit is tapered and all sizes feature a 32″ inseam. Designed to look better with age and includes a reflective patch detail for a little added flair.
How do you wear your jeans?
"Everything You Need to Know about Cycling Jeans"
TELL YOUR FRIENDS
Jeans with a little extra stretch don't need to feel like they aren't made of denim. The Raw Denim by Cadence have the feel of regular jeans with a slight stretch only really noticeable while pedaling, whether riding upright or bent forward. While the seat reinforcement isn't designed to prevent saddle wear, it does help in extending the life of the jeans if this is an issue for you. Also, the main cycling-friendly features of these jeans are pretty much hidden being that they include the fabric, fit, and reinforcement.
WISH LIST
The jeans do stretch out with wear (shrinking back to size when washed), which means I could have gone one size down for the slimmer fit I prefer. At 6'1″ the 32″ inseam fits me perfectly, but taller individuals may be out of luck.
REVIEW
For this Raw Denim by Cadence review I have worn these jeans regularly, often several days in a row and on short rides to the store, longer rides to cross-town destinations, and on longer walks. The subtle stretch in the fabric really stands out while pedaling and provided just enough give to allow the jeans to move with me. While I've never had an issue riding in heavier denim without any stretch, the added bit of comfort was certainly a nice luxury.
The double layer of fabric that makes up the diamond-shaped seat reinforcement was noticeable at first, adding a bit of stiffness to the seat, but didn't affect the look or fit of the jeans. The extra fabric covers the areas where saddle wear is common and didn't feel uncomfortable (or noticeable really) while on the bike. After switching from a saddle with stitching seams along the edges to a smooth one I've had no issue with wearing saddle imprints into my jeans or trousers, so for me this feature may be overkill. But, if you spend a lot of time on your bike and experience saddle wear, you'll benefit from the seat reinforcement.
The fit of the Raw Denim adds a little extra room in the thighs and tapers nicely to the ankle. The taper meant never having to cuff the jeans to keep them away from my partially exposed bicycle jean and the added room at the thighs contributed to their overall comfortable in motion fit. There is a reflective patch at the waistband, moved to the left side of the rear rather than the traditional right side. While made using super reflective materials, the patch was covered mostly by my belt. It's a nice branding touch, but I wouldn't rely on it for visibility.
Over the course of a day the denim would slowly stretch out, most noticeably at the waist and rear from sitting (I spend much of my day in front of a computer) and a bit around the knees. Most other jeans I've worn also do this, so it wasn't much of an issue and a wash and hang dry would bring the denim back to its original shape. If you do prefer a slimmer fit, I would recommend going for a size that fits snug before washing to allow for the stretching.
Overall, the Raw Denim from Cadence Collection are great looking denim with subtle bike-friendly features built into the fabric and fit. After several months of wear the jeans are showing no sign of wearing down or any issues with the seams, so I imagine they will remain a staple in my wardrobe for a long time to come.
---
Duncan Hurd is the Managing Editor at Momentum Mag. He lives in Toronto, ON.
Autumn Gear Guide
Find inspiration in our Gear Guide that will keep you out on your bike through wind or rain.
Download Now