October 1, 2018
The Cargo Bike Diaries (Part 2/2)
Convenient, kid-friendly and capable of hauling almost anything cargo bikes allow their proud owners to go car free or car lite in Ottawa and savour the ride.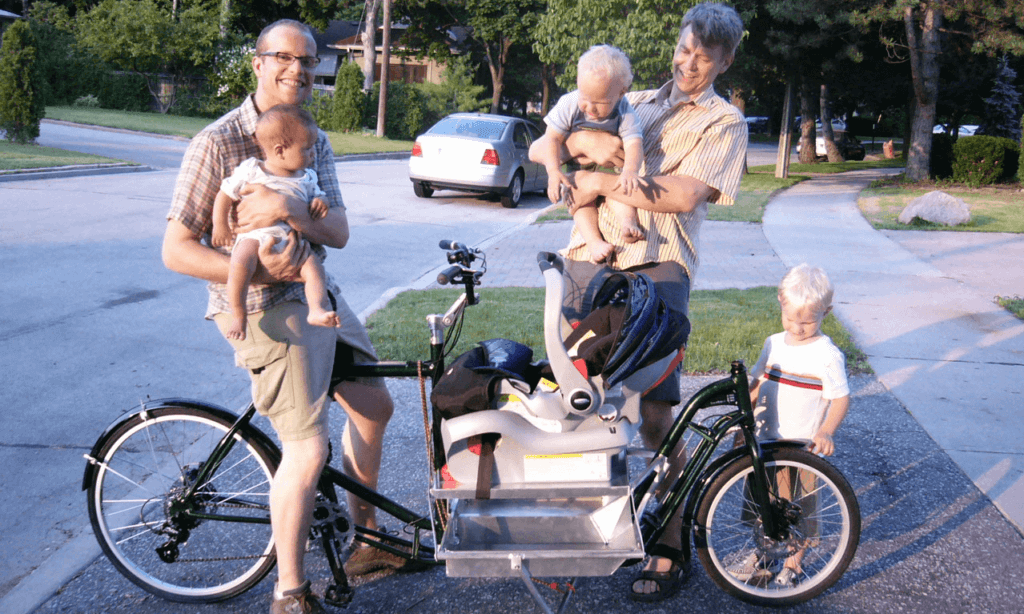 In recent years there has been a surge in cargo bike users, in part, due to the fact that cities are committing to building safer bicycle infrastructure allowing families to feel safer about transporting themselves and their precious cargo by bike. In part two of The Cargo Bike Diaries we highlight more people in Ottawa who have discovered cargo bikes and want to share their stories in hopes that they inspire more people to ditch the car and put the joy back into their commute.
If you've got questions about what a cargo bike could do for your family read the stories below and you might just find the answers you've been looking for. Missed part 1 of The Cargo Bike Diaries? Read it here.
Jessica (Nihola)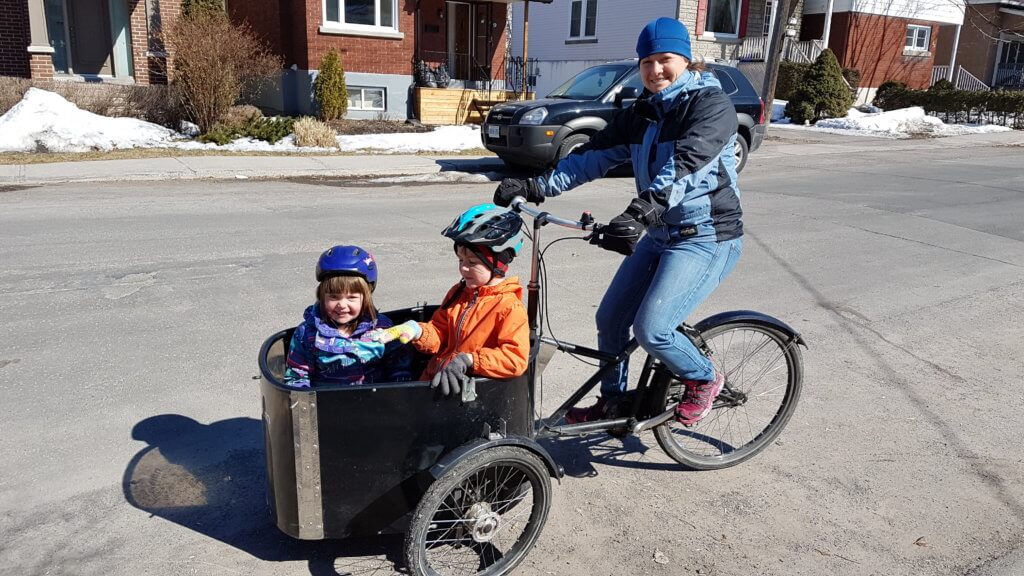 Riders:
Jessica Shehan with son Connor (7) and daughter Brianna (4).
A little about me:
I grew up in a very physically active family and became concerned about the environment at an early age. I also developed a medical condition during adolescence which prevented me from driving a car.  Just after getting married, my husband and I went on a trip to Copenhagen. In Copenhagen, bikes are the main form of transportation and there are bucket bikes everywhere.  We got to see firsthand how great bucket bikes
were for travelling with kids in the city and I fell in love with them.
Type of Bike:
Nihola Family Cargo Bike
The 3 wheeled bike has a huge front bucket with a bench that fits 2 kids up to 8 years old.  The padded bench comes with a three point harness and a seat belt and can easily be removed. Our bike has a protective rain hood (which we store under the bench seat) that provides full protection from wind and rain.  It also comes with a built-in wheel lock.
Where we ride:
School, daycare, the park, the grocery store, along the river, local shopping, out and about for fresh air.
Why:
The bucket is big and fits both kids plus lots of gear.  It is great for going to the beach or on picnics. We also use it to go on bike rides.  If one of the kids gets tired they can hop aboard the Nihola with their bike.
With the kids sitting right in front of me, I can talk to them while I bike.  As opposed to trying to yell back and forth to them like I do when we are cross country
skiing and I'm pulling them in the chariot. Now that they are bigger, when we go on outings I can ask them to pass me food, water, look at the map, etc.
I feel safer with the kids in the same vehicle as me and I can see what they are doing at all times.
Since I don't have a car, I use my Nihola to do my shopping, get groceries and transport the kids.
I love the built-in wheel lock that comes with the Nihola.  You never have to worry about where or how you are going to lock it up.
Purchasing story:
Just after my son was born, my aunt saw my Nihola for sale in a bike store in Halifax.  Knowing how much I loved the bucket bikes in Copenhagen she bought and shipped it to me. I am eternally grateful to her.  I have had my bucket bike for seven years and I don't know how I would have survived without it. While it is sometimes hard to get up steep hills and doesn't turn on a dime, our family has found that it is very well suited to our lifestyle and to living in Wellington Village area.
Joseph (Xtracycle FreeRadical)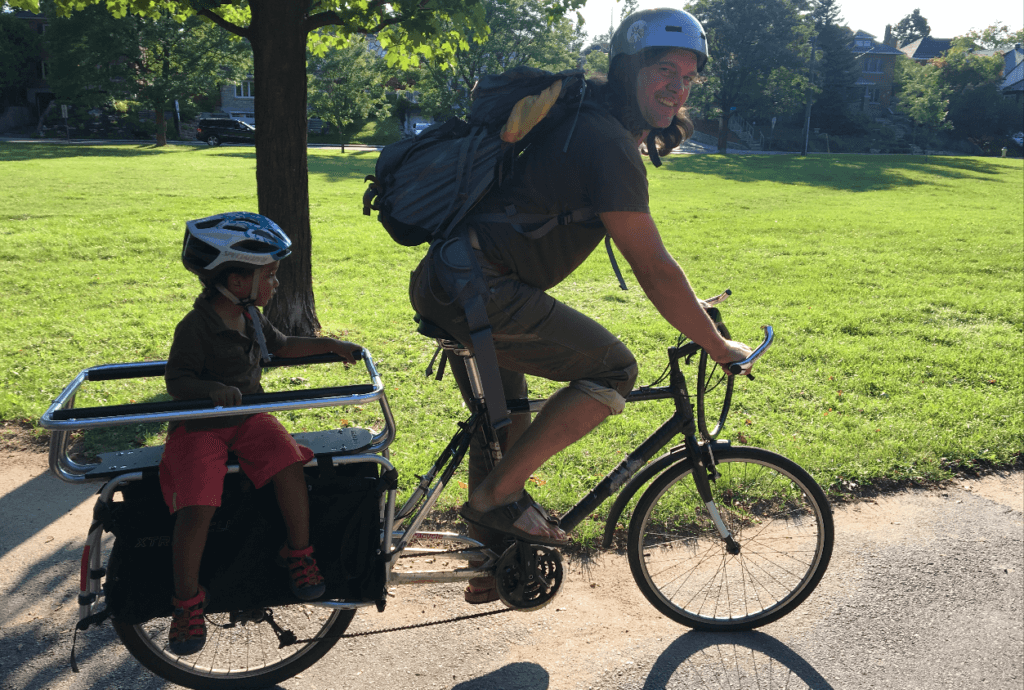 Riders:
Joseph McHattie with sons Emmanuel (6) and Gabriel (4). Spouse Gloria has a Dutch cruiser bike.
Type of Bike:
Mountain bike with an Xtracycle extension, seating 3 children or 6 grocery bags.
A little about me:
I pursue simple a life as possible in our complicated world. I balance a professional life, young family, side business, community, outdooring and campfire cooking, almost successfully, with insufficient timelines. Cycling is a pleasurable break from the grind, but there is no more time for recreational cycling.
Where we ride:
To school; to community events; to the grocery store; to the beer store; out and about for fresh air.
Why:
Bicycles are the most convenient way of travelling in a dense city and they do not run on fossil fuels. Apart from being fast and cheap, cycling puts you in a good mood and gives you wind in your sails to meet the day's challenges. And I was surprised about cycling with young children. Unlike in vehicles, kids on bikes stay engaged with the world around them and eager to talk to you about what they see. I also liked winter biking with my toddlers to weatherproof them early in life. Now my kids are eager to set out on their own bikes at every opportunity, in all weather.
Purchasing story:
This neighbourhood is amazing for cycling technology. You can see just about every kind of bike accessory, modification and evolution available. From the first time I saw an Xtracycle, I was sold. It looks like a long skate board deck with saddle bags fixed above the back wheel. Children hang on to handles or rails by themselves rather than get strapped in. And the deck is perforated so that bulky loads can be strapped on securely. I particularly like how the children sit up high, tight against my back. I don't have to worry about visibility, maneuverability or taking up too much space on the road. I was lucky in purchasing one of the last Xtracycle extensions before production stopped.
Chris (Xtracycle Edgerunner)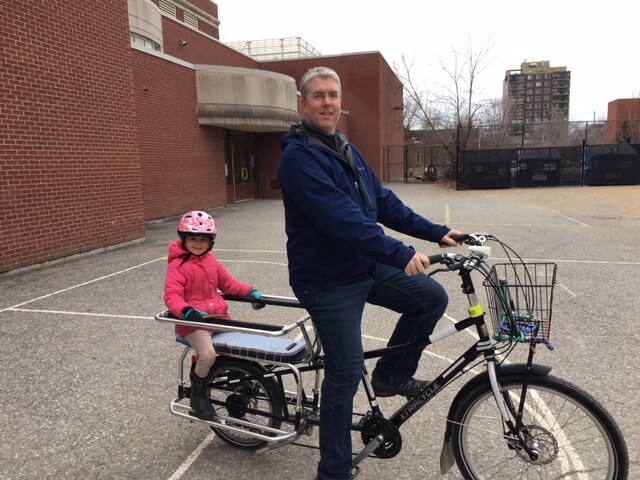 Type of bike:
Xtracycle Edgerunner with a Hooptie
A little about me:
I moved here after living in Copenhagen for five years and never wanted to give up riding a bike, even if Ottawa's urban design is a lot more hostile to cyclists than Copenhagen's.
Where we ride:
To work, to school, to the supermarket for the weekly groceries, to parks. For more than 99% of our activities, we don't need a car, and don't have one.
Why:
I have quite serious lower back issues, enough that sitting and walking can become very painful, and discovered that riding a bike is the most comfortable way to get around the city. When the kids were smaller I could pull them in a bike trailer more easily than I could push a stroller, and when they outgrew the trailer I had to find another option, so upgraded to the Xtracycle. It's the easiest way to get the kids home from school.
Purchasing story:
I'd seen more and more long-tails around  and had to try one. My local bike shop had a few for sale, so I took it out for a test ride. Although it was really quite uncomfortable at first, I could sense the potential. Grant at Tall Trees ended up working with me for a few months ordering parts, and trying different setups, before we found the right fit and I could ride it without pain, and I'm so grateful for all the help. As soon as the kids rode on it they loved it too.
Bicycles – including cargo bicycles – flatten cities and provide mobility. I've had mine for a year now, and I'll be keeping it on the road for many more years to come.
Riders: Bonnie Findley with son Samuel (2 years)  and dog Fernando (10 years)
A little about me: I work in Photography and Video Production for the University of Ottawa. I was convinced I could have a baby and wouldn't need to buy a car. Our Cargo bike is our main source of transportation. I've always used a bike as my main source of transportation I love the physical benefits, and the cost savings I've had of never having owned a car.
Bonnie (Bertus)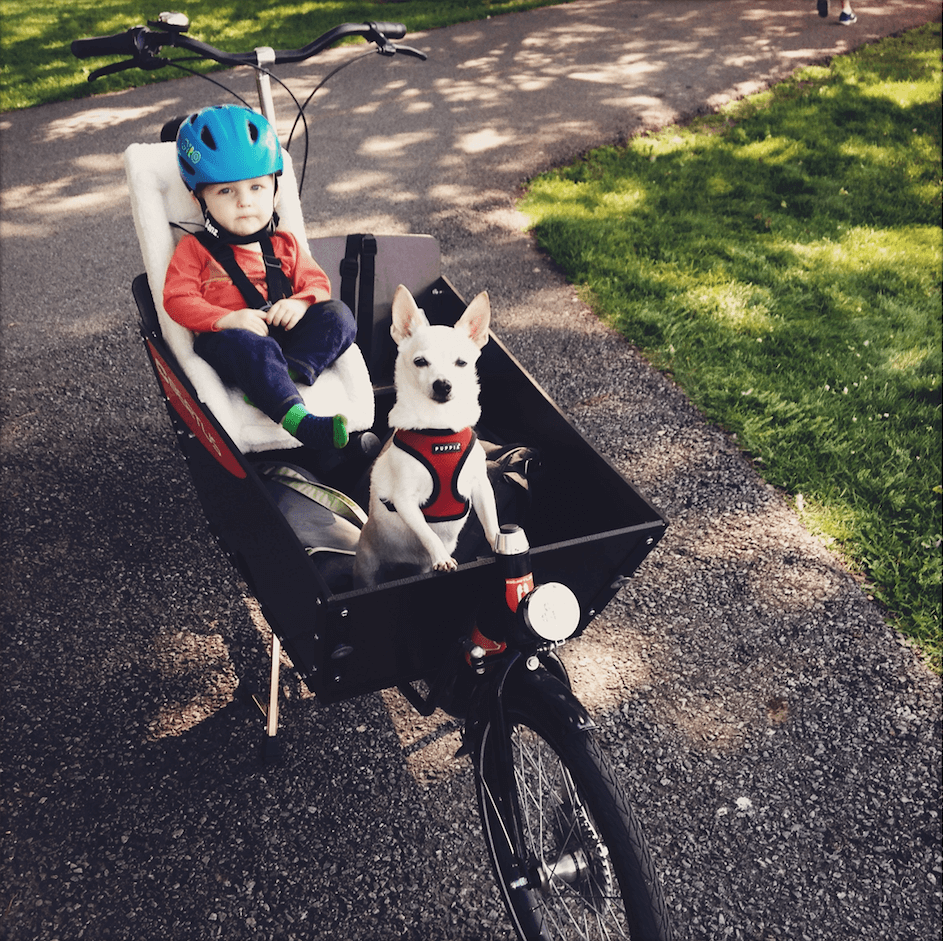 Type of Bike:
A Bertus bakfiets
Where we ride:
To daycare, the grocery store, farmers markets and everywhere else!
Why:
Because it's fun, and a pleasure to ride. I love my cargo bike more then any bike I've owned.
My son gets to see everything and point at all the "doggies" and other bikers and we learn about the world together.  I can easily talk to him as he's in front of me.
I can see him in the bakfiet I can see when he throws an object from the bike (no lost toys or grocery items!) I like the safety of knowing what he's up to.
We have a cover for the "box" and my son can be protected in rain, or windy days, we bike from April to Nov. As long as there is no snow on the ground.
It's a big bike but it drives so easily I forget, the only drawback is a big hill can be a challenge when fully loaded with kid, and a heavy load.
My favorite reason for the Cargo bike was to take our dog with us, I think the dog loves this bike more than us! We get lots of looks and "awws" when people see the Chihuahua at the helm of the box, he makes an excellent "hood ornament."
Purchasing story:
Long before I had a kid I would see a bakfiet  in my neighborhood. My neighbor Daniel had one and it just looked like such a great idea and his son loved it. My favorite scene was seeing him drive by the house with his son and wife in "the bucket".  I made up mind then. I bought my bike when my son was 12 mths old and we had the best summer biking around. Looking forward to this year.
Elizabeth (bakfiets, electric-assist)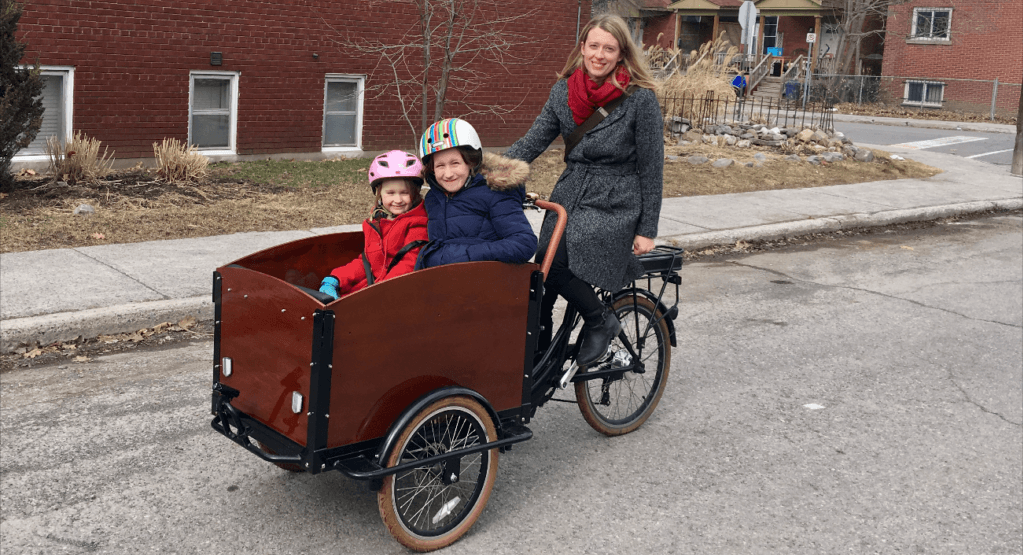 Riders:
Elizabeth Allingham with daughters Autumn (9) and Florence (5)
About me:
My husband Chris and I live in Ottawa with our two daughters. I am a Director of North American operations at Mobycon, a Dutch Canadian sustainable mobility consultancy based in Delft, the Netherlands and Ottawa, Canada. Our Dutch inspired bakfiets is one of my favourite ways to move around the City!
Type of bike:
Black, three wheeled electric bakfiets with 6 speeds and room for 4 kids (or 150 Kg carrying capacity).
Where we ride:
We use the bike for trips to and from school. During the day I may use it to get to meetings with partners or clients. Once I pick up my youngest daughter, we make our way to pick up my older daughter.  It's easy to make stops on the way for groceries or other errands. After school we're able to go to places like the library or to after school activities like swimming lessons.
Purchasing story:
Although we had dreamed of getting a cargo bike for many years, it was hard to justify the expense when my kids could easily walk, bike and scoot to school and activities. When my older daughter changed schools we needed an easy way to do two pickups. The cargo bike was the perfect solution! After looking at various options on the market, we knew we wanted a big, three wheel bike to give us more freedom and flexibility. Having electric assist meant we could travel farther and still manage a heavy load regardless of any hills!. We have had no regrets and enjoy every opportunity to leave the car at home. The previous owner bought the bike online and imported to Canada direct from the manufacturer in China. We were lucky to buy such a great bike on the second hand market.
Tips you have for others:
First and foremost, don't be surprised if lots of people want to come up and talk to you when you're out on your bike. All ages of people love to look at the bike and ask questions. The feedback is always very positive!!! My kids are getting good at answering some of the most common questions.
Electric assist means that I can take the best route and not worry about hills or a longer distance. I get to control whether I use the battery power or not, and how much "assist" I need. This bike replaces many car trips for our family and is a happy and relaxing way to get fresh air and exercise.
Although the bike weights about 65 Kg, I'm amazed about how easy it is to operate thanks to a little help from the battery.
A three wheel bike is very stable. For the first few trips I was a bit unsure about the side to side movement that occurred with uneven pavement. Now I hardly even notice it. Unlike a two wheeled bakfiets, there is no need to worry about balancing cargo in the box. My kids will decide who is sitting where and school bags and groceries will fit in beside them.
The battery charges in a few hours and a charge will often last 3 or 4 days. The battery will drain more quickly when it gets cold.
Although my 9 year old is able to ride her own bike a lot of the time, there are some intersections or busier streets that are very challenging to navigate. Each trip, my daughters have a front row seat in learning how to navigate various traffic scenarios safely. It's also nice to have both kids in one place if we are traveling home after dark.
Viven (Xtracycle FreeRadical)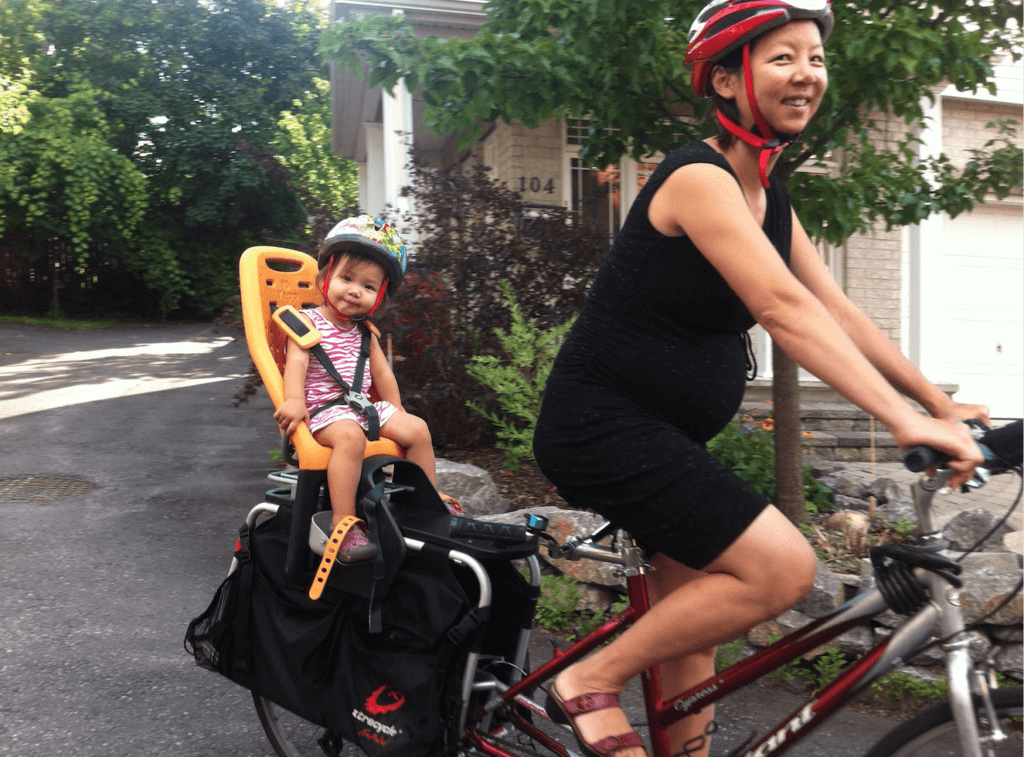 Riders:
Vivien Lo (mom), Mark Samborsky (Dad), Costa 9, Mila 6 and Anton 4
A little about me:
I have two degrees in saving the earth, BA in Land Use and Masters in Planning. I used to exercise those degrees a lot more in the government, but switched roles about 10 years ago. Still, we live in the inner city were walk-ability and bike-ability is great.
Type of Bike:
Giant Commuter Bike with Xtracycle FreeRadical Conversion
Purchasing story:
My own old commuter bike is now an extendable Xtracycle retrofit. I bought my commuter bike under the bridge in the canal by Chateau Laurier for almost half price at the end of the season and rode it till I had kids. Then we bought the FreeRadical, found Tall Trees that was willing to install it, ordered extra parts for a junior seat (Yepp). I actually bought the Yepp Maxi second-hand from a friend. We had the wooden seat and had to order the plastic one with holes that could take on the Yepp plus other parts.
Where we ride:
From Bronson/Gladstone area, to school, museums, events that we normally can ride to, baseball practice, some groceries, shopping and summer camps. I definitely go farther in it than where I would take kids on their own bike with supervision. We do ride across the river to Gatineau, to Westboro, experimental farm, Main Street area, Ottawa U and even a bit further.
Our limits so far are taking it camping. l'd like to, but worry its too wide to fit across the back of our car. I could see so many benefits to taking it camping, to visit my sister in Toronto, etc.  I like how stable it is and easy to turn but I don't take my two older kids on it together anymore, thats too much manoeuvring for me with their weight in the back. But the oldest one alone is fine for long rides on his bike. I'd take either of them alone. My husband is very good to take the older kids and more weight.
However, I did take the two oldest on it when I was very pregnant with the 3rd and that was no problem.
Why:
Its a great solution for 3 kids, the panniers are big so I can throw stuff in, including lawn chairs, coolers, yoga mats, baseball bats, and even a strider bike. Kids know to throw their helmets there when we park. I actually found kid lawn chairs people were throwing out in the front lawn and I was able to put in the pannier.
When your wee one starts to bike, they actually can't go too far safely, the idea of building in a practical destination is limited. The inner city commuting traffic is busy, even with all the bike lanes. The cargo bikes encourages them to enjoy cycling without having to take their bikes out. Or they are not in the mood to pedal. I also find that where one would normally opt to drive because it takes forever to prep the toddlers and preschoolers to walk or take a wagon, the bike is so much more efficient.
Its been great to haul them as soon as they were one year old. When we had the Yepp baby seat for a long time, they would even nap in it.
If there is pick-up drop off, we can coordinate one bike and then the other could drive if necessary.
Its a better bike to maneovour than a trailer or giraffe. Its not just a weekend recreational ride. We really get around in it. Street parking in many of the inner city places we go to can be hard to find or expensive, in some of the more official places such as museums and universities cost parking costs over 10$, so the biking is a great way to save time and money as I don't have to drive around the block.
I think we've had it for almost 6 years. The kids love it, they've got their own bells and copy our hand signals. It does drum up a lot of conversation which is great. I could see the kids using it on their own as they get bigger. It really helps a family of five keep the car needs down.
I wish there was more of a chance to try cargo bikes out. I took a chance and even as my kids get older and I am less able to take the older two its still so worth it! If I have to run out with one of the pick something up, the panniers are so spacious. It was not hard to integrate into our lifestyle as we were using our bikes as a means of transport before having kids. I think we spend too much time humming over trailer versus other options. I wish more people used it, not just for kids, but to haul stuff and not focus on cycling as a sport.
The Xtracyle in our house is known as the "family bike", I have my own lighter new bike to commute, and the Xtracycle has a seat that is very adjustable between my husband and I.
Graeme and Sophia – Long John and City Twin
Riders:
Graeme Hussey with sons Kai (11) and Jonah (6).
A little about me:
Originally from Nova Scotia, I now live in Kitchissippi with my partner, Sophia, two sons, Kai and Jonah, and dog, Abbie. Our family has chosen to live a car-free lifestyle; living in Kitchissippi allows us to do that quite easily.
Type of Bike:
A long tail "City Twin" by De Fietsfabriek.
A "Long John" cargo bike handcrafted by Pauyl Laursen of InvoDance Enginnering
Where we ride:
To soccer games at Fisher Park, to swimming lessons at Plant Bath, and to Saturday morning Chinese School at Adult High School.
Why:
Our youngest son, Jonah, is still learning to ride a bike. Nowadays I use the "City Twin" to shuttle Jonah around to lessons, while Kai rides his own bike. But when Kai was younger, I would use the bike to shuttle them both around.
Purchasing story:
The bike was brought over from Holland by a couple moving back to Toronto. When they decided to sell it, a mutual friend let me know because I already had one unusual bike – a long john cargo bike. I guess they figured I'd be interested in adding to my collection. They were right, of course!
Tobin ( Xtracycle Edgerunner)
Riders:
Tobin Kelly or Darlene Moll provide the pedal power to haul their girls Clementine (7) and June (5) around the neighbourhood and beyond. On occasion, a friend can squeeze onto the Xtracycle bench seat to make three passengers.
A little about us: Tobin is a high school teacher and Darlene works in higher education. During the warmer months, cycling is their preferred option for daily commutes to work. As a one-car family, cycling with kids on the Xtracycle or without kids on city commuters is part of their spring-summer-fall routine.
Type of Bike:
Xtracycle Edgerunner
Where we ride:
To school; to kids' activities (art class, judo, swimming, dance and daycamps); to parks and/or wading pools; to the grocery store; to the favourite breakfast spot; for wine/beer runs; and to The Merry Dairy ice cream shop. Luckily these are reasonably short hops from home and they often get strung together. And without the kids a few lengths of webbing attached to the Xtracycle hooptie can secure large pizzas boxes – four is the record so far.
Why:
Biking to and from daycare providers was a great way to introduce the girls to cycling and door-to-door it was often as fast as driving. Once both girls were in daycare the handle bar mounted child seat was not enough and it was time to explore two children on one bike setups.  Now — nearly four years later — the Xtracycle still hauls the kids but it make it easy to stash their pedal bikes or scooters when they get tired and there is some distance to get back home.
Purchasing story:
After many hours spent researching cargo bikes via the web and then test rides at our LBS Tall Trees Cycle, the Xtracycle Edgerunner was deemed the best fit. It felt solid and braked well. Darlene placed the order in February 2014 and the bike arrived in time for the spring melt. Tall Trees Cycle's staff was great through the whole buying process.
---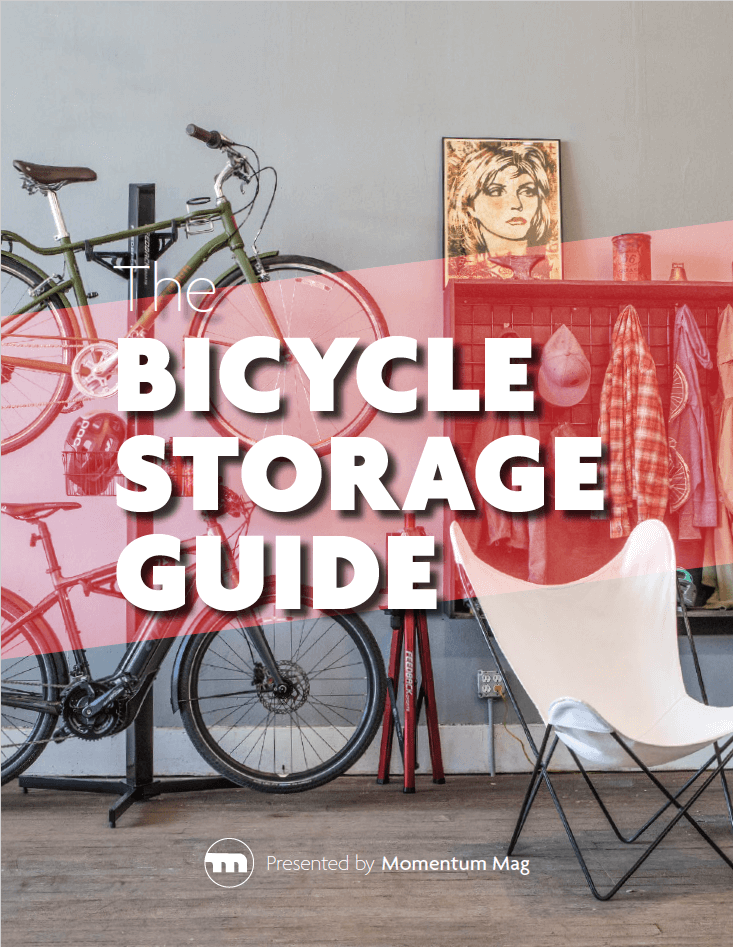 ---
Autumn Gear Guide
Find inspiration in our Gear Guide that will keep you out on your bike through wind or rain.
Download Now