June 22, 2018
The Cargo Bike Diaries (Part 1/2)
Convenient, kid-friendly and capable of hauling almost anything cargo bikes allow their proud owners to go car free or car lite in Ottawa and savour the ride.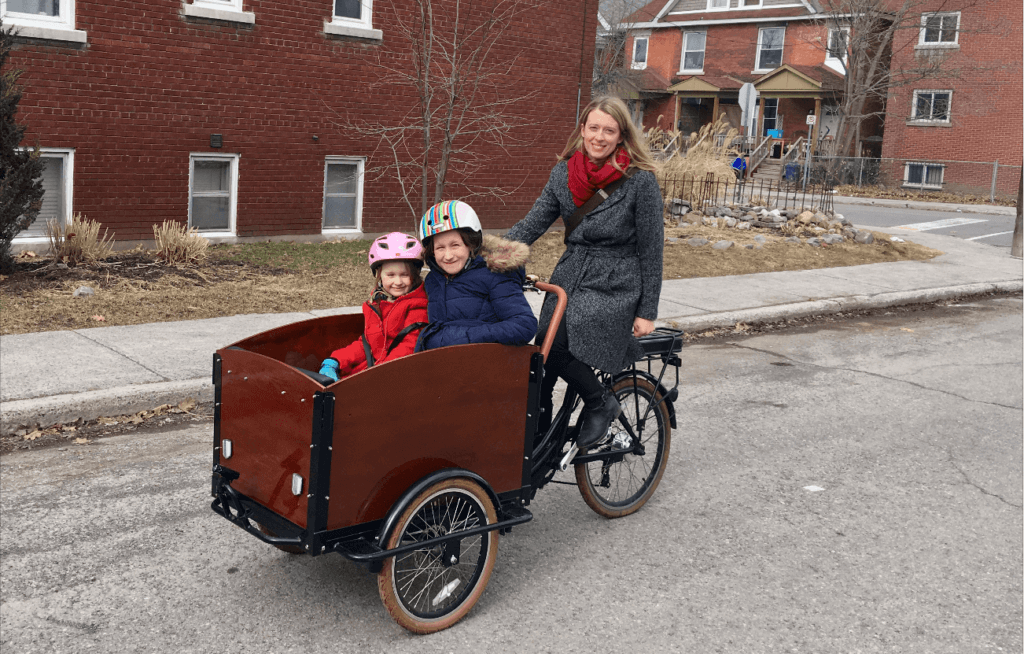 Cargo bikes are all over our west-of-downtown neighbourhood. Lined up for soccer practice, parked right beside the door at the neighbourhood pool where parking is always at a premium and waiting outside the market, the barber shop, the post office, the bakery, the brewery. Convenient, kid-friendly and capable of hauling everything from a new rider and her first two-wheeler to a Christmas tree, these cargo bikes allow their proud owners to go car free or car lite and savour the ride.
Whether they facilitate the daycare drop off and journey to work in one sweet ride or whether they provide increased stability for more cautious riders, every cargo bike has a story.
Here are a few of our favourites:
Kate (Metrofiets)
Riders:
Kate Whitfield with sons Nicolas (7) and Wesley (5). [Husband, Rob Behrend, has his own bike]
A little about me:
I am an Engineer/Planner with Alta Planning + Design. I grew up surrounded by the concept of quality daily physical activity and a value for work that is both a challenge and joyful.  Now as a parent myself, I am trying to offer this to my family and to my community as part of everyday regular life.
Type of Bike:
A bakfiets by Metrofiets
Where we ride:
To school; to community events; to the grocery store; to the beer store; out and about for fresh air.
Why:
When one kid is learning to ride a bike and you take both of them plus the small bike to a nearby multi-use path using city streets and then let him out. Or when one kid can ride their own bike but the other is too young (or just doesn't want to yet)
When you need to get your kids to school and then to work on time. If I do pick-up, my husband drops off and this way you don't need to coordinate a stroller or chariot transfer – the cargo box comes with you. The 2-wheel option also means that I can still move "fast" for the commute with the box empty
When you need groceries or to return empties and you want fresh air and some exercise at the same time
Because people talk to you at the bank or pharmacy because your kids are cute when you are loading up the cargo box – keeping life interesting
Physics – I can haul my two boys up a hill with the weight low and in the front. Then when the cargo box is empty it is fun to fly!
Purchasing story:
A friend introduced me to the idea of getting a bakfiets. I laughed because I didn't think that there was anyway that I could control one with two boys in the box. Too big, heavy and intimidating. I ended up test riding a cargo bike at a bike show in Ottawa and feel in love. We had started sourcing them but after the bike show, my new metrofiets was ridden home to our house and has been a part of our lives eversince. I would have loved a long tail bike but at the time a "bucket bike" was right for the age of my kids and for me. At the end of May I will have had the bike for four years. I doubt that I could part with it now. Instead I might just add a long tail bike to the collection.  
Lana (Bobboe)
Riders:
Lana Stewart and son Alden (9)
A little about me:
I work in web communications and moved to Ottawa as a university student. I bought my first "serious" bike in Ottawa – thinking I'd be riding the hills in Gatineau Park. Then I added baskets and fenders to that mountain bike. Little did I know, I was on the slippery slope to cargo biking.
Type of Bike:
Gulp. Two! A Kona Minute and a Babboe bakfiets.
Where we ride:
If we need to leave the house, we're probably biking there. Groceries, school, judo, birthday parties, dentist, doctor, ice cream shop, bakery, shoe shopping… I mean, you name it, we've gone there on our bikes.
Why:
As a university student, I could only find housing on an inconvenient bus route to school.  Long wait times and crowded buses were not for me. After becoming a parent and living at "stroller speed" for almost a year, biking with a trailer gave me the mobility (and speed!) I craved to get around the city.  Sure, it was a cheap second hand trailer that a neighbour had originally purchased to bike her dogs around, but it was just what I needed to transition into biking with human cargo.
Being car-free really encouraged me to keep extending our season into the colder and darker winter days.  A 10 minute bike ride compared to a 45 minute toddler-paced walk could quickly convert anyone into riding through Ottawa's four seasons.  There was no turning back after that first bike trailer and its magic powers to lull a cranky kid to sleep.
After maternity leave, biking was the best and most reliable way to do the daycare run AND get to work on time. Biking meantI  could save a two-bus commute that would easily take me double the time it takes to bike. I love getting a bit of movement to start my day, but the practical and time-saving aspects can't be beat.
Purchasing story:
I did so much online research in the beginning, finally deciding on a bakfiets cargo bike. I asked my local bike shop to special order it in. They were pretty stunned to have some lady simply walk in and order a bike like that, sight unseen. The bakfiets was easy to strap in young kids without needing child seats. And it wasn't long before my son abandoned the bench, preferring to stretch out and snooze in the box.
The bakfiets is a great bike, but a bit heavy on the hills near our home. Without a secure place to park at work, I thought a lighter and less expensive longtail might suit my needs better for the daily runs.  While the Kona midtail has the most kilometres of either of our cargo bikes, the bakfiets is the bike that's given us the best memories. So many good memories that my son refuses to let me sell it now that he rides his own bike.
Sheldon (Trike with basket on the back)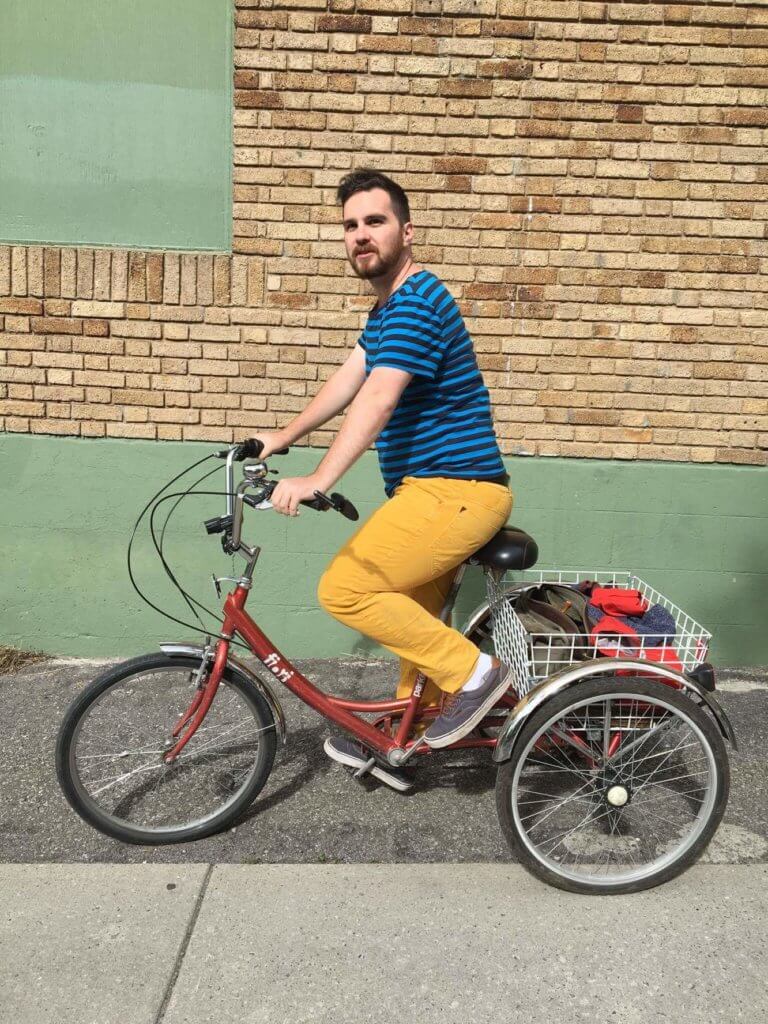 Rider:
Sheldon DeFilippi
A little about me:
Recent college graduate of Algonquin's Architectural Technician program, planning to return to university to do a Bachelor in Urban Planning soon. I grew up centrally, living in the Civic Hospital neighbourhood; and am concerned about how our cities and buildings are being designed the contributes to degrading neighbourhoods and streets, and encourages car-dependence. I'm also a massive Japanophile.
Type of Bike:
Fiori Parklane Adult Trike
Where I ride:
Generally anywhere for whatever reason, recreational or otherwise. Specifically, to Algonquin College (9.5km away from home); for work; to visit friends; to explore Ottawa or get around in place of bussing or if I need to get somewhere faster.
Why:

I feel safer riding, as I'm a lot sturdier and don't have to balance while riding

I can easily carry heavy loads (like both volumes of the Ontario Building Code), groceries or my camera equipment
I get to introduce people to another kind of bike most don't realize is an option. I receive lots of positive feedback and often get stopped to answer questions for people of all ages about how I find riding it, its cost, where I bought it and if I would recommend it to others. Many people want to ride bikes but don't feel confident or strong enough on regular bikes, like older people, so this introduces them to an alternative to get back into riding.
Purchasing story:
After returning from Montreal, I wanted to start biking again. Taking the bus was becoming too inconvenient and expensive in Ottawa, and I never bothered to get a driver's license. So, I thought using a bike would be great way to get around that's also fun and great for my health and the environment.
I bought a tricycle because I thought it would be a lot safer to ride than conventional, two-wheeled bicycles that require balancing. I struggled to stay upright when signalling turns, which is especially worrisome while riding in traffic. I thought, if adult trikes exist, that might be a good option to look into buying.
I walked down Wellington Street to visit some bike shops to see if they had any in stock. I ran into a friend from high school who worked at one of them. They helped me order and assemble the trike, and I have ridden it happily for the last 5 years.
What do I wish I knew before purchasing it?
How great cycling feels. I ride daily, and it is incredibly fun (usually the best part of my day). I can carry all sorts of things with ease.

Riding a bike in Ottawa requires confidence. The roads can be pretty dangerous and aggressive. One needs to be more assertive and figure out quieter routes.
The city doesn't accommodate unconventional bikes very well. I'm limited to locking to certain types of, as some are too high for my frame. Hoops racks like on most streets work well, but the special bike (like in Hintonburg and the Glebe) are designed too high for me to use. Additionally, I have to carry my bike up stairs or find other routes because the bike ramps on stairs don't work for my bike.
Hills are manageable, but not the most enjoyable to ride up. Too bad I live on top of one!
Marianne (Yuba)
Riders:
Marianne and Steve Alexander with sons Arlo (5) and  Dax (1).
A little about us:
Marianne is a Guidance Counselor and Department Head in the Ottawa-Carleton District School Board and Steve is a Science Advisor at Fisheries and Oceans Canada. We both grew up spending hours on end outside and on adventures and we met while working as field instructors for the National Outdoor Leader School. Moving to Ottawa was a big adjustment as neither one of us had ever lived in a city before. However, we loved how easy it was to get around on a bike. And since becoming parents, it has been our goal to introduce this lifestyle and love of the outdoors to our kids.
Type of Bikes:
Yuba Mundo and Yuba Boda-Boda
Where we ride:
To school; to daycare; to parks; to the grocery store; to concerts; to the bakery and butcher; general urban adventures.
Why:
To allow our kids to ride their own bikes and then when tired – hitch a ride!
For daycare and school drop off, then commute to work –fast!
Greater storage capacity than regular panniers when it comes to running errands and getting groceries
To enjoy the fresh air, slower pace, thoughtful route, and gas free ride.
It's an awesome conversation starter! And what better way to build community than through talking to your neighbors.
Purchasing story:
While riding in the shuttle for the Petit Train du Nord we got chatting with a family from Peterborough. They brought to our attention a used cargo bike that was for sale on Kijiji and how rare that is. As our oldest son had only just turned one we weren't really in the market. But given the chance opportunity we decided to check it out as soon as we got back to Ottawa. We hemmed and hawed and decided not to buy it because at that point, Yuba did not have an adapter for Yepp Seats. Well, wouldn't you know, a day later the owner of the used Yuba Mundo emailed us to share that he just received a notice from Yuba that they now had an adapter kit for Yepp seats. At this point, it was too good of an opportunity to pass up so we bought it and stored in in our basement for the next year! That was how we came upon our Yuba Mundo.
We used the Mundo daily and so when we were moving down to Washington, DC for a year – where the weather is very conducive to biking year round – of course we wanted to bring the Mundo with us. However, due to the short stint, we were doing a minimalist move, when we ran the numbers to rent a larger vehicle to transport the Mundo we realized we could invest in a new one for the same price! We found a dealer in Maryland and there was a back to school special.  In no time we were the proud owners of a Yuba Boda-Boda.
Julie (Xtracycle attachment)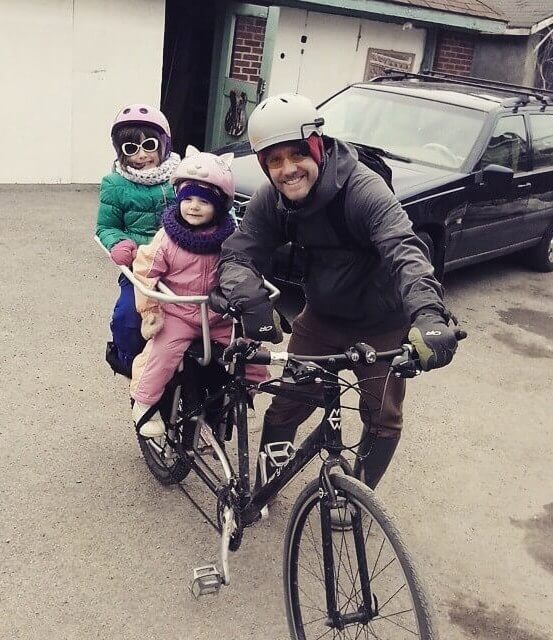 Riders:
Sean and Julie Kelly with daughters Eden (9) and Ivy (5) Kelly
About Us:
Sean grew up in Ottawa and I grew up in a rural area. We moved back here 4 years ago and love biking around our city!
Type of Bike:
Extra-cycle- which we had Tall Tree Cycles fit onto one of our current bikes.
Where we ride:
Sean is an all season rider, although the extra-cycle doesn't come out in winter as we want to protect it a bit from the elements. He gets groceries with it, carries both girls bikes on it, picks up our Christmas tree ( a yearly ritual now).
Why:
We bought our cargo bike 3 years ago and the girls were smaller so it was a beautiful way to explore Ottawa. It grounds you in your city. It starts conversations, people want to know if you like it and where you got it etc. We have so many memories on this bike. One surprisingly mild Christmas eve, we put lights around the frame and bundled the girls up and biked over to Parliament. They were singing carols along the way and it was one of those moments that you knew would be significant.
Now the girls are older and riding their own bikes, we use it for cargo a lot. Sometimes to bring the girls bikes somewhere or put our youngest on the back while our oldest rides her own bike.
Sean has always been on a bike. It is a part of who he is. I think he loves feeling connected to his city in this way, getting exercise without having to join a gym and the impact on the environment. He also hates traffic, but don't tell him I told you that.  
This was one of the best purchases we could have made for our family. There are so many benefits to making a bike part of your daily life. I absolutely love it.
---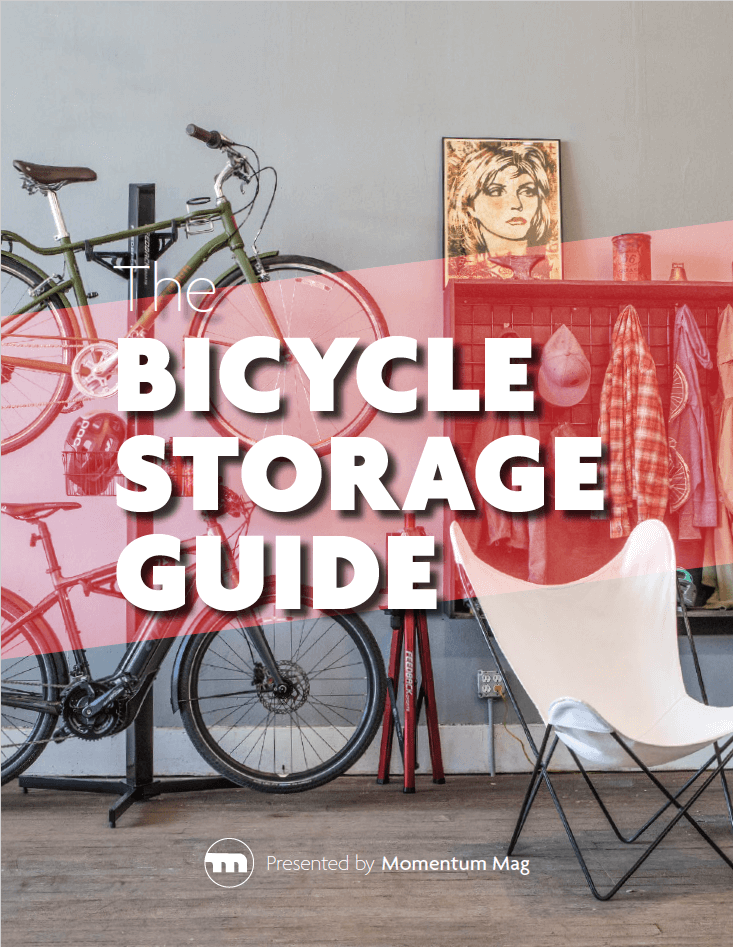 ---
Autumn Gear Guide
Find inspiration in our Gear Guide that will keep you out on your bike through wind or rain.
Download Now