October 4, 2018
Cirque du SoGay returns to Minneapolis October 13th
The ride helps people discover and support LTGBQ resources, all while riding their bikes.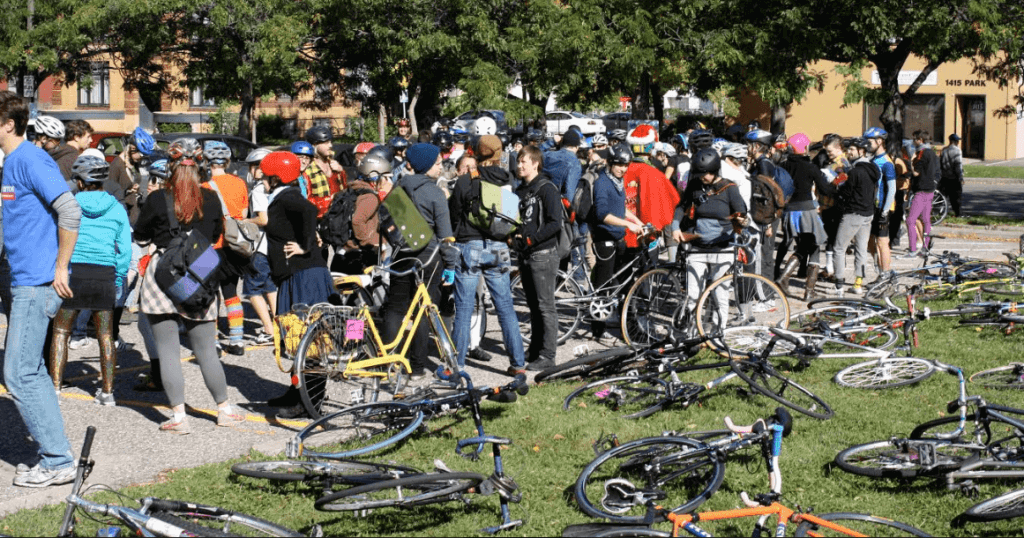 "Cirque du SoGay is like a holiday for me; it's the one place a year that I feel safe to celebrate my queer trans bike jock lifestyle" says long-time participant Katie. Dubbed "The Gayest Show on Earth" the scavenger-hunt style bicycle ride modeled after urban alley cat races returns to Minneapolis on Saturday October 13th! Cirque du SoGay started in 2009 after a small group of queer bikers decided they wanted to bring together queer cyclists by highlighting some of resources in town that support LTGBQ people.
Some spots are obvious, like local nonprofits and businesses catering to queer folks specifically. There are also a number of lesser-known sports leagues, crafting circles, dance groups, comedy troupes and other gems where queer people are building community. At each checkpoint, riders are asked to engage in a short activity that helps them learn more about the resource or connect with each other.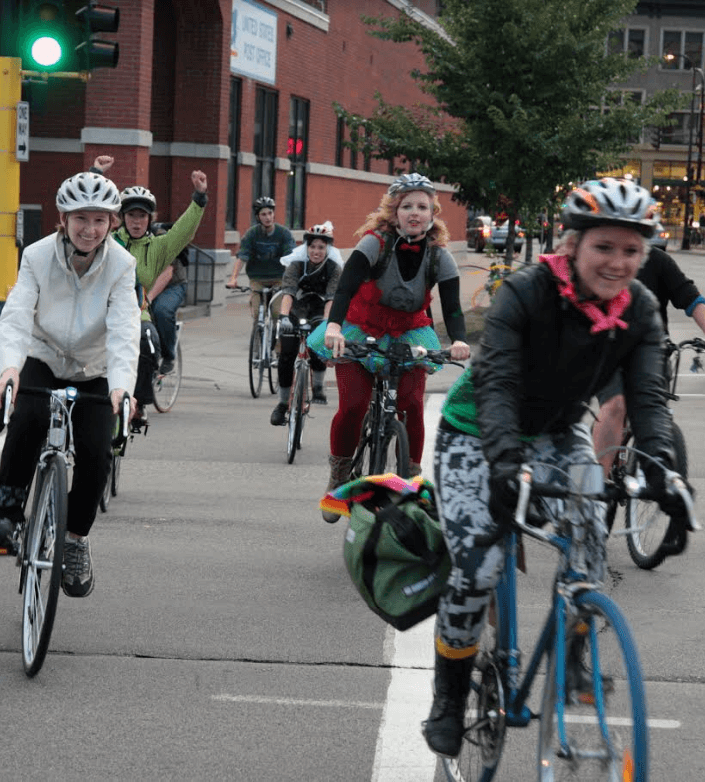 The ride helps people discover and support these resources, all while riding their bikes. At the same time, it seeks to create safer space for individuals who may have felt unwelcome in other biking events or spaces that traditionally are built for and cater to heterosexual, cisgender white men. Says one trans-masculine rider, "Cirque du SoGay has changed my life. It's rare to find an activity that is so dominated by white, cisgender, straight men be enthusiastically reclaimed by queer and trans folks."
Another unique characteristic is that for several years the event has been a sober one. Bars have historically been a place for LGBTQ identified folks to gather, but because LGBTQ individuals disproportionately struggle with mental health and subsequent substance abuse, sober queers often find feeling safe and welcome non-sober spaces challenging. Having a sober space also makes it easier to be more inclusive of folks of all ages, particularly youth.
Over the years, event participants have peppered the streets of the Twin Cities donned in brilliant outfits and costumes ranging from comical to political to just plain fabulous. The event happens each October to coincide with National Coming Out Day and invites participants to take their queerness to the streets.
Participants have the option to do a longer (25+ miles) or shorter (about 12 miles) route, though distances vary depending on an individual's personal route. The ride will be followed with awards, snacks and entertainment.
For more information or to register for Cirque du SoGay, visit www.queerbikegang.com.
When: Saturday, October 13, 2018
Where: The Hub Bike Shop, 3016 Minnehaha Ave, Minneapolis
Time: Register 2:00pm, Launch 3:00pm
After party: 6:00pm, Solcana Fitness, 1915 E 22nd St Minneapolis
Autumn Gear Guide
Find inspiration in our Gear Guide that will keep you out on your bike through wind or rain.
Download Now