March 5, 2015
These Cycle Tracks Manage Stormwater
The Copenhagenize Design team proposes a simple modification that would transform existing cycle tracks into high-volume rainwater trenches.
Despite an extensive dike system designed to protect Copenhagen from rising sea levels brought by climate change, flooding remains a persistent and very real issue for residents of the Danish city. Increasingly frequent torrential rainfall dumps water on Copenhagen in volumes that the city's sewer infrastructure is woefully inadequate to deal with.
Stormwater management is a frequent topic of debate in Copenhagen, with numerous initiatives being put forward to manage the flooding by members of all sides of the political spectrum. But the debate is also taking place outside of the halls of politics. In the bars, cafes, offices and homes, concerned city residents are constantly brainstorming ways to tackle the new climate reality. It was one such conversation that led to the development of The Copenhagenize Current.
Following a conversation in the Copenhagenize Design office about climate adaptation, Mikael Colville-Andersen found himself pondering the subject in a bathroom bar one Saturday night. While looking at the floor grate below the urinal, which employs a simple modification to existing space to achieve the desired result of catching runoff, Colville-Andersen wondered why the same theory couldn't be applied to urban design. Well it turns out it can, and the Copenhagenize Current was born.
Copenhagen already has a sprawling network of urban cycle tracks running along main streets throughout the city. The Copenhagenize Design team proposes a simple modification that would transform that existing space into high-volume rainwater trenches.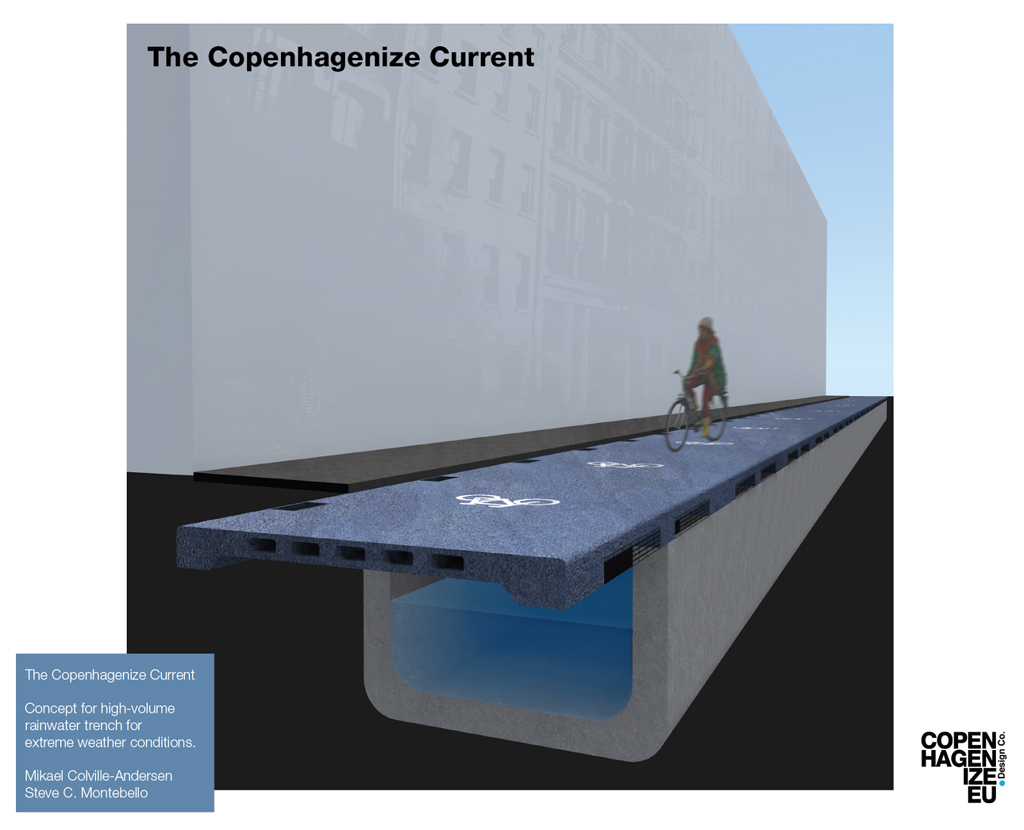 The Copenhagenize Current involves digging trenches under existing cycle tracks, inserting pre-cast concrete containers and then covering over the trenches with pre-fab concrete slabs to reimplement the bike lanes. Copenhagenize Design Co's architect Steve Montebello has worked on the designs and calculations and come up with a system that would lead high volumes of water away from vulnerable areas without the need to reallocate an inch of urban space towards drainage infrastructure. The design includes a maximum area of drainage grates to allow water to enter the trenches, and it can work with or independent of the existing sewer system depending on need.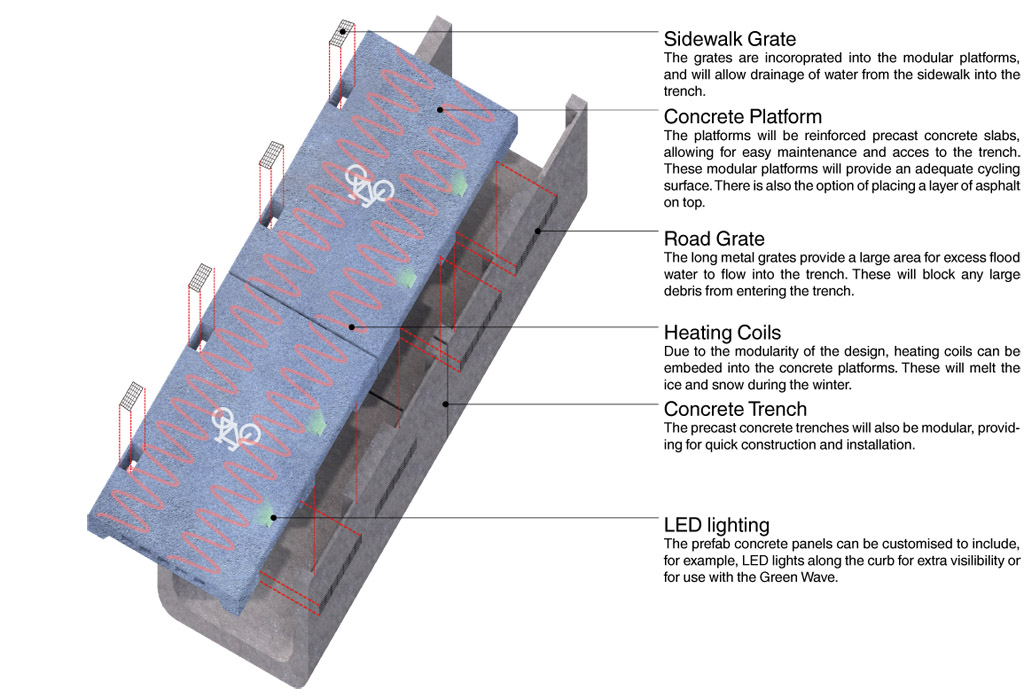 Since bicycles are lightweight and contribute very little to the breakdown of urban infrastructure, the pre-fabricated concrete slabs could easily bear the weight of thousands of bicyclists while still allowing for motor vehicle crossing at intersections. The slabs would minimize the risk of potholes, providing riders with a smoother ride and cutting down on maintenance needs.
Adding value to an already useful system, the use of pre-fab surface slabs would also allow for the implementation of new features such as LED lights to increase track visibility and internal heating coils to melt snow and ice in winter. For other cities where flooding is an issue, the Current could also serve as inspiration to install more cycle tracks if they don't already have them.
Quite simply, it's an all-around great idea.
Autumn Gear Guide
Find inspiration in our Gear Guide that will keep you out on your bike through wind or rain.
Download Now