January 6, 2016
Endura Women's Strike Waterproof Cycling Glove
The Strike glove is a cold-weather women's bike glove for wet climates.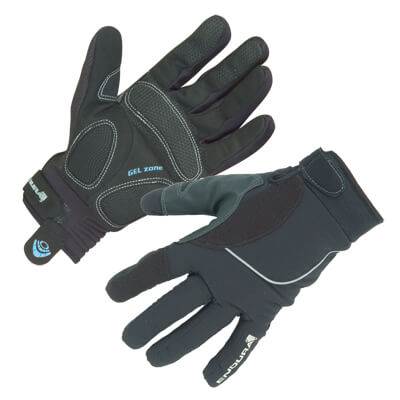 PRICE $49.99 USD
FIND IT AT  endurasport.com
The Women's Strike glove is a winter glove with a seam-sealed internal waterproof & breathable membrane. It has a quick-dry fleece inner, reflective print and logo, a terry sweat wipe, silicone grip on the fingers, and gel padding on the palm.
TELL YOUR FRIENDS
These are a great form-fitting pair of gloves that do exactly what they need to do: keep your hands warm and dry. I commute daily in them in cold, wet Vancouver. With fairly consistent rain and temperatures hovering around 35ºF (2ºC) through the winter, I have yet to have cold fingers, even on long rides. They're light, comfortable, and very easy to manoeuvre the shifters with, and I love the padded palms because I do tend to lean on my handlebars a bit. Basically I just don't notice them at all, which in many regards is the sign of well-made gear.
WISH LIST
I think they could be more reflective. Since they're a bit too sporty to pass as fashionable, may as well throw on a few more reflective accents. Although Endura does have the Luminite option available, so I guess they have their bases covered in that regard!
SUMMARY
These an all-around great glove for mild winter commuters. I wouldn't count on them for the -20 types of winters in the Northeast, but for the Pacific Northwest or UK (where Endura is based), they're cozy, comfortable, and well-made.
---
Hilary Angus is the Online Editor at Momentum Mag. @HilaryAngus
Autumn Gear Guide
Find inspiration in our Gear Guide that will keep you out on your bike through wind or rain.
Download Now