January 14, 2018
eProdigy Banff Review
The eProdigy Banff comes with all the bells and whistles an urban commuter needs.
Find it at: eprodigybikes.com
Price: $2,599.00 USD
The eProdigy Banff features a retro design with fenders, a rear rack, and shiny chrome plated front handlebars. The signature Coaxial Bottom Bracket Motor™ found in each eProdigy Bike is concealed within a lightweight frame, and the battery on this model is hidden in the rear rack which can be used to carry groceries, bags, and other items. All components of the eProdigy Banff can also be customized (excluding battery, motor, and control panel). The eProdigy Banff has a max speed of 20 mph (32km/hr) and a range of up to 50 miles (80 km). The bike weight 50lbs.
Tell your Friends
The eProdigy Banff comes with all the bells and whistles an urban commuter needs. Comfortable riding position, fenders, built in lights and rear rack.
The eProdigy maintains a stylish look by having the motor embedded inside the bottom bracket of the frame, making it less noticeable. The battery sits below the rear rack so it feels hidden which will appeal to anyone looking for an e-bike but wanting the look and feel of a standard step-through bike. The bike is well balanced so you can feel comfortable coming to a stop or travelling at lower speeds.
Wish List
The battery fits under the rear rack in such a way that it limits the type of panniers that work with it. Make the rack slightly wider this issue disappears. Make sure to try putting the panniers on the rack before buying any!
The bike is fairly heavy at 50lbs which can make it difficult to manoeuvre around a small space or up stairs. After some serious riding some parts did start to rattle around. Never had an issue with the bike but it does make me think that there is something that isn't working like it should.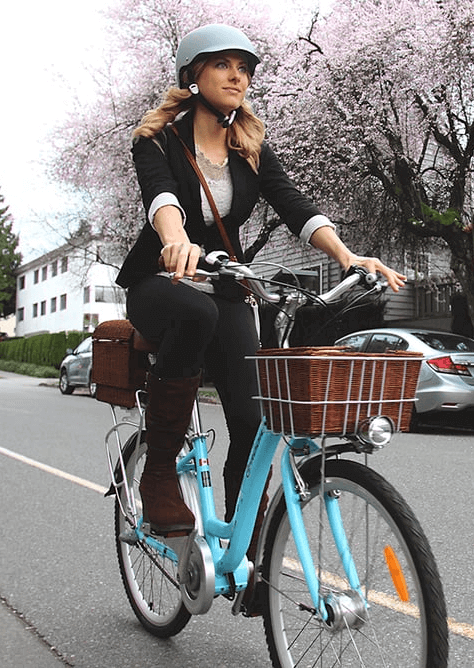 Ideal Rider
Those who are new to biking and looking for an entry level e-bike this is a great option. It's step through frame allows for easy on and off and helps with balance when coming to a stop at an intersection. Front and rear wicker basket accessories are available for the seriously stylish rider.
Summary
The power output is very consistent so you don't experience a jerky acceleration feel. The eProdigy Banff uses a cadence sensor so any assistance you receive feels very natural – no artificial feeling.
Being cadence based means you don't need to be on a high gear or apply a minimum amount of torque in order to receive assistance.
In addition to pedal assist you have the option of a throttle. This means you don't need to pedal in order to get moving which can come in handy when faced with an uphill start. Especially useful when you've got additional weight such as panniers loaded with groceries. The throttle can also work great for those who have a tough time balancing. Keep one leg on the ground, hit the throttle to go and once you have your balance move your foot onto the pedal and let the pedal assist kick in. No need to lift both your legs off the ground in order to just get moving.
The Shimano nexus 3 Speed Internal Gear helps keep maintenance costs down and you can shift smoothly even when your at a stop.
If you're short you'll be happy to know eProdigy offers a 15" frame in a full size 26" wheel bike. Possibly one of the smallest ebike frame size available for petite riders. Though it's only offered in the one size the stem can be adjusted to fit a range of sizes
The self-generating front chrome LED light looks so stylish on the bike and means you'll be visible every time you take this bike out.
Comes in a nice selection of colors so you can get the one that matches your urban lifestyle.
Autumn Gear Guide
Find inspiration in our Gear Guide that will keep you out on your bike through wind or rain.
Download Now