January 10, 2018
eProdigy Whistler Review
Cadence sensors provide consistent power so you don't need to be on the highest gear to get the most out of this bike.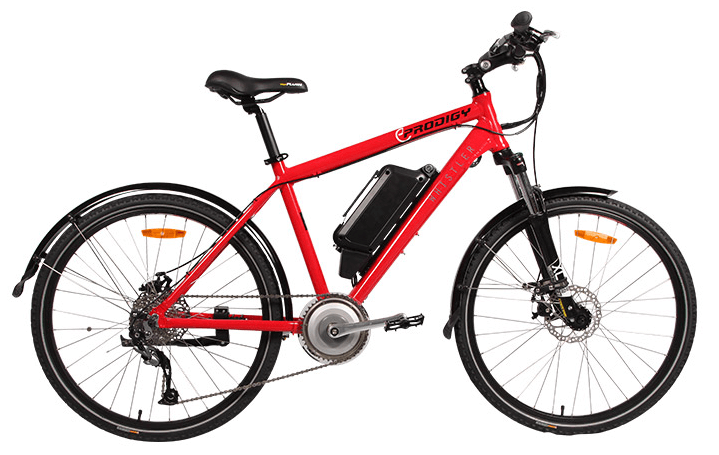 Price: $2,599.00
Find it at: eprodigy.com
As action packed as its namesake, the eProdigy Whistler is a mountain bike equipped to handle various terrains and environments. Each Whistler model is fortified with durable mountain tires and a front suspension fork for superior support and performance on and off the trails. The powerful Coaxial Bottom Bracket Motor™ found in each bike is also carefully protected within the frame to provide greater protection against the elements, because you never know what to expect on the west coast! The eProdigy Whistler has a max speed of 20 mph (32 kph) and a range up to 60 miles (97 km). The total weight of the bike is 50lbs.
This is a review of the 2015 model. The company has since updated components on the bike including adding disc brakes.
Tell your Friends
The motor is fairly small and hidden within the bottom bracket making it quite stealth looking. If you remove the battery, which is mounted to the down tube, this bike looks like a normal bike. Having the mid drive system located in the bottom bracket help to keep the centre of gravity close to the ground. I felt comfortable travelling at speeds on both pavement and on off road trails. I would say this bike is much more city orientated though. Comes with full length fenders, a kickstand, and an integrated bell. All that is missing is the rear rack.
Four levels of assist and a throttle are easy to use with the control pad and provide plenty of power. I love having the throttle option and pedal assist as they both have their benefits.
Wish List
Found the motor to be a bit noisy. It's most noticeable each time you start but once you get going the noise is no longer a bother. The wires are fairly exposed which gives me some concern. Some of the parts feel a bit cheap. Would be nice to see upgrades to the pedals and grips.
Ideal User
Those looking for a light trail bike that they can use to explore city parks on the weekend and commute to work during the week.
Summary
The battery is removable and can be charged on and off the bike which is great when needing to charge the battery while at work.
Display is simple to use and easy to read. An independent thumb control makes it very easy to switch between different assist modes. A throttle is also mounted by the control which overrides the assist. The throttle is a huge benefit if you're riding with additional weight or just need that extra boost to get you going from a stop.
The motor puts out pretty consistent power being based off your cadence so you are able to hit top speed on a number of gears. You don't need to be on the highest gear to get the most out of the motor like I have found on some e-bikes. The motor is responsive so when you stop or start pedalling it's quick to respond.
Referred to as a mountain bike I would classify this as a light trail bike that works well for a city commuter. The tires roll smooth while studded edges grip well when making turns off road. The shocks can be locked when riding in the city.
The forward riding position and arm positing is comfortable for both long trail rides and when needing to make tight turns in the city. Fenders keep you dry for those rainy commutes into work and a integrated bell and kickstand are also welcome additions for use in the city.
All around good entry level bike with a few upgrades to parts that I would like to see made.
Autumn Gear Guide
Find inspiration in our Gear Guide that will keep you out on your bike through wind or rain.
Download Now