January 22, 2018
EVO MD-2 E-Bike Review
The EVO MD-2 is nimble, quick, comfortable and has a great back rack for my panniers.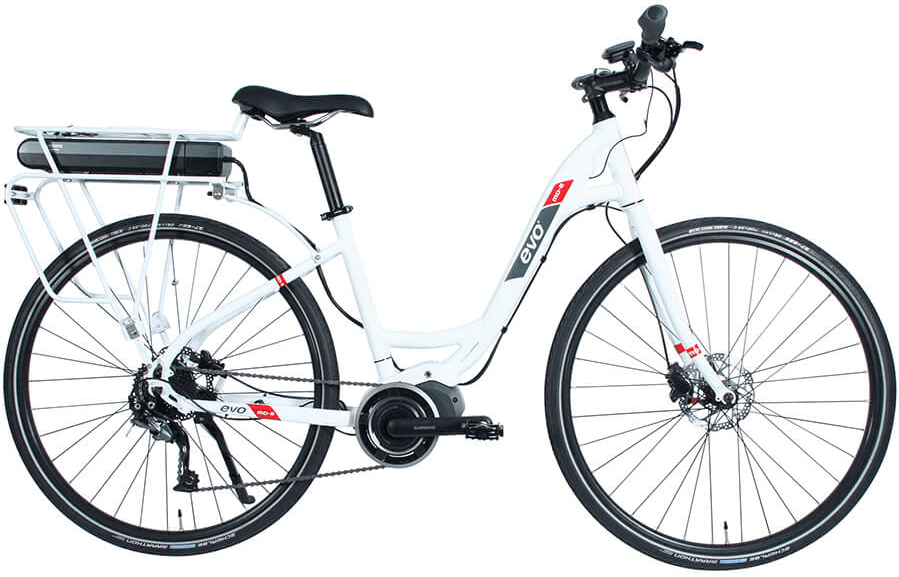 Tell Your Friends
The main thing I liked about the EVO MD-2 was how the Shimano STEPS mid-drive power comes in as I ride. For an eBike I think it's pretty much the most important feature.
I adore step thru frames, they are brilliant, I'm English so I consider this style a unisex frame that is often 'favored' by the ladies.
The hydraulic disc brakes were just the right amount of powerful. Soft at the lever and not locking the wheels ever to bring me to a complete stop exactly where and when I need it.
I did really like that the console was compact and quite discreet on the bike and that the salient info I chose was big.
I've got to mention the rack. It has the touring style rear rack which means you can also use market type panniers and not just touring style only, brilliant.
Wish List
I have to gripe at this point. Straight bars, on a step thru city bicycle, seriously? OK if you're a courier!!! This is a bike that needs to be ridden upright, NOT leaning forwards stressing my neck and wrists and back. Swept back bars are the only aesthetic and logical choice for this bicycle.
The un-fendered wheels! For a bike at this price point and style to not only have mountain bike bars but no fenders as well, it's just penny pinching.
I hated that I HAVE to remove the battery to charge it as the connectors to the bike systems are the same ones used to connect to the charger.
Ideal User
I would consider this a city upright commuter pedal assisted bicycle. I ride 12 km (8 miles) each way and it was a pleasure to ride. Once it has fenders ride in a suit or skirt to work no problem. Weekend rides round the park or to the beach fitted with market panniers would be a genius decision. It's the only bike you need in the city or suburbs even for the non-lycra, no-sweat, not just for exercise type of owner.
Summary
As I mentioned earlier, the way the pedal assist cuts in with this Shimano STePS 250W mid drive motor delivering the power to the back wheel via a Shimano Alivio RD-M4000 Shadow rear derailleur (9 speed, 11-34t) is simply delightful. With other eBikes it can be really sudden or jerky. It was progressive enough that when I brake and/or stop peddling it cuts out and back in really smooth. The MD-2 is a civilized ride. This maybe partly to do with being a 36 volt machine. With cruder or more powerful bicycles than this one (48v+) it's often not the case. So I favor the 36v systems because when I go for a ride I don't want to have to hang on for dear life while terrorizing other riders on my route down the cycle path to work or the farmers market.
I have observed that North America has a problem with mountain bike style handle bars, maybe they are just cheap or it's a lack of imagination, I expect both! The same bar is on almost EVERY bike. This EVO must absolutely positively have swept back gull or moustache style handle bars (not to be confused with cruiser bars) and a small narrow front rack ideally mounted to the frame to compliment the excellent touring style rack that prevents my loaded market bags or waterproof work panniers from ever flopping into the back wheel. You cannot know how many bikes I've switched out the naff racks for proper ones in my life-time.
Step-thru frames are just civilized and definitely not JUST for the ladies. They make a lot of sense in the city and less sense as a tourer or gravel bicycle, take one down a mountain bike track and you will kill it in minutes. So you see where the EVO lives in the bicycling eco-culture. And I haven't even mentioned hipsters yet!!!!  The other boon of this Aluminum 6061 step-thru frame is, like eBikes are generally for the older rider, that as we age we often don't want to throw a leg over a bicycle to mount it any more, so this is perfect and brilliant for creaking hips, knees and our dignity in general. Unfortunately for me this frame had noticeable flex for my 6'4″ at over 250lbs bulk with 20-30lbs of panniers on the back too. But a lighter soul would undoubtedly not initiate any flex of this aluminum frame at all.
I'm in love with these Shimano Acera hydraulic disc brakes, fitted to Alex TD26 700Cx32T wheels. All made to work by the Shimano Acera 9-speed SL-M3000-R combined shift and brake levers. Even in the pouring rain coming down the gloomy leaf littered 'zig-zag' off Second Narrows Bridge at well over 40kph I was always in control.  The braking gave me great confidence in this bicycle because if you can wiz up to 32kph quite quickly I want to be able to come to a halt at least as fast. And to be fair, this bike can brake this well in part due to the tire choice. Schwalbe Green Guard Marathon (700 x 35c) are on lots of eBikes for a good reason. All weather performance, puncture protection and a good stiff side wall on a heavier bike is what is needed. You won't want to to swap out theses tires until they are worn out unless you want a softer ride than Schwablle Big Apple is a good summer choice.
Now to the battery and console. During the two weeks I rode this bike I didn't get close to running it flat commuting 25km a day plus side trips to do chores, visit people and take a diversion or two in search of a refreshing adult fizzy beverage after a long day fixing bicycles. When you switch on, the console tells you how much range you have in distance (km's for me), in eco-mode it showed 98km. Now as a big lad in a hurry I'm not gonna use eco-mode so I flitted between Normal on the more level streets to High for bridges and hills. I always got home with juice to spare. In fact I probably could get away with charging every other day but I like to go out on a full battery in the morning so I have the freedom to travel afar if I want too. The console also told you stuff like average speed and distance traveled, etc, etc, (yawn!) but you can find all that out on the EVO site if you really need to know.
The Shimano SC-E6000 console is simple to navigate and displays small numbers and BIG ones which you can scroll through to display big what you want such as speed or remaining range. As an older gentleman I need that big number to see how fast I'm going. On my daily ride I have a much fancier console but all the numbers are the same size and I have to search for my speed amongst all the other displayed data, that's extra seconds not looking ahead, meaning I'm a little less safe in comparison to the EVO display.
I very much liked that the charger actually tuns itself off when done, not many simple chargers do that one simple thing, they go to standby. You do however HAVE to take the 36V Lithium-ion (11.6Ah 417Wh) battery off the bike to charge it. Maybe this makes sense, it's simpler and probably helps with weather proofing. Still annoying tho. You have to attach a clumsy plastic block of an adapter to the battery terminal end that does not go on at all tight. In fact it's positively loose. Then plug the charger in to that via a more usual three pin kettle like plug arrangement.  Lay it all down and check the block is on properly before plugging the charger into the wall outlet. It's fine, I would just prefer the block attached securely or else I can see people in a hurry, distracted or cat owners waking to find the battery as flat as they left it last night. Another feature the charger needs IMHO (this goes for ALL eBike charger manufacturers) is an 85% charge button to extend battery cycle life.
The bike I used was white. White IMHO doesn't suit this bike at all. Makes it look cheap.  I would prefer a color that stands out in the city and helps with visibility while riding. Perhaps teal or orange or salmon or lime even?
I had an absolute ball on this bike. It was nimble, quick enough, comfortable enough despite straight bars, great back rack for my panniers plus an old school rat trap for any extras I need to take home. Oh, and the step-thru was brilliant.
Autumn Gear Guide
Find inspiration in our Gear Guide that will keep you out on your bike through wind or rain.
Download Now