May 31, 2016
Finally, the Bicycle Bell / Shotglass Combo You've Always Wanted
Your ride to the liquor store just got a whole lot safer.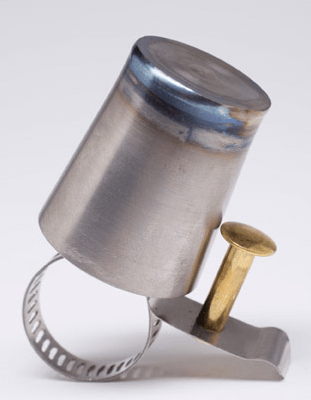 If, like so many others, you're always looking for the next great way to get hammered whilst championing traffic safety, look no further than the aptly named BarBell! The admittedly beautiful bike bell is the latest gadget from King Cage, makers of high quality steel and titanium cages for both your water bottle and your flask.
This nifty little trinket combines bicycle safety with binge drinking in a format so brazenly misguided it almost make sense. A single titanium shotglass twists on to the bar clamp, where a thumb-triggered hammer is waiting for you to signal to unassuming pedestrians that you probably poured a few too many this afternoon, and they'd be best advised to get the hell out the way.
In a market riddled with bicycle wine bottle holders, leather 6-pack carriers, top bar growler hammocks, and front racks designed specifically to truck around a 24-pack, the BarBell is the long-awaited accessory solution for those of us who just want a goddamn shot of whiskey.
The probably-not-CPSC-approved bell is available from King Cage for USD $40. Whiskey and crash helmet not included.

Autumn Gear Guide
Find inspiration in our Gear Guide that will keep you out on your bike through wind or rain.
Download Now