February 2, 2015
Five Better Ways to Ride a Bike in Winter
Award-winning writer and editor Tom Babin explains how to enjoy cycling through winter.
She barely saw me but I sure noticed her. After years of year-round riding in Canada, I was accustomed to seeing a certain type of winter cyclist: wearing layers of synthetics, on an expensive commuter bike, and with ski goggles. But she was different. Here in Finland, she passed me on a pathway of packed snow riding a junky cruiser and dressed with a northern European chicness: scarf blowing behind her while she sipped a coffee and chatted on her phone with earbuds. The striking image of that winter woman, I soon learned, was not unusual in certain northern cities around the world that are encouraging year-round cycling despite their frigid seasons. In researching my new book Frostbike: The Joy, Pain and Numbness of Winter Cycling, I found a few northern places where people are disproving the old maxim that nobody sane will ride a bike in winter – and making their cities and lives better in the process. From that research, here are five ways to enjoy riding year-round in winter cities:
1 FORGET SEARCHING FOR THE PERFECT BIKE
Technology has made winter riding immeasurably easier. Fat bikes, studded tires, and internal-gear hubs can help overcome obstacles that stymied snow cyclists in the past. But there is no such thing as the perfect winter bike. I have seen all kinds of bikes – from cruisers to cyclo-cross to fat bikes – work in all kinds of conditions so experiment until you find what works in your city. I am blessed – or possibly cursed – to live in a climate with many rust-inducing freeze and melt cycles so rather than risk destroying my expensive summer bike, I have spent many happy winters riding a $50 second-hand mountain bike stripped of all non-essential parts. If buying that beautiful fat bike that costs more than your engagement ring makes sense for you, go for it. But if it's just to impress your co-workers, save it for summer use only.
2 WORK TOWARD BUILDING A WINTER BIKE CITY
In the debates over urban cycling, you often hear opponents say it is not worth investing in infrastructure in winter cities because so few people ride year round. These critics have never experienced a rush hour in a bike-friendly winter city. Seeing thousands of bikes squeaking over packed snow while their lights illuminate the early darkness is an unforgettable image. The lesson here for your city? Winter does not negate the need for bike infrastructure; it exacerbates it. Cyclists need protection from motor vehicles more in the winter than in the rest of the year and seasonal maintenance, such as plowing and sanding, is key to safety. Sure, the number of cyclists in winter will always be smaller than in summer, but take a visit to Montreal or Minneapolis in winter. You will find snow, cold, and two of the most bike-friendly cities on the continent.
3 DON'T STRESS OVER THE DRESS
The Internet is full of advice on how to dress for winter cycling; most of it advises layers, synthetics, and a waterproof outer layer. For most rides, that's not necessary. Winter cycling needn't be an extreme sport. Sure, if you are staring down a 19-mile (30 kilometer) morning commute, you may want to gear up like a Navy SEAL. But most rides require nothing different than you would wear for a brisk, winter walk. In fact, once the body's internal furnace gets pumping, the biggest challenge in winter isn't staying warm it's staying cool enough to avoid sweating. So here's a different kind of advice: wear whatever you want but make sure you feel a little cold at the start of your ride because you will heat up as you pedal. Just heed your mother: wear decent gloves, a hat and scarf, and don't forget the wool socks.
4 LEARN TO LOVE (OR AT LEAST TOLERATE) WINTER
Ironically, as technology has made winter easier to bear, we seem to have forgotten how to live with it. Rather than using advances in clothing, insulation, and equipment to enjoy winter, we have become masters of avoiding it. That is why re-establishing a working relationship with the season may be the most important part of winter cycling. So find something fun to do in winter. Go skiing. Go sledding. Build a snowman. Even going for a walk in the evening snow can remind you of be sure to dress appropriately because comfortable, enjoyable experiences in the cold are key to conquering fears of winter. Once that outlook starts to change, you are more likely to find yourself on one of those transcendentally beautiful winter bike rides in which the falling snow muffles the sound, you lay fresh tracks, and are reminded why you love your bike in the first place.
5 DON'T LET IT GO TO YOUR HEAD
Anybody who has ever ridden a bike in winter knows the reaction that tends to come from others who hear about it: "You're crazy". Most people secretly enjoy that reaction. It makes us feel exceptional, like we are tougher and hardier than everybody else. Stop feeling that way. There's nothing exceptional about winter riding. Anyone can do it. Ask the older person putting groceries in her bike basket in Finland under falling snow. Winter riding isn't only for zealots and masochists, we only make it seem that way. It has the potential to make our lives and our cities better but we need to get past the idea that it's an adventure sport and realize that with a little preparation anyone can do it – and have fun while they're at it.
---
For tips and tricks on how to stay warm, safe and stylish this winter, check out our Winter Biking Gear Guide and Winter Fashion Style Guide.
---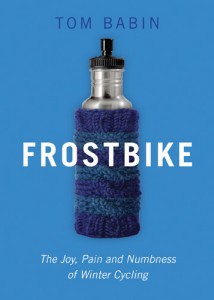 Tom Babin is an award-winning writer and editor with the Calgary Herald and is author of the newspaper's popular Pedal blog.
He is also the author of Frostbike: The Joy, Pain and Numbness of Winter Cycling
Paperback
304 pages
Rocky Mountain Books
rmbooks.com
$20 CAD
---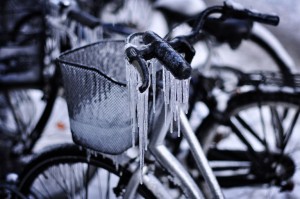 When to Leave the Bike at Home
The joy found after hopping on a bike and setting out for a crisp winter's morning ride can be boundless. Overcoming uncertain barriers, whether mental or physical, can make the experience even more enjoyable. However, there are times when even the best preparation and a positive outlook on the road – or path – ahead is not enough to overcome the challenges snow and ice can bring.
There is no shame in knowing when it is best for you to leave the bicycle at home, whether it is a thick layer of freshly fallen snow (that could hide ice or other obstacles below), a hard rain (that makes seeing and being seen on shared roads difficult), temperatures so low they pose a risk to any amount of exposed skin, or one of many other reasons a ride could present avoidable risks. Winter riding does not need to be approached like an endurance sport, instead set your limits and ride happily and confidently within them.
Autumn Gear Guide
Find inspiration in our Gear Guide that will keep you out on your bike through wind or rain.
Download Now