February 12, 2019
Four Opinions of the Tern GSD
Four reviews of the Tern GSD by four people with very different lifestyles. This compact electric cargo bike can be configured to work for you whether you have kids or just a lot of stuff to move around the city.
Waiting to get our hands on the coveted Tern GSD was like waiting for water to boil. It couldn't happen fast enough. Every week somebody would ask "is it here yet?" But, for reasons unknown, other reviewers across Canada didn't seem to want to give it up. Let the testing waitlist begin!
First, the on the list was Dominique Labrosse, a regular cargo bike rider who, after dropping off his kid at school, has a 13 mi (20 km) commute to work. Riding a cargo bike for distances of 25+ mi (40+ km) every day in a hilly city is a great way to test whether this model can present a serious alternative to car ownership.
Next was Tania Lo, Co-Publisher of Momentum Mag and cargo and electric bike expert. Tania has meetings in every corner of the city, every day of the week, alongside parenting responsibilities for her two children, aged 7 and 9. Who better to test the limits of a cargo bike in the urban jungle?
Then there was Mark Simmons, a wizard mechanic who does a great job of convincing everyone in the office they need a utility bike. He lives below the North Shore Mountains in Vancouver and has some serious hills to climb on his commute. He is well aware of the benefits of electric bikes.
Lastly, Samuel Cawkell, a bicycle commuter who refuses to get off the saddle no matter the conditions. If you want to know what it's like to ride a long-tail electric cargo bike in half a foot of snow, ask Samuel, he knows.
But, before we jump into the Tern GSD reviews, here are some basic stats about this new indispensable life hack, otherwise known as an electric cargo bike.
Find it at: ternbicycles.com
Price: $4,799 (two batteries) or $3,999 (one battery)
The GSD is designed to carry two kids, a week's worth of groceries, or 400 lbs (180 kg) of cargo, and is a very compact cargo bike at only 180 cm long—the same length as a standard bike. With Tern's best-in-class folding technology, it packs down small enough to fit in an SUV or a truck. It adjusts to fit riders from 150 – 195 cm—so multiple family members can share it.
The Tern GSD has 4 levels of pedal assisted power and can take you up to 20 mph (32 Kph) using the Bosch Performance system. The electric cargo bike can also be equipped with Bosch's latest Dual-Battery technology giving riders a range of over 155m (250km).
The GSD comes with a Shimano Deore 10 speed shifter and a Shimano Deore rear derailleur for smooth shifting, high-quality powerful Magura MT5 hydraulic disc brakes provide good stopping power. The GSD is loaded with extras, such as lights, rear rack, fenders, height adjusting handlebar, and a heavy-duty kickstand.
Without further ado, four opinions of one electric cargo bike.
In Dominique's words
Featuring a thoughtful, accessible design, the Tern GSD is a rideable yet capable full-featured electric assist cargo bike, that miraculously fits in the footprint of a regular bike. Here are the main takeaways from my experience:
The small 20-inch wheels keep cargo loads close to the ground–considerably improving the rideability of the bike compared to full height longtail designs.
The Bosch mid-drive system with twin batteries and four selectable levels of assistance easily accommodated two days of my regular 25mi (40km) commute (complete with kid hauling duties up a big hill), with plenty of range to spare.
According to the display on the electric assist computer screen, I could have probably added a third day and some extra errands without having to charge the bike at all.
Lastly, the extra powerful brakes are very effective at stopping the vehicle no matter how much cargo it carries.
While they certainly show their worth on gravel trails, the oversized fat tires seem like overkill for everyday paved surfaces. The bike could have more range and be more easily driven if the width of the tires were scaled back a little. It also worries me that the unusually beefy tires and rims might make the procurement of spares difficult some years from now. While the optional panniers are generally well designed, the buckle system seemed a bit fiddly in everyday use and though I did not use them in heavy rain, I had concerns that the contents would not be adequately protected should the skies really open up. Lastly while beautifully smooth, powerful, and offering a huge amount of range, the electric assist system really favors a higher pedalling cadence. Riders should make sure to gear down at stop signs and lights so that starting up again is easy – especially at modest levels of electrical assistance. More torque from the system at lower RPMs would be welcome and would not require such active use of the bike's gears, especially when carrying a heavier load.
The GSD is ideal for a young family looking to move groceries, packages and/or one or two children and their stuff around over serious distances. The unique geometry of this bike makes it exceptionally easy to ride and particularly appealing to those folks who may be intimidated by large, heavy, full-sized cargo bikes, or those who have a limited space to store such a bike. The exceptional range of the system opens up the possibility of touring with small children. A serious alternative to car ownership.
I am already a regular cargo bike user and so the GSD fit in with my lifestyle perfectly. I used the bike to get my child up a large hill and to his friend's house in the morning before continuing on the 13mi (20km) to work. The side panniers had plenty of room for school bags, my work stuff and any other stuff I needed to get along the way. The normal footprint made it considerably easier to store the bike both at home and at work, and the huge range provided by the twin batteries eased any of my worries about the range and made it easy to leave the charger at home. The excellent design of the GSD has inspired me to make some modifications to my current set-up.
In Tania's words
This is the perfect mom bike. I don't drive very often (read: 3x a year) so I tend to make my life very walkable–scheduling meetings close to transit stations, choosing activities for my kids within a 2 km distance, and just saying no to activities that require me to drive or haul more than my grocery cart can handle. So I took this as an opportunity to come back to a few activities that I had cut out of my life. When I finally got to bring the GSD home, I didn't want to tell anyone I had it so I could keep it all to my myself. It was like I had a car at my disposal, except it wasn't a car.
What makes this bike stand out amongst the crowd is the small wheels and low frame, which give the bike a low centre of gravity so riders feel confident and balanced even at low speeds with a kid on the back. (Read – Finally a cargo bike for people under 5 ft 5" to fall in love with! )
The short frame length (125 cm), foldability, and adjustable handlebar height are also excellent features. The adjustable handlebars enable the bike to be shared by riders of different heights with minimal hassle, and the foldability and frame length give you many more storage options than a typical cargo bike. It can even be stored vertically!
My main thoughts on the Tern GSD's cargo hauling features:
The bike is sold without any bags, which most people would consider a necessary feature of a cargo bike and would need to add on.
We used the Cargo Hold panniers which are well designed and have great capacity. There are convenient pockets for smaller items.
We loved the seat for rear passengers. It can be quickly removed without any tools, so if you're caught in a rainstorm you can toss it in a pannier so your little passengers don't have a soggy sponge to sit on later.
The clips for the bags are quite finicky, both with or without gloves on.
My first adventure was taking it to run a workshop. First, I loaded my workshop gear, flip chart, markers, and laptop onto the Cargo Hold Panniers, then went to my local coffee shop to pick up coffee travelers for 20 people. Next stop: grocery store for a box of mandarin oranges, grapes, bananas and granola bars. Then 5km of electric cruising to the co-working space downtown. I rolled the GSD right into the co-working space. Talk about rock star parking.
My second excursion was 10 kms across town to visit my mother-in-law. One of the greatest benefits of this bike is it enabled me to start contributing to shuttling our kids around again. A few years ago, they outgrew my ability to help them when a hill got too steep or they were too tired to keep pedalling, and most electric cargo bikes are simply not designed for 5'2" riders like myself, so my partner had to take on most of the kid-moving duties. But when my 7-year-old got tired on the way to grandma's, he was able to hop onto the back of the GSD, with his 20" Isla Bike strapped into the pannier, and we kept rolling. This was an amazing feeling, for him and me.
One downside is that bike is very heavy (we had a model with dual batteries) but the carry points are conveniently located which makes lifting and swinging the bike around to the correct position a bit easier. Lifting it up stairs is a different story, but you can't expect a rock-solid machine to be light. The bike doesn't have a throttle, so those first few pedal rotations can be tough if you're starting on a hill and forgot to gear down. There is a walk mode though, so if you ever find yourself in a situation where you are needing to push it uphill (no shame in that!) there's an assist for that too.
A frame lock is on my wish list (we hear it's in the works). This would really help when you find yourself at a crowded bike rack and you need to have a way to lock the bike away from the bike rack. Parking a cargo e-bike requires two locks. We recommend two Abus Bordo Big's or pair one with the ABUS Bordo Alarm.
Overall, an amazing bike. After keeping it for five weeks, I have a hard time imagining how I'm going to get through a summer of camping, bbqs, and beach days without it.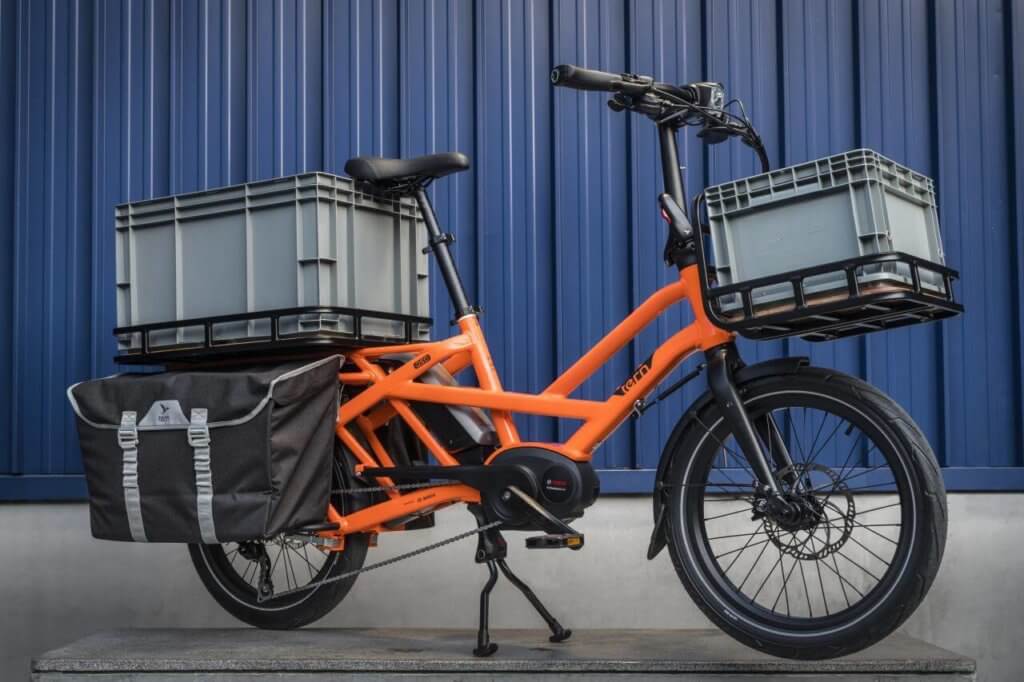 In Mark's words
When I first saw the specs on this bike I was blown away. This may be the perfect long-tail cargo bike for me. Solid design, two batteries, big front basket, chunky 20" wheels front and back (my favorite), and made by Tern!
I have an Xtracycle Tern Cargo Node and its the nicest bicycle I have EVER ridden, so I was stoked when they announced the GSD. But what does GSD stand for? From my research, and this isn't from Tern, it means Get Shit Done. Funny if it's true. Either way, it does just that, and then some.
I used this bike mainly for commuting, with chores some days. My first impressions on the Bosch system are:
It's like riding on a magic carpet, a sexy blue cargo carrying magic carpet. It's so nice and smooth that I forgot what I was riding.
I'm accustomed to the whine of a hub motor, but the GSD mid-drive is silent and contributes to the sensation that you're just riding a normal bike.
The mid-drive also makes the GSD feel like a regular bike, since the torque sensing motor only provides more assist if you pedal harder.
Compared to my hub drive system, which I can crank up no matter how hard I'm pedalling, the torque sensor requires no attention and feels more natural.
On my commute there is a long uphill over a bridge. I powered up the bridge not quickly (like a Stromer or OHM), but in a measured way as the power eased on, so I always felt in control. The steering was not influenced by take-off power either. In comparison, the Yuba Spicy Curry did feel faster, like a colt, you definitely have to hang on. The GSD is more like a pony, you will get there quickly enough but arrive un-flustered.
Descending the other side of the bridge at 37kph, it took about 30-35 feet to stop, hardly loaded, and I did get some rear wheel skidding. But to be fair I think that's the quickest I have ever stopped on any bicycle. Gotta love hydraulic disc brakes.
THE hill was next. A short lung buster called 3rd Street Hill. Usually, I take the long way round through a park so the climb is less severe, but this is a review of the Tern Get Shit Done, so I went straight up it like a speeding Lycra clad roadie. Straight up, steady, and way easier than my other bicycles. Someone lighter than myself would speed up there and might even think to themselves, "What a wonderful climb." And no noticeable battery fade either. A real test of the low torque power of the Bosch system. Almost enough to turn my head away from bub motors.
I'm riding at this time of year in the dark. So dynamo lights are great–no little batteries to fiddle with, just press and hold the + on the controller and we have light, nice. It's been said before, but the headlight is fab, really fab. Wide and bright, but not too bright to dazzle oncoming riders. It's easy to adjust to aim down on a city bike path, and aim high on the dark bits going home. But the rear light is half hidden by the bags so there's no side light, I expect the angle of visibility is less than 90 degrees, where 180 is preferable. Though the bags do have reflective accents. Fixable with a $25 secondary seat post light which lights up the deck and adds a ton of side visibility.
The optional bags are big and good and tough. The hook system took me a while to get used to as it's unlike the more usual clip systems of other panniers/market bags. They are about as large as those on my Xtracycle Cargo Node, maybe a little bigger, but they don't have the sling system. However, they are perfectly rectangular and deep, unlike my Xtracycle bags that taper at the bottom. I am 90% sure the GSD market bags will suit 90% of users, especially a parent with odd shaped kids, toys to haul, and a few grocery bags. Simplicity is the market bags' strength, whatever the brand.
The 20" wheels and tires. Simply put, wow. The Tern GSD includes 2.5" wide rubber made by Schwalbe specifically for this bicycle. The confidence this wheelset gave me rolling down rough Vancouver streets was amazing, even on roadside gravel I was solid all the way. Even in torrential Vancouver rain the, GSD stuck to the line perfectly. These chunky wheels and the chunky frame just shouts strength and reliability. Plus a 400lb gross load limit, what's not to like?
There are a few complaints I have about the GSD:
At 6'4" with a 33" inseam I felt too close to the bars, a bit squashed up, I adjusted everything and it was just OK with the cockpit feel. I keep kicking the bags walking with it and pushing off.
I am not a fan of keyless activation. My bikes have a key so if they're stolen the thief can't ride it away under power when the key is in my pocket. I dislike control panel removal as a key even more. I can have a spare key but not a spare panel. Get a good lock.
It's heavy. I could maneuver it on and off our public transit system just fine because it has a regular bicycle wheelbase. But if you have to lift an end it's tough, and I'm a big strong lad but with a bad back so I have to be careful. It's 60lbs with one battery, so close to 70lbs with the double battery system I was trying. It was also a chore because of weight to get in and out of the elevator at home.
Would I buy one? If I had a garage I could simply roll the Tern GSD into and park, yes. I don't, so I wouldn't. The weight is a deal breaker for MY lifestyle and my achy back. If you are a family in a house looking for an incredibly stable cargo bike and wanting to be less car-dependent, which is the GSD's selling point, or a business that delivers, then yes, without a second thought, yes. It's an awesome vehicle.
In Samuel's words
I have no kids to transport around town and when I grocery shop I buy for one. A cargo bike might seem excessive for my lifestyle, but I continuously found myself needing it. Delivering a side table to a friend's house, picking up a big bag of soil, dropping off a bag of clothes at a charity event – there was always something.
I once heard a quote that went something like "you don't build a bridge based on the number of people swimming across the river." I feel this rings true for the Tern GSD. I didn't realize how much I needed a bike like this until I had it.
And I wasn't the only one who quickly discovered how much easier an electric cargo bike can make life by bike. I have 5 roommates and soon they were finding uses for it all the time. We have a long-standing Slow Cook Sunday tradition where one roommate cooks for the entire house–every Sunday I would get asked to use it for the grocery haul.
Even if I didn't need it's hauling capacity I wanted to ride it. Just goes to show that when it comes to bikes, the heavy and bulky ones can be just as fun–if not more fun–as the nimble and quick ones. I am officially convinced a cargo bike will come into my life very soon.
While I had the Tern GSD I got to experience riding it through torrential downpours and snow. Here is what made this bike so great in winter conditions:
The sturdiness and strength of the bike gave me confidence on the city streets and no matter the weather, I never needed to worry about the bikes performance.
In the snow and rain, the hydraulic disk brakes meant you could reliably and quickly bring the bike to a stop even when loaded with cargo.
In the snow, the tail-end would fishtail a bit but the small wheels and low center of gravity made it very easy to make corrections and straighten out.
The wide tires helped with stability as the uneven snow wasn't able to force my tire in a certain direction.
The panniers kept my stuff dry even in a downpour but I never had them fully loaded so the rain and snow easily dripped off the front.
So embrace the bad weather and keep riding all winter long because with the Tern GSD you can.
Autumn Gear Guide
Find inspiration in our Gear Guide that will keep you out on your bike through wind or rain.
Download Now