September 16, 2013
Gaining Strength and Building a Better Community Through Recovery
Diagnosed with the incurable, but treatable, blood cancer Multiple Myeloma, Mat Goldman credits his passion for bicycling as being essential in assisting his relatively early diagnosis.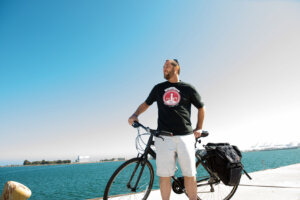 A little over two years ago, Matt Goldman, a senior port planner at the Port of Long Beach in Southern California, suddenly found himself becoming increasingly exhausted during his regular bike commute to work. At just ten miles (16 kilometers) each way, and a commute he'd been doing for four years, it should have been easy. Something was seriously wrong.
On May 2, 2011, Goldman was diagnosed with the incurable, but treatable, blood cancer Multiple Myeloma. He credits his passion for bicycling as being essential in assisting his relatively early diagnosis. Riding has also been an important part of his road back to health, along with receiving top medical care and learning how crucial eating the right food is for his condition.
When Goldman ­first began commuting again, a friend and colleague rode with him to make sure he made it okay. Another co-worker encouraged him to ride in Long Beach's annual "Tour of Long Beach" last May as something to help him focus on while regaining his strength and then rode the tour with him. Goldman is now commuting by bike three times a week, doing well with his treatment, and regularly blogging about his journey back to health at mattvsmyeloma.com.
Living with cancer has completely changed Goldman's outlook on life. "What I look at as important versus what isn't has changed," said Goldman. "Work and life's little things don't stress me out anymore. I'm fortunate that Long Beach Memorial has a great cancer program and they set you up with a cancer coach to help you deal with the challenge of living with cancer. My coach told me that I'd look back at this time in my life later as a little bit of a gift. I thought it was a crazy idea, but in a way it's true. I have become very comfortable with myself. Also I'm happy to share that last September my girlfriend Leslie and I got married and rode a tandem bike as part of the celebration."
"This journey has made me want to have more purpose to my life," shared Goldman. "The bike-friendliness of the Port is very important to me as a part of the City of Long Beach's over all bike-friendly campaign." Prior to being diagnosed Matt had begun helping to shepherd two very important bike-friendly projects for the Port through the right processes and committees – including making sure the Gerald Desmond replacement bridge includes a bike and pedestrian access path to be named after the late bike advocate Mark Bixby. Now he'd like to do more, including inspiring more colleagues to commute to work by bike. He'd also love to host regular tours of the Port by bike to help people understand better how this vital economic engine functions.
---
Cancer Treatment Quick Facts
An estimated 1,847,890 new cases of cancer will be diagnosed in North America in 2013
Cancer treatment patients who exercise experience 40-50 percent less fatigue
Aerobic exercise, like cycling, tends to reduce fatigue more than resistance training
The American Cancer Society recommends investing in community design that supports the development of sidewalks, bike lanes, and access to parks and green space as part of cancer prevention
---
Melissa Balmer is a writer, speaker, media specialist. She is the Director of the Women on Bikes California initiative of California Bicycle Coalition and its media platform pedallove.org. She serves on the marketing and media committee for the national  board of the Women Bike program of the League of American Bicyclists and teaches the "Active Living Plugged In" new media, communications and leadership labs in collaboration with Charlie Gandy.
Autumn Gear Guide
Find inspiration in our Gear Guide that will keep you out on your bike through wind or rain.
Download Now