July 26, 2016
GO LED Smart Cycling Backpack Review
The LED backpack is pegged as a wearable safety device for urban cyclists.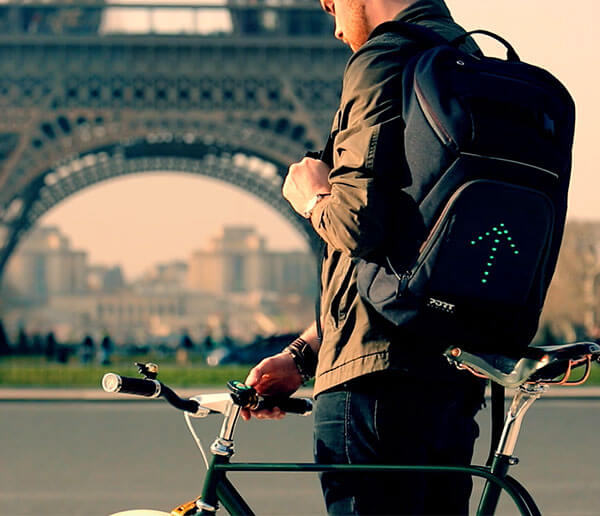 PRICE $159.99 USD
FIND IT AT      USA & Canada: bikebagshop.com         Europe: goledbag.com
The GO LED is a backpack that has an integrated indicator light display. The backpack comes with a wireless remote control that attaches to your handlebar and can be controlled by your thumb. The LED system can display 4 extra visible navigation signs (left, right, forward, stop). The bag weighs only 1 kilo, features a padded laptop compartment and comes with a translucent rain cover.
TELL YOUR FRIENDS
The GO LED backpack is not just another backpack. I felt safer and calmer around cars because of it. From the first time using it I noticed drivers responding more quickly than they would to hand signals. They were responsive and gave me the necessary room as soon as I used the flashing LED to indicate I was going to turn or merge. It's funny what a blinking light can do. The GO LED was especially useful when going uphill and having to make turn at a stop sign. It can be difficult to use one hand to indicate and the other to keep balance when it's a slow uphill start. The signal is visible in the daylight and when the sun goes down this product only gets better. Not only do I think this is the perfect product for those who commute to work but for kids as well. It's fun and easy to use and makes their intentions while riding a bike very clear to the driver. Being able to store your laptop and other gear/groceries in the 35L bag is really just an awesome bonus.
WISH LIST
I wish GO LED Rucksack was a bit more stylish. The look of the bag doesn't appeal to the urban professional side of me living in the city. The look of the bag makes you feel like you're getting ready for your first day at school.
SUMMARY
This backpack made getting through the city in traffic a breeze and I am sure the drivers appreciated the clear signals as well. I felt safer on the road and drivers seemed to better understand and react more quickly when signalling a turn. It has the capacity to carry a couple nights of groceries or your school/work supplies. This GO LED Backpack makes the commute home a breeze and takes the stress out of any corner you need to make. Game changer.
---
Reid Hemsing is Momentum Mag's go-to "bag guy," and a year round bike commuter in Vancouver, BC.

Autumn Gear Guide
Find inspiration in our Gear Guide that will keep you out on your bike through wind or rain.
Download Now