A Guide to Biking Chicago, IL
Written by Evan Holmes
---
Appearing at the top of more and more lists of bike-friendly cities, Chicago, IL. has seen over 100 miles of new protected bike lanes installed since 2015.  Commuters flock up and down vibrant Milwaukee Avenue to jobs in the Loop, while the newly-finished 606 Trail and the city's iconic Lakefront Bike Path offer hours of recreational riding, and amazing views of the city and its unique neighborhoods. Chicago's Divvy Bike Share program is the second largest in the US, and with the launch of Divvy for Everyone, now offers subsidized memberships for all residents.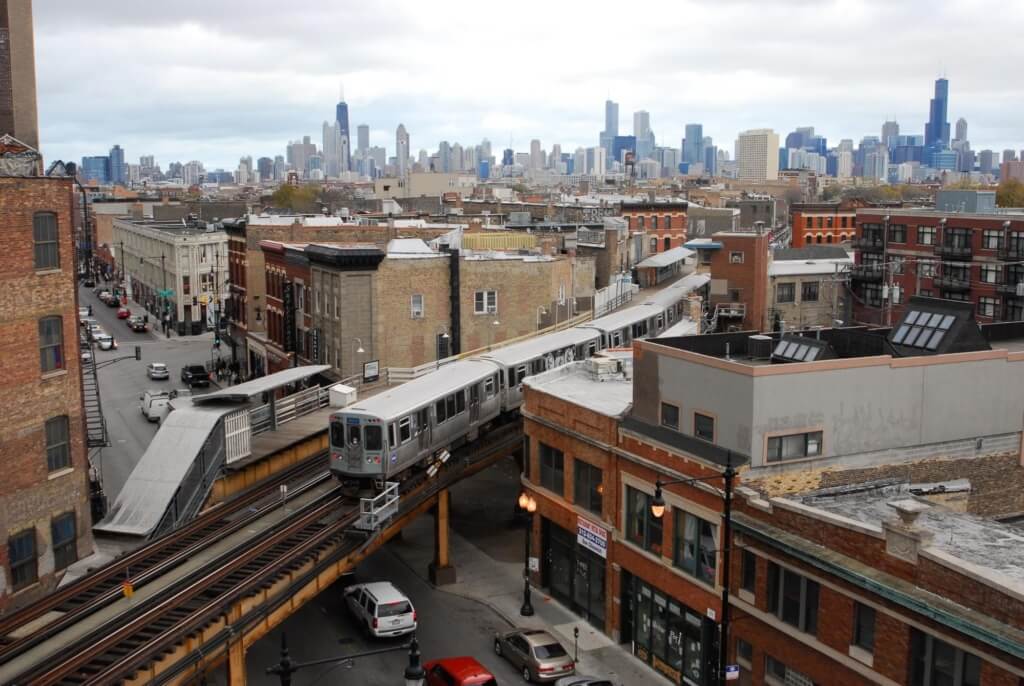 Where to go
Wicker Park's "6 Corners" intersection of Damen Ave., North Ave,, and Milwaukee Ave. offers an eclectic mix of fashion, art, and music– catch a First Fridays open house at the Flatiron Arts Building, spend an afternoon at Myopic Bookstore, or scratch your vinyl-collecting itch at Reckless Records.
Pedal over the Damen Ave. Bridge to Lincoln Square and Edgewater for authentic European and Middle Eastern dining, the newly re-opened historic Davis Movie Theater, and catch some world-class jazz at the intimate Green Mill, a prohibition-era venue on the city's north side.
Where to eat
Alright, it's Chicago– we could fill an entire website with food recommendations, but let's stick to some especially bike-friendly joints.  Handlebar Restaurant in Wicker Park has ample bike parking, and a mouth-watering menu of locally-sourced vegetarian and vegan comfort food– rumor has it their staff even keeps bike pumps on hand!
Lula Cafe in Logan Square hosts a bustling and affordable brunch– a great place to fill-up before hitting the weekend Farmer's Market on Logan Boulevard.  Heading up to the North Side, Heritage Bicycles on Lincoln Ave. is a great place to meet-up for coffee and oggle hand-built frames.
How to get a bike
Chicago's Divvy Bike Share is the second-largest in the US, and with 24-hour passes for $10 and annual memberships for $100, the nearly 600 Divvy stations in Chicago make getting in the saddle a breeze. Bike and Roll Chicago offers solid hourly and daily rentals of hybrid, comfort, and road bikes for the whole family to explore the lakefront, and Bobby's Bike Hike has the Bike Tour game on lockdown– we recommend the "Bikes, Bites, & Brews Tour".
If you're looking to escape the hustle and bustle of Chicago and want to explore the largest forest preserve district in the United States the Forest Preserves Cook County, with more than 69,000-acres, is worth exploring by bike. Dockless bike rentals are available at over 50 forest preserves so you can enjoy 100+ miles of paved and multi-use trails. To locate and use a HOPR bike simply download the HOPR Transit App or visit gohopr.com for more information on signing up.
Where to stay
Many hotels in downtown Chicago actually offer free bikes to guests– the Fairmont Chicago, the The Alise Chicago, and Hotel Palomar among them.  Smaller neighborhood Bed & Breakfasts like the Sono Chicago and the Wicker Park Inn provide a low-key alternative to downtown hotels– and don't forget to check-out the city's ample AirBnB offerings to match any tastes and budget.
---
Evan Holmes is a musician, writer, and everyday cyclist from Chicago, Illinois.  He's worked seasonally at Chicago's vibrant Village Cycle Center for the last ten years, and is a co-founder of Pedal, a web design and content hub for artists and small businesses.