June 12, 2015
Introducing the New Hiplok GOLD Bike Lock
Hiplok's new wearable bike lock is easier to use and more secure than any that Hiplock has ever created.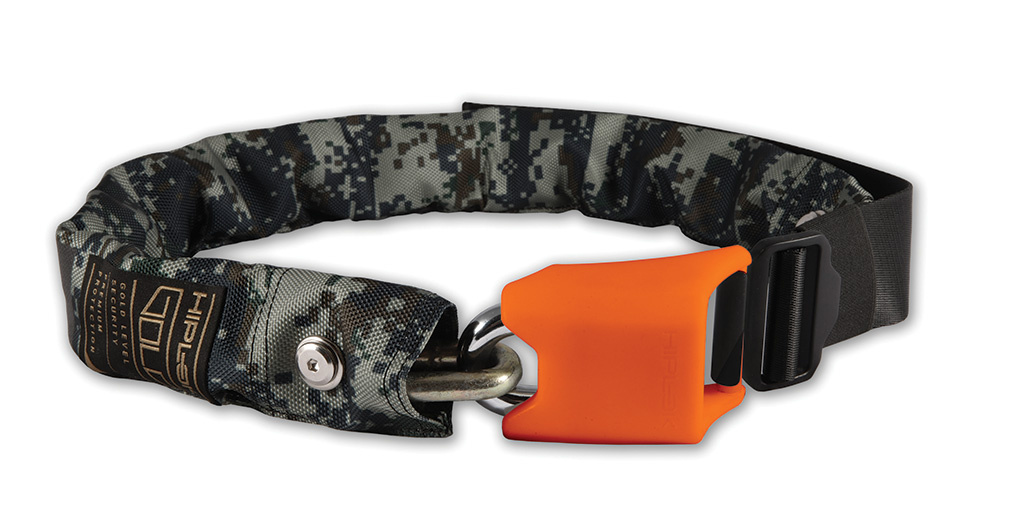 Maybe, if you're lucky, you have never had that panicked feeling as you approached the rack that you left your bike locked to of whether or not it's still going to be there. Maybe you're riding less altogether because you couldn't bear for your beautiful bicycle to be stolen from you.
Maybe you're tired of hauling around that hefty U-lock in your backpack that leaves your body suffering the consequences in the evening. Maybe you want to stop spending so much time fiddling with those fussy, on-bike lock mounts. Maybe those on-bike lock mounts never quite fit on your sloped tubes.
Wouldn't it be nice not to worry about any of these things?
Whether these concerns apply to you or not, Hiplok's new wearable bike lock, the Hiplok GOLD (given this name because of its Sold Secure Gold security rating: the highest possible rating from this accreditation house), may be able to soothe your uneasy nerves, your aching back, or simply provide you with a very safe lock that you can easily and conveniently wear as a belt for the duration of your ride. No more fussing with putting your bike lock away somewhere, coiling it around your tubes, or mounting it – just buckle it to your waist and you're good to ride. No more worrying about whether your bike has been stolen, either, as this is Hiplok's highest security wearable bike lock to date.
The Hiplok GOLD has been designed specifically for areas of high theft risk, and features a 10mm thick premium hardened steel chain, a 12mm hardened steel sickle, and speed buckle fastening that adjusts to fit the rider's waist without being locked to them.
The lock has a removable water repellent outer sleeve and reflective chevron details. Hiplok GOLD's waist sizing ranges from 26" to 44" and comes with three coded keys. The 5 pound (2.3 kg) bike lock is offered in both stealth black and orange/camouflage, and feels better on your waist than in your backpack. 
The Hiplok GOLD is now available for purchase in the US for $129.99 and in Canada for $169.99.
Further details on both the bike lock and Hiplok's brand can be found at hiplok.com.
Autumn Gear Guide
Find inspiration in our Gear Guide that will keep you out on your bike through wind or rain.
Download Now