November 19, 2013
MEC Crosstown Men's Jacket Review
Momentum Mag reviews the MEC Crosstown Men's Jacket.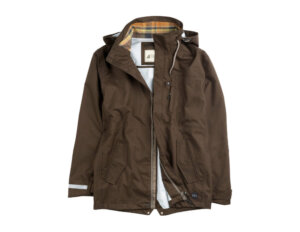 PRICE $159 CAD
FIND IT AT mec.ca
The Crosstown is a casual rain jacket with a fit for biking and hidden reflective details. The 2.5-layer fabric has a near cotton feel with a polyurethane laminate inside and an outer DWR treatment to keep you dry. An adjustable hood with a brim fits over a helmet and vents on the back help manage moisture and temperature. Flannel-lined collar and front pockets for comfort. Five pockets. Available in Dark Chocolate in sizes Small to XXL.
TELL YOUR FRIENDS
This is an affordable and dependable rain jacket that will keep you dry, works great on the bike, and doesn't scream "bike gear". The cotton-like look and feel of the fabric is casual and a nice change from the typically sporty and plastic look of many rain jackets.
WISH LIST
While the longer sleeves provide excellent hand coverage on a bike, off the bike they can feel a little sloppy. Additional button holes on the cuff straps that hide the reflective strips would be a good addition to help cinch sleeves.
SUMMARY
The Crosstown is an excellent wet weather jacket with features that are great for biking without looking like the average cycling jacket. The large back vents help manage body temperature and moisture inside the jacket while keeping you both comfortable and dry. The front hip pockets with flannel lining are a good size for carrying a wallet and keys and the snap closure on the flaps keeps everything in place. The large chest pocket fits a smartphone and the zipper can be easily opened while on the go. The hidden reflective details are clever and I especially like the cuff striping that can provide extra visibility when using hand signals at night.
Autumn Gear Guide
Find inspiration in our Gear Guide that will keep you out on your bike through wind or rain.
Download Now