December 9, 2015
Momentum Mag's December Issue is Now Live!
Our newest issue takes you around the world and through the seasons on two wheels.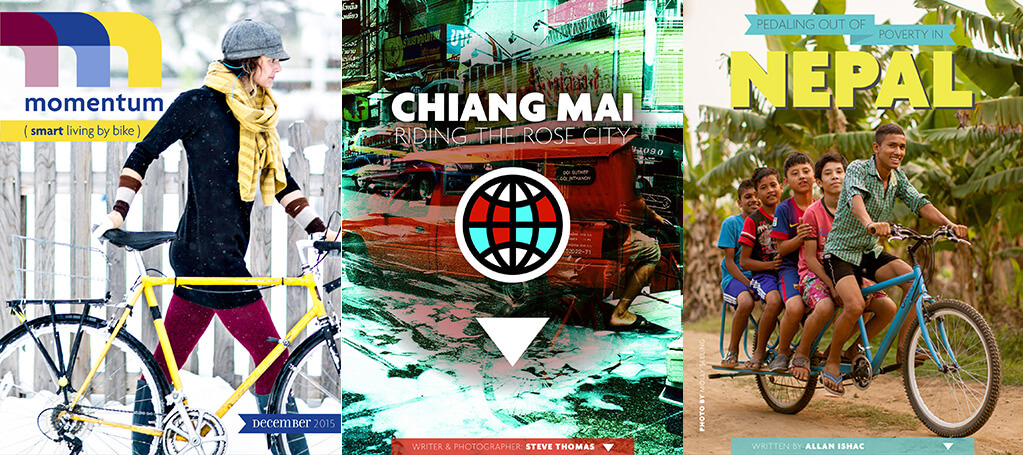 Momentum Mag's December issue is now available on Apple, Google, and Amazon platforms, optimized for tablets and smartphones via the Momentum Mag app. The streamlined PDF version can be found here.
In this issue, we take you from Nepal to Thailand and back again to North America. Inside, we look back at the year of Cyclepreneurs, with the top reasons to make the leap and become one yourself. Our Families on Bikes article discusses how to cycle in the winter with kids, and when to leave the bike at home. We also share tips on riding in the rain, something those in the Pacific Northwest know especially well. To round out our seasonal cycling coverage, we review 15 rain jackets and capes for the wet weather ahead.
Our feature piece by Allan Ishac interviews Caleb and Emily Spears of Portal Bikes about their work in Nepal, both with bicycles and with their emergency shelter project. For those lucky to have Southeast Asia on their travel agenda, or maybe just in their bicycle daydreams, Thailand resident Steve Thomas shares his insight about exploring Chiang Mai by bike and where to find the best cup of coffee in that city.
Also in this issue: our cover model, Jeanne Eisenhaure, shares her BikeStyle, we look at different ways to store your bike both inside and out after your ride, and present part two of our Holiday Gift Guide.
This issue is sponsored by Pearl Izumi. Enjoy and happy pedalling!
Autumn Gear Guide
Find inspiration in our Gear Guide that will keep you out on your bike through wind or rain.
Download Now