November 12, 2015
Momentum Mag's First Digital-only Issue is Released!
Our new monthly digital magazine brings you the Momentum you love in an interactive app.
Momentum Mag has just released our first digital-only issue with the November 2015 edition, and here's your chance to try a free trial. Aside from a brand new platform to read all the news, profiles and features you've come to love from us, this new issue is our first exclusively digital publication. In addition, it's the start of our monthly commitment, with a fresh issue now coming out 12 times per year. We've worked very hard on designing a new platform for our readers to engage with us as we continue to cover the burgeoning cycling lifestyle in North America and beyond.
With our new digital magazine, we are making a big effort to connect with more urban riders and, particularly, those new to cycling and those interested in riding more often (or for the first time!). Our interactive magazine is available on all major platforms – Google, Apple and Amazon – and optimized for your digital-reading pleasure on tablets and smartphones of all sizes. Expect to see more image galleries, embedded video, in-depth feature articles and recurring columnists along with our ongoing coverage of bikestyle, families, wellness, bike shops, city guides, gear reviews, brand features, and much more. We encourage you to read the 'How to Use This App' page at the start of the issue, providing tips and tools to help you navigate around the magazine. If anything doesn't look right or if you are experiencing technical difficulties, please let us know by emailing us.
We are no longer constrained by page count or image size and we're looking forward to developing this digital magazine even further. For that, we'd love your help.
What do you like reading about? What do you want to see more of in Momentum Mag? What would you rather not see again? What topics are close to your heart and you feel need more attention? Help us shape the future of Momentum Mag so we can bring you the best possible urban cycling magazine now and into the future. Please email me and let me know your thoughts.
Momentum Mag has long been known for our city cycling coverage. We are the only magazine dedicated exclusively to urban, transportation cycling here in North America. For more than 10 years, Momentum Mag has been there as transportation cycling began to reach the mainstream, first in larger cities in the USA and Canada, and now from coast to coast in cities big and small. We've prompted new and established cycling companies with our questions about their dedication to city cycling and watched as the answers went from nothing at all to entire lines of bicycles and accessories now made with the urban rider in mind. We've championed cycling infrastructure and bold moves on the part of our city leaders and planners. And we've been thrilled to see more cities getting on board and providing real transportation options for citizens of all ages.
Finding a bicycle made specifically for our cities – an upright bike complete with fenders, racks, bells and comfort in mind – was often a challenge when we first began publishing. The growth in this segment of the industry has reflected the trends of today: more and more people want to incorporate the bicycle into their day to day lives. Hearteningly, this trend isn't confined to a single age group, ethnicity or gender. It is enhanced by advocacy groups and planners taking a holistic approach to urban life, slow rolling group rides connecting people to their neighborhoods and neighbors, festivals celebrating bicycle culture and conversations moving beyond the tired trope of bikes versus cars.
Momentum Mag celebrates the diversity of our city cycling lifestyle with positive, solutions-based coverage. As always, we appreciate your support. Thanks for riding with us!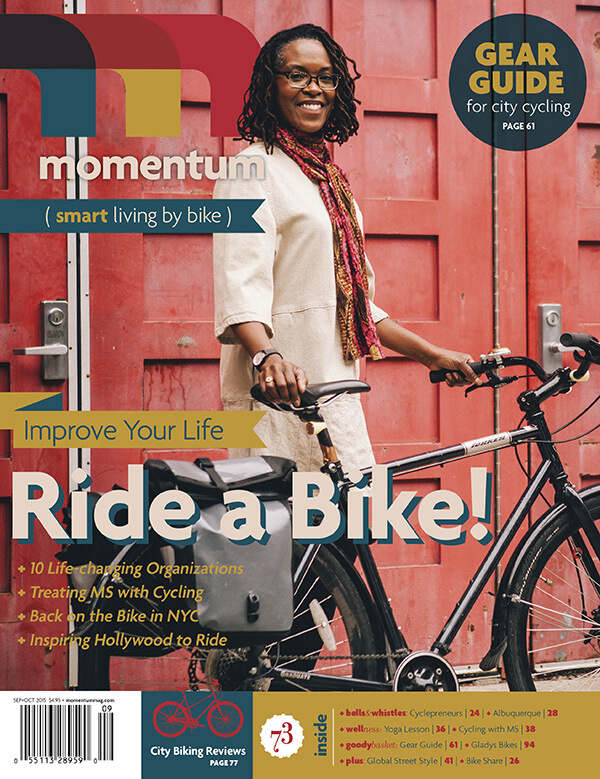 Autumn Gear Guide
Find inspiration in our Gear Guide that will keep you out on your bike through wind or rain.
Download Now