March 31, 2016
Our Very Own Mia Kohout is Vancouver Bike Share's New General Manager
We're excited to announce Mia's future in this exciting role.
After years of delays, Momentum Mag's hometown of Vancouver, BC is about to get a public bike share. The City of Vancouver made the announcement last month that the long-anticipated system will be arriving on our streets in time for the start of summer. They selected US-based CycleHop as the company responsible for implementing and managing the system. When in place, it will be the largest bike share system in North America using smart bike technology.
Last week, CycleHop together with the City of Vancouver, made the exciting announcement that Momentum Mag's CEO and Editor-in-Chief Mia Kohout has accepted the position of general manager for the upcoming bike share. Kohout will remain in her role as co-owner of Momentum Mag, but has stepped away from day-to-day operations of the magazine. Designing and implementing the 1,500 bike system is sure to be an enormous undertaking for the local team, but they are in very capable hands with Kohout at the helm.
Kohout has been a driving force behind cycling in Vancouver for the past ten years, working tirelessly to make cycling as accessible as possible to people from all walks of life. After herself being inspired to take up cycling by Victoria's Bike to Work Week, Kohout went on to launch Vancouver's own Bike to Work Week and has been a force to be reckoned with in the city's cycling scene ever since.
It was the role with BTWW that led her to Momentum Mag in 2007, when she accepted a position as Marketing and Advertising Director. She went on to become the magazine's CEO and Editor-in-Chief in 2010. Together with her co-owner, Tania Lo, she has spent the past few years creating and curating content for an international audience, all in the name of getting more people on bikes.
Like most bike advocates and enthusiasts in Vancouver, Kohout was excited about the incoming bike share, but it wasn't until she received a phone call from CycleHop CEO Josh Squire that she considered her own potential role in the endeavour. Squire, who had met Kohout at the National Bike Summit in Washington, DC a number of years ago, encouraged her to put her name forward for the role of general manager.
"Through my work at Momentum I've gained a lot of cycling industry experience, and I've been able to travel to a lot of places and witness the transformation and the positive effects bike share has on a city," Kohout explained. "All of these experiences came together at a time when Vancouver bike share was finally ready to launch, and it seemed like too perfect of an opportunity for me."
While we will definitely miss Mia during the day-to-day around here, we couldn't be more proud that this incredible woman will be moving forward in her mission of creating bike-friendly cities.
Kohout got started right away hiring her team, and they have been tasked with the impressive project of implementing a 1,500 bike, 150 station system from start to finish in under three months, half the time it usually takes to launch a bike share system. When all is said and done, Vancouver will finally have a public bike share for residents and visitors alike to take advantage of the plentiful bike infrastructure in one of North America's most bike-friendly cities.
"I see bike share as such an important part of completing the transportation system in a city and providing people with that last-mile option," Kohout said. "Where maybe they would have taken a taxi or been in a car. Now there's an opportunity for them to complete small trips using public bikes."
However, the undertaking is not without its challenges. Vancouver is one of few cities in the world to launch a public bike share under a mandatory helmet law. Every other city who has done so has been unsuccessful compared to systems implemented in their helmet-optional counterparts. "I do see the helmet law and the over-promotion of helmets as a challenge," Kohout admitted. "Not necessarily to launch the system, but to see the ridership potential that Vancouver has, because we have yet to see a successful bike share system launch where there is a mandatory helmet law."
Rather than get caught up in gear, Kohout intends to focus on the elements that make riding safe, accessible, and fun for everyone. A large part of her launch strategy will be on education and awareness for new riders. "Not all of our cycling infrastructure is on major roads, it's on side streets," she explained. "So most people who are new to the city or have never biked before don't even realize how great the infrastructure is here, so that's such an important message." Educating riders on safe cycling will be incorporated, as will the continued promotion of safe driving as motorists share the road with an ever-increasing number of people on bikes.
Most of all, her launch strategy will fall in line with the work she's been doing for years – promoting the idea that riding bikes is for everyone. Kohout had just one message for the residents of the city: "You're going to have an amazing opportunity to ride a bike around Vancouver. Don't be afraid, embrace it and hop on a bike. Riding a bike is fun, it's easy, it's convenient, and there's absolutely no better way to get around the city."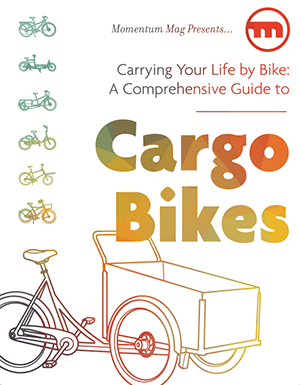 Get your FREE copy of our guide: Momentum Mag's Cargo Bike Guide
Discover the wonderful world of cargo bikes! Download this comprehensive guide to learn about different cargo bike models, brands, the history of cargo bikes, buying advice, one family's experience with cargo biking, and more.
Please select your country and provide a valid email address
This is a sponsored guide. Your email address may be shared with Bike Friday. Please read our
Privacy Policy
.
Thank you for your submission. Please check your inbox to download the guide!
Autumn Gear Guide
Find inspiration in our Gear Guide that will keep you out on your bike through wind or rain.
Download Now