January 11, 2016
NAHBS 2016 is Set to Host a Record Number of Countries
The North American Handmade Bicycle Show is expecting 10,000 attendees at this year's event in Sacramento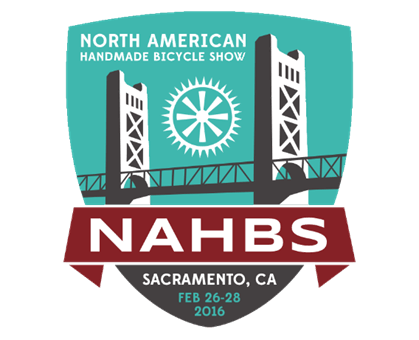 The North American Handmade Bicycle Show (NAHBS), the world's largest event for custom-built bicycles, is gearing up for what is predicted to be its largest event yet. Taking place from February 26th – 28th at the Sacramento Convention Center in Sacramento, CA, show organizers are expecting 10,000 attendees this year, which would be a record for the event.
While the show has always had a wide array of brands and builders from around the world as well as from the US, this will be the largest international presence to date. Brands from across The UK, Germany, Italy, The Netherlands, Ukraine, Australia, Japan, and Canada will also be represented. The show will also feature exhibitors from Russia and Lithuania for the first time.
Triton hand-built Titanium frames and components, coming all the way from Moscow, will be making its debut appearance at the show. They'll join Tim Crossman Composites from Lithuania, who produce handmade carbon-fiber tubes, frames, and full bikes.
"We usually get a great turnout from international brands, and we've become a model of this type of show around the world," said Don Walker, Founder and President of NAHBS, in a press release. "We're especially fortunate to have brands from so far away as Russia and Lithuania this year! It's another sign that consumers all over the world appreciate the artistry, technological expertise, durability and craftsmanship that go into all these frames and bikes."
Now in its 12th year, NAHBS has become the event to see and be seen at in the world of handmade and custom bicycles and components. Through the NAHBS awards, builders and brands are recognized in categories ranging from Best City Bike to Best Finish to Best Tandem Bike to People's Choice. It's a chance for builders, industry members and bicycle enthusiasts to meet, check out each other's work, and see what's new and upcoming in the world of handmade bicycles.
If you can make it to Sacramento this February, NAHBS is a don't miss event. For more information and a complete builder's list, check out the NAHBS website.
Autumn Gear Guide
Find inspiration in our Gear Guide that will keep you out on your bike through wind or rain.
Download Now