January 18, 2016
No Surprise: Study Finds Sharrows Don't Make Streets Safer
The study basically confirms what any cyclist who has ridden in sharrows already knows.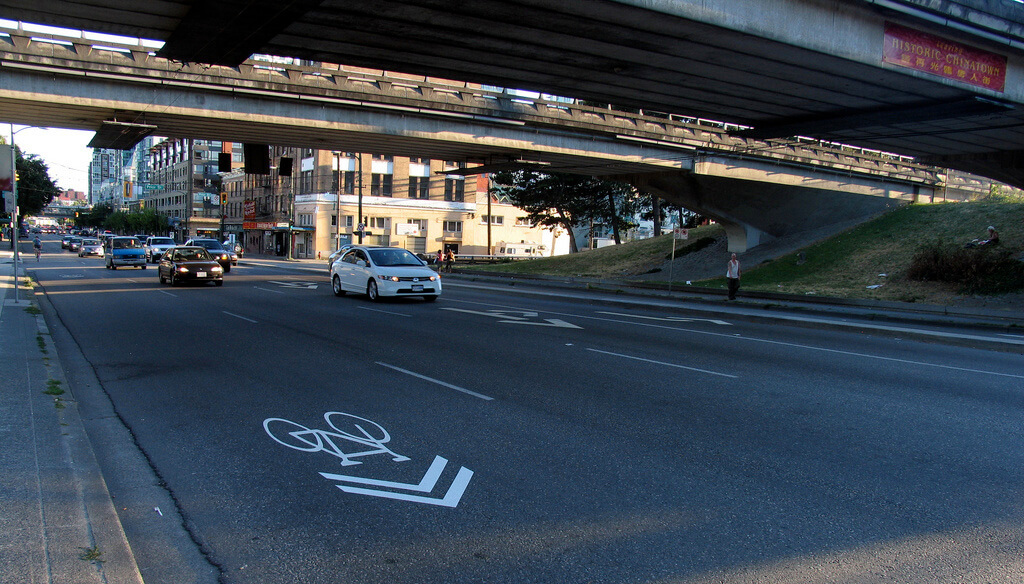 Sharrows: clip art-style bicycles with arrows painted onto the roads to indicate where bicyclists should ride on a street that remains, ultimately, dedicated to automobile traffic. Sharrows are what cities install when they want to appear as though they care about bicycling, but can't or don't want to muster the political will to actually change anything significant in its favor.
It has long been assumed by bike advocates and everyday riders that sharrows do very little, if anything, to increase road safety for people on bikes. As it turns out, those assumptions were correct.
A recent study undertaken by University of Colorado Denver researchers Nick Ferenchak and Wesley Marshall examined safety outcomes for areas of Chicago that received bike lanes, sharrows, or no bicycling infrastructure at all. The study was conducted before Chicago had much in the way of protected bike lanes, so in this case no distinction was made between types of bike lanes. The study concluded that, while bike lanes encourage more people to ride and lead to increased safety for people on bikes, sharrows do neither.
The study was conducted by dividing Chicago into three categories: areas where bike lanes were added, areas where sharrows were added, and areas where no bike infrastructure was added, each between 2008 and 2010. Ferenchak and Marshall then analyzed rates of biking and rates of cycling injuries in each area to determine the effects of the road treatments or lack thereof.
They found that rates of cycling more than doubled in areas where new bike lanes were added, compared to only a 27 percent increase in areas where sharrows were added. Interestingly, there was a 43 percent increase in areas where nothing changed. In areas where new bike lanes were added, the rates of injuries to people on bikes decreased 42 percent, compared to only a 20 percent reduction in areas with sharrows, which was worse than the 36 percent reduction in areas where nothing was changed.
While this is only theorizing, part of the reason injuries decreased more in areas where nothing happened than in areas with sharrows could be due to sharrows' ability to change cyclist's behavior without actually changing circumstance. For instance, sharrows may convince bicyclists to ride on streets they wouldn't otherwise ride on because of an increased perception of safety, while not actually providing any real protection or providing any impetus for drivers to change their behavior accordingly.
Dutch bike planner Dick Van Veen once told Streetsblog that putting sharrows down on a fast street with no corresponding traffic-calming measures would be "unethical." If you've ever ridden down a fast-moving, busy street in the sharrow line, you realize quite quickly that most drivers are not treating those painted arrows as proper infrastructure.
This most recent study basically confirms what is quite easy to feel when you're out in the sharrows on your bike. Bike infrastructure needs to be safer than this, it isn't enough to simply paint an arrow on the ground and call it a day. "I think our main takeaway is that we need appropriate infrastructure," Ferenchak said. "Sharrows don't dedicate any space to bicyclists."
Spring Into Gear Giveaway
Enter to win the limited edition Bordo Black and Yadd-I helmet from ABUS
Enter Now