December 5, 2017
North St. Bags' Flanders Backpack Review
A durable bag perfect for the commuter who always has an item or 20 to pick up on their way home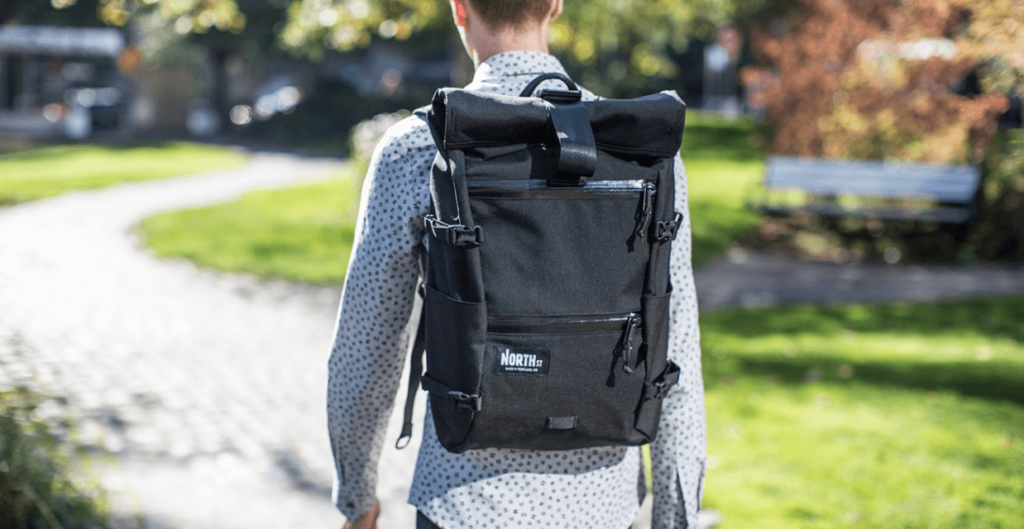 Find it at: northstbags.com
Price: $189.00 USD
The Flanders Backpack is newest rolltop backpack from North St. Bags made from 1000 denier CORDURA nylon with a waterproof drop liner made from lightweight and durable VX-21 X-Pac sailcloth. An hourglass pattern gives this high capacity backpack a slim profile. Contoured padded shoulder straps are built to handle all the weight you can carry and a padded mesh back adds comfort. The internal hook and loop strap system allows for numerous accessory upgrade options and features a padded laptop sleeve. Exterior taped zipper pockets are lined and safe from outside weather. Handmade in the USA. The bag has a 32L capacity and weighs just over 2lbs.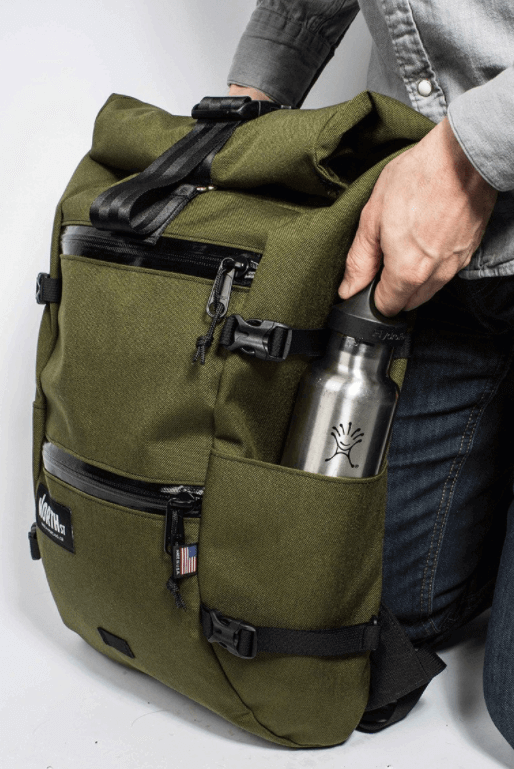 Tell Your Friends
Talk about capacity. When I know I am going to have a big haul I rely exclusively on the Flanders Backpack. It still surprises me when I walk out of the grocery store with a weeks worth of food packed into it. For a while, I was concerned the weight might be too much for the straps but I've been proven wrong. Time and time again I push this bag to it's limits and it still looks and feels brand new.
Unfortunately it hasn't kept my bread from getting squished but I blame that on my obsession for always wanting to see what else I can fit into this bottomless pit they call the the Flanders Backpack
Waterproof? You better believe it. Even in Vancouver's downpours this bag has kept my items dry. Exterior taped zipper pockets do a great job of keeping water out of smaller pockets.
Wish List
When it comes to a rolltop bag I always like having a zipper that runs along the side for convenient and quick access. I am in and out of my backpack frequently when riding around town and it's nice having the ability to open and close the bag with just one hand.
Summary
Typically you're faced with a choice. A bag with a sleek profile or a bag with high capacity. Having both would seem impossible. Well, North St bags pulled it off with the Flanders Backpack. I really appreciate the slim hourglass profile from a style and functionality perspective. When you're squeezing through crowds, fitting the bag into a locker at the gym, or simply don't have much to carry the slim profile is very appealing. The rolltop provides plenty of extra room when it's time to overload.
The Flanders is everything you want from a modern backpack: Simple, rugged, and comfortable. I have placed this bag on the ground every single day to dig through it and I see no wear or tear in the base. The open side sleeve pockets are perfect for quick and easy access to your lock(s). The bright liner is incredibly useful when your digging for stuff in the main compartment. I'll never buy a bag with a black liner again. The padded back and straps fit very comfortably against the body even with the bag fully packed.
Overall, I highly recommend the Flanders Backpack for it's durability, weatherproofness, sleek style and of course it's impressive amount of capacity. Perfect for the commuter who always has an item or 30 to grab on their way home from work.
---
Autumn Gear Guide
Find inspiration in our Gear Guide that will keep you out on your bike through wind or rain.
Download Now