January 21, 2018
OHM Urban E-Bike Review
The OHM Urban is a resilient, smooth-riding electric bike that's loaded with all the extras.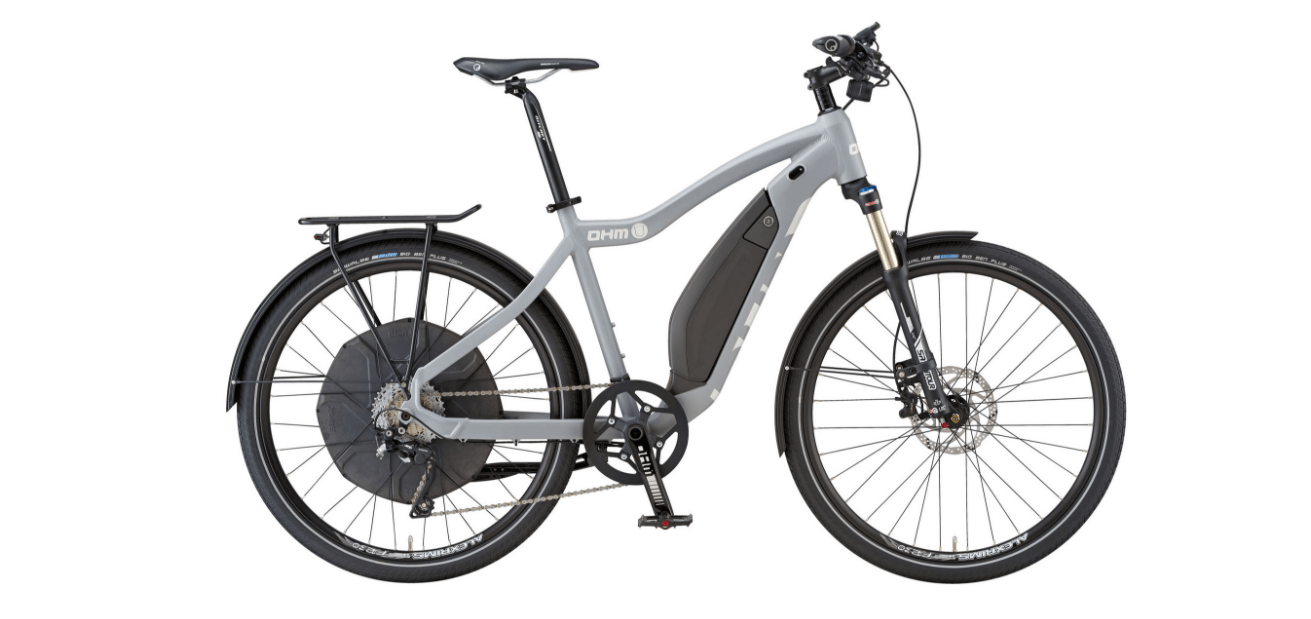 Find it: ohmcycles.com
Price: $3,599 USD
The OHM Urban is a resilient, smooth-riding electric bike that's loaded with all the extras so you can negotiate city streets, zip up hills and stop on a dime with confidence. The Bionx direct drive D-series hub motor provides 500W of support with 4 user-selected assist levels. Smooth throttle mode can override pedal assist. The custom integrated battery is streamlined and solidly secured on the downtube to improve handling. The control unit includes a display screen as well as an intelligent, multifunctional remote control that is easy to use without moving hands from handlebar. Regenerative braking feature extends range even further.
Tell your Friends
This bike has it all! Seriously one the most fun bikes I have ever ridden. The high quality parts, comfort and thoughtful design means you can simply just go out and enjoy the ride without a second thought or any concern. A seriously ohm moment.
Fenders, rear rack, built in lights make this ideal for city commuting whether you use it for work or to haul groceries. Incredibly smooth ride that feels and handles like any standard bicycle.
Wish List
For the urban environment I found the shocks unnecessary. I locked them into position. The wide tires provided plenty of absorption while commuting on city streets.
Ideal Rider
Looking for the perfect everyday commuter thats reliable, fast and doesn't require all these additional add ons to get what you really want. Here it is. As is.
Summary
You'll spend hours on this bike exploring the far reaches of the city. When you want to explore more by bike or use a bike more often in your daily life but barriers prevent you from doing so this bike is the perfect option for anyone in need of a little assistance. The Ohm Urban makes it possible for everyone to go for extended rides no matter their fitness level.
The Rear hub-drive motor isn't integrated into the frame like it is with mid-drive motors. This means the bike won't become a paper weight should the motor stop working years down the road. Just replace the tire and you can still ride this bike with or without the assist. That's the least of your concerns at this point though as the bike uses incredibly high end parts which becomes obvious from the first ride.
The direct drive hub motor provides an incredibly smooth ride especially for how powerful it feels and quickly it accelerates. Using a high quality BionX system means the motor is nearly silent and peddling feels very natural even with the assist on high. The bike has a throttle option as well that brings you up to max speed incredibly quick. A number of times I have accidentally hit the throttle on other e-bikes and had it jolt out of my hands. Thankfully this one is only activated when moving at least 1.5 mph.
Keep track of your speed with the crystal clear LCD display, another cool feature on this bike. If you remove the display and leave it at home no worries. The thumb control will let you know what level of assist you are on and how much battery is left. Ohm has thought of it all.
The bike is heavy weighing over 55 lbs but it feels incredibly sturdy, almost unbreakable. High quality parts throughout make you really appreciate how good an e-bike can feel. Sealed cartridge headset and bottom bracket will keep water out. Hydraulic disk brakes have no problem stopping this machine whether your riding down a steep hill or in the pouring rain. Custom integrated carrier and fenders supply more stability and add a real polished finish to the bike. The Ergon grips and gel saddle maximize comfort.
Streamlined battery produces sturdier integration with frame so there is no rattling or noise no matter how hard or fast you ride this bike. The 6V LED lighting provides optimal visibility and the upright relaxed riding position is perfect for the city. If it's in the budget this is the bike!
Comes in four frame sizes and a nice grey color that suits any rider.
Autumn Gear Guide
Find inspiration in our Gear Guide that will keep you out on your bike through wind or rain.
Download Now