February 22, 2015
Planet Bike Blaze 500 XLR Front Light Review
Momentum Mag reviews the Planet Bike Blaze 500 XLR front light.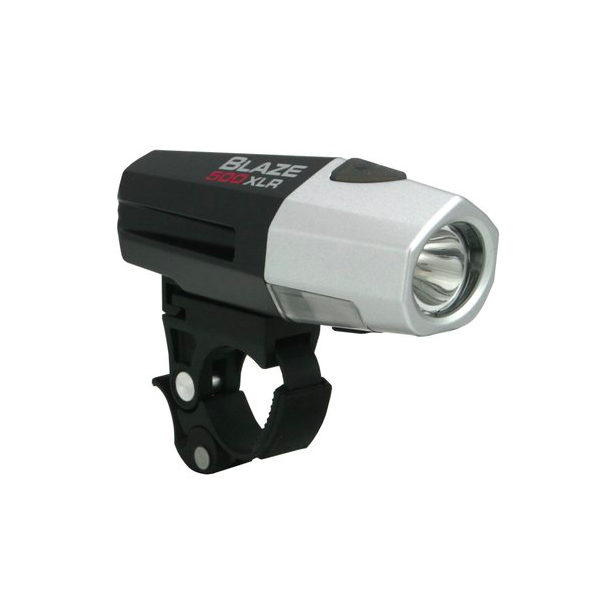 PRICE $74.99
FIND IT AT planetbike.com
The Blaze 500 is a super-bright LED front light with a USB-rechargeable Lithium Ion battery. It is water-resistant, easy-to-mount, and has three modes: high beam, low beam, and Superflash.
TELL YOUR FRIENDS
The most notable feature about this light is that it is incredibly bright. So bright in fact that one night, while I was rolling towards a crosswalk on a bike path, a young woman about to cross jumped back before exclaiming to her friend, "Oh my god I thought that was a car!" The 500 lumens throw light 20 feet in front of the bike in a wide scope, making it the perfect light for cruising around dimly lit side streets or rural areas. The battery lasts around 2 hours on a steady light setting and a warning light indicates when it is running low. The standard USB port makes it easy to recharge even if you lose the cable it came with, and even though it's only advertised as "water-resistant," it has held up well in a Pacific Northwestern winter.
WISH LIST
The light mounts easily with no tools, which is great except that it leaves the mount a bit weak for the weight of the light. It tends to gradually tip forward on longer rides.
SUMMARY
Overall, this a great light. Despite the small flaws mentioned above, it excels at what is it is fundamentally designed for – lighting up your ride. Even approaching intersections on darkened streets, I felt confident that I would be seen by other road users and able to see any obstacles in my path. I would recommend it to anyone looking for a bright, practical, and no-hassle front light.
Autumn Gear Guide
Find inspiration in our Gear Guide that will keep you out on your bike through wind or rain.
Download Now