December 8, 2015
Pure Fix Released a Limited-edition PeopleforBikes Bike
$100 from the purchase of every one of Pure Fix Cycle's PeopleForBikes bikes goes to support PFB's education and advocacy efforts.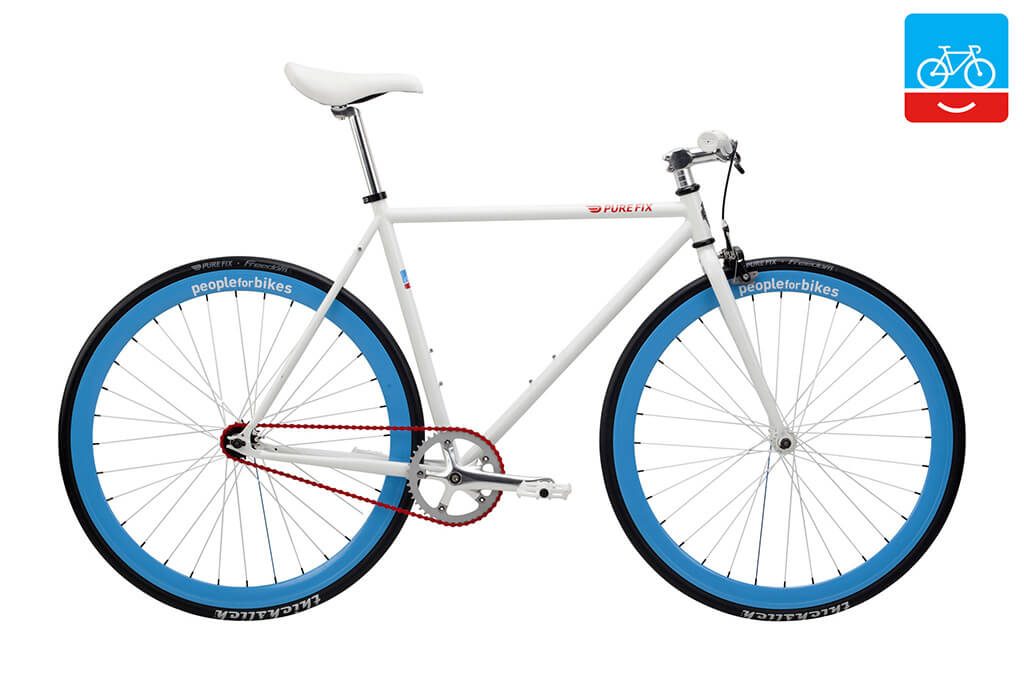 When longtime friends Austin Stoffers, Jordan Schau and Michael Fishman were in their senior year in college, they were having trouble finding a bicycle that suited their aesthetic, but also their wallet. They began doing research on how to build the best, most affordable bicycle for a college students' needs. They came up with the design for streamlined single-speed and fixed gear bicycles, and Pure Fix Cycles was born.
They obviously weren't the only ones looking for those kinds of rides, because their first shipment – which they expected to sell over six months – sold out in the first two weeks. Now it's four years down the road and the three friends, along with their team at Pure Fix, are expecting to sell between 35,000 and 45,000 bikes this year.
To give back to the community they love and to work towards their goal of seeing more people out there riding bikes, Pure Fix has recently released a limited-edition bicycle from their Original Series which supports the amazing bike advocacy efforts of PeopleForBikes (PFB). With every purchase of a $399 USD PeopleForBikes-branded ride, Pure Fix will donate $100 to PFB.
The bike is branded in PFB's colors: a gloss white frame with blue wheels, a red chain, and "PeopleForBikes" written down the wheel. It is lightweight (20 – 26 lbs depending on frame size), with a flip-flop hub and single hand brake, and is available online.
We've covered PeopleForBikes' work extensively and rely often on their research, reports, and educational initiatives to advance the state of bicycling across the US, and by extension globally. The team at Pure Fix has already done much for the community in providing safe, stylish bicycles that don't break the bank. It's wonderful to see them take the next step with this collaboration, enabling people to support bike advocacy efforts while shopping for their next set of wheels.
Autumn Gear Guide
Find inspiration in our Gear Guide that will keep you out on your bike through wind or rain.
Download Now