Let's start with the easiest of bike parts to upcycle: the tire tube. 
First things first: if you have a punctured tube, do what you can to patch it. Always try to 
repair first. But when a tube is totally blown or shredded, or you're just stuck without a patch kit, 
don't throw those bike tubes away. If you're a fan of upcycling, bike tubes are like black gold. 
If for some magical reason you or your friends aren't p
rone to flats, you can also ask your 
local bike shop for their throwaways. Much better to upcycle them into something new than have 
them destined for the trash.

As a material, bike tubes are very friendly. Soft and pliable, they are easy to cut, and 
while 
from afar they may look like a dark metal, they're lightweight and flexible. This makes 
them ideal for making a variety of things, from bracelets to bike bags. You can even cut them 
into long strips and knit with them. In this way, the options for bike tubes are more or less 
endless. 
To prep bike tubes for use in any project, cut the tube lengthwise down the middle, so 
that you end up with one long, wide band. Wash the tube with warm water and soap and hang to 
dry. Once dry, the band can be rolled up and held together with a rubber band for easy storage. 
This also helps to keep the tubes flat, which makes measuring and cutting them a little easier.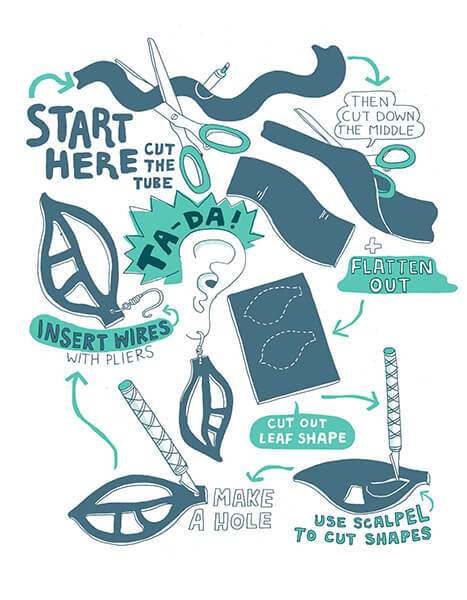 DIY Bike Tube Earrings
For anyone who likes to wear big earrings, these are lightweight no matter their size, which 
means your ears won't get weighed down. Note that because of the nature of the bike tube, 
they will curve over time.
TOOLS
Bike tube

Scissors

X-ACTO knife

Hook earring wires

Pliers