February 25, 2016
Ridgemont Monty Hi Adventure Shoe Review
The Monty is a modern urban/outdoors hybrid shoe taking its design cues from old-school hiking boots.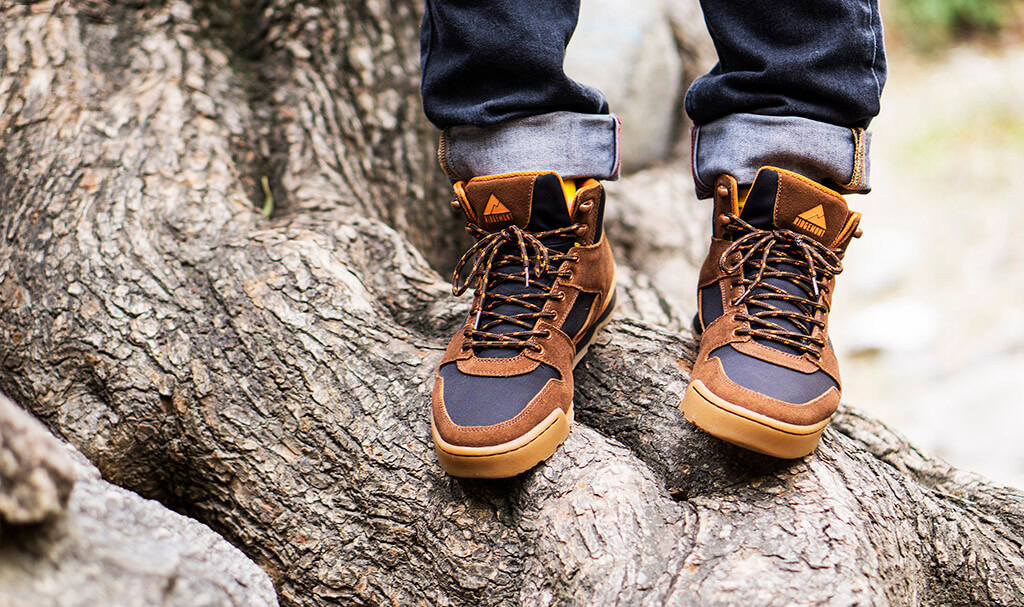 PRICE $99.00 USD
FIND IT AT ridgemontoutfitters.com
Ridgemont is an adventure outfitter, primarily focused on footwear. The Monty Hi was released in 2015, and is the company's modern update to the classic, lightweight outdoor footwear last seen in the 1980s. Cycling is an adventure, even in the city. It seemed like the ethos of this company were aligned with the everyday journey cycling provides, so we took a pair of their shoes out for testing. The stiff sole was appealing for a platform pedaler such as myself and high­tops are always appropriate on the bike. These are available in five color schemes in men's and women's sizes and also as a low­top version – the Monty Lo.
TELL YOUR FRIENDS
The aesthetic is pure old­school hiking boot, but not of the Italian leather variety. There is no breaking in to be done here. They are very lightweight, yet stiff enough in the sole to provide lots of support on the pedals, and along root­laden trails and rocky beaches. Meaning, in the city these boots will have you covered. The oiled suede combined with high grade nylon makes for a rugged woodsy boot, that easily mixes in with a more urban style.
WISH LIST
No complaints on any aspect of these boots, after four months of use they feel great with no fraying or wearing out anywhere. Adding a fully waterproof membrane to this same design would be a cool addition, but I found fabric spray worked just fine for a rainy ride home. The nylon/suede combo is already water resistant as is.
SUMMARY
The Monty Hi is a fine looking and great fitting high­top. The fit is true to size and slightly narrow. On the bike they are comfortable with plenty of support, and off the bike you'll be ready to hit the trails. While the outdoor boot aspect might be a turnoff for some, I would consider these a little more akin to rugged sneakers, with more robust ankle support and a balancing heel stabilizer. Ready for adventure – urban or otherwise – and whatever comes your way.
Autumn Gear Guide
Find inspiration in our Gear Guide that will keep you out on your bike through wind or rain.
Download Now