August 9, 2013
Rivendell A. Homer Hilsen Bike Review
Chris Schroeder reviews the Rivendell A. Homer Hilsen.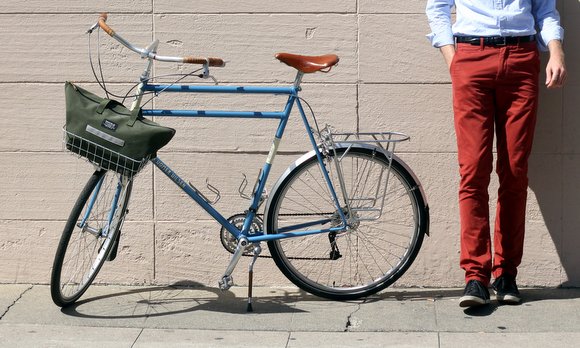 Rivendell A. HOMER HILSEN
PRICE $2,300 (FRAME ONLY) $3,800 (COMPLETE BIKE)
FIND IT AT rivbike.com
AVAILABLE Order by phone, ships worldwide
Lightweight butted heat-treated chromoly steel frame available up to 71 cm. Outfitted with Tektro side-pull brakes, 38 mm tires, Nitto front and rear racks, Albatross handlebar with bar end frictionless shifters, VP Thin Gripster pedals, and beautiful SKS Longboard fenders.
TELL YOUR FRIENDS
If there was ever an appropriate time to sing Doublemint jingles to yourself, this is it. Double your top tube, double your pleasure, and trust me, you'll double your fun. If you're looking for a bike to get you around town and be more than capable to take you out on the back roads all weekend, the A. Homer is for you.
WISH LIST
Each bike is built to order, so there's not much you could dream up that the Rivendell team couldn't build. After riding the ultra-upright Albatross bars, I think that drop bars would be a better match for the mixed traffic streets and hills of San Francisco.
IDEAL RIDER
The A. Homer Hilsen is perfect for riders who have enjoyed a road bike in the past but want the best of comfort and quality. It's not a racing bike, but it's everything else.
OVERALL
Built to order with timeless style, the A. Homer Hilsen is for riders who wants to invest in a ride that will take you from touring to a daily commute. The steel frame boasts a double top tube to provide extra stability and if you're tall, this luxury bike comes in your size.
---
Chris Schroeder is the director of sales and marketing for Rickshaw Bagworks. He has lived in the Bay Area for 13 years and developed a passion for bikes, plants, coffee, print design, and bags – and spends time working with organizations that foster community development like PaperGirl SF, the SFGMC, and SFMade.
Autumn Gear Guide
Find inspiration in our Gear Guide that will keep you out on your bike through wind or rain.
Download Now