November 20, 2018
Schwinn Fordham Step-Thru Review
Providing both comfort and style the rider friendly features of the Schwinn Fordham helped me get back into biking.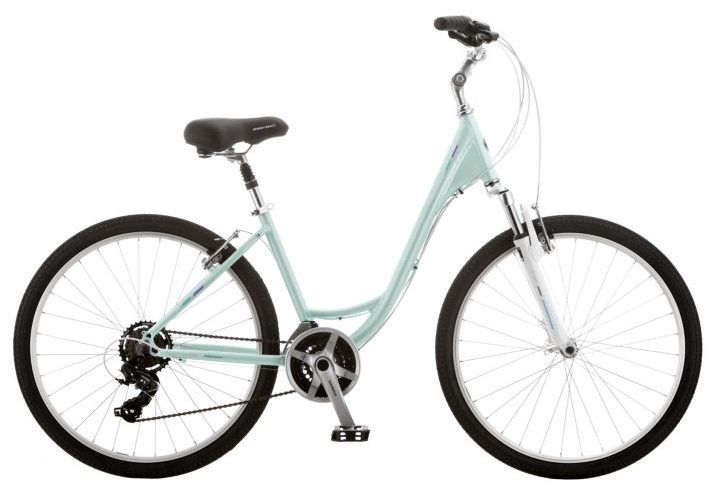 Find it at: dickssportinggoods.com
Price:$349.99 USD
The Schwinn Women's Fordham 26'' Comfort Bike is all about comfort and a fun ride. It features an aluminum frame with a step-thru design and an upright riding position. The front suspension, memory foam saddle, and spring seat post ensure a comfortable ride, and absorb bumps from uneven paths and streets. The Fordham is equipped with 21 speeds and linear pull brakes. The Fordham comes in a 14", 16" and 18" and weighs an average of 39 lbs.
Tell Your Friends
The first thing that caught my eye was the sleek and elegant design. I love the mint color. Aesthetically speaking this bicycle is a major upgrade for me and it's amazing how much more I want to ride it than my last, not so pretty, bike.
The low crossbar makes it very smooth to get off and on the bike. It felt sturdy and the seat was comfortable for cycling to and from work. The position of the handlebars allows you to sit upright and I haven't experienced any pain in my wrists or back!
Wish List
I have this bike to use in the city and commute to work but I wish it was compatible with fenders and came with a rear rack, some of the most essential city bike features in my opinion! I have since added a rear rack, which can be found for a pretty reasonable price, so it's coming together. Fender options that don't require mounts do exist so I am looking into this as an option.
Ideal User
Someone looking for a slow and enjoyable commute. This bike is perfect for casual riders who are getting back into riding a bicycle and want to feel balanced and comfortable.
Summary
This bike introduced me to biking to work and I haven't stopped yet so that must be a good sign. The Fordham brings comfort and pretty aesthetics together which I will unashamedly admit is all I personally need as a new cyclist. It's a bike I want to ride again and again. Some may look for more expensive and fancy hardware but this serves its purpose for what I need at a great price point.
As someone who wears and rides in business formal attire, this bike lends itself perfectly for all my needs. With my back straight while riding I never feel restricted wearing a blazer or my other business clothes. It's especially functional now that it has a rack to get my bag out of the way and off my back. The step-thru feature and upright sitting position means I feel safe and comfortable during the whole commute and doesn't strain my back or shoulders.
The bicycle feels sturdy and the twenty-one gears definitely helps make for a smooth ride on my hilly commute. The handlebar grips are far enough apart that the bike is very easy to control and keeps my chest open so breathing never feels restricted. I would not suggest this bike for off roading, but within the city it is perfect. Not to mention the color and look make me feel so proud when riding this bike!
The seat sits slightly behind the pedals which, for those that don't know, is called a crank forward position. With this lower and more relaxed seat position you can sit at a stop with your feet flat on the ground as well as achieve a proper leg extension when pedaling. This also helps prevent wrist, arm or neck pain and is very rider friendly for those who haven't ridden in a while or are nervous about getting back on the bike.
Throw on a sundress and let the wind blow through your hair while you casually cruise the city with this reliable, comfortable and fun ride. That's what this bike is perfect for!
I am 5"6 and I am riding the 16" frame size very comfortably.
Autumn Gear Guide
Find inspiration in our Gear Guide that will keep you out on your bike through wind or rain.
Download Now