February 9, 2016
Seal Skinz Women's All Weather Cycle XP Gloves Review
The SealSkinz All Weather Cycle gloves are winter riding gloves available in men's, women's and unisex.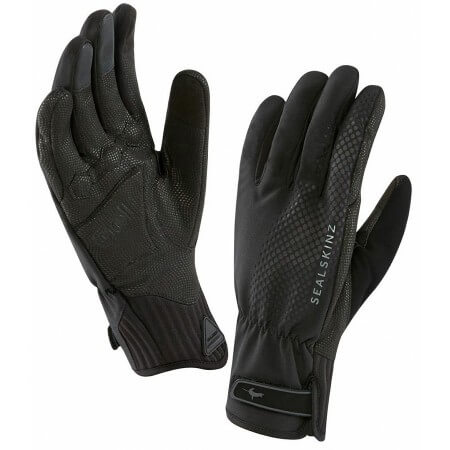 PRICE $60 USD / $75 CAD
FIND IT AT  sealskinz.com
This all-weather cycle-specific glove is protective, comfortable and dexterous, with pressure point gel padding, box finger construction, and a Velcro strap at the wrist. It is available in men's/unisex and women's specific designs. It features totally waterproof, breathable and windproof protection and an anti-slip inner liner, which improves hand dexterity and virtually eliminates liner pull-out. Users can easily access touchscreen devices thanks to the special adaptation on the tips of the thumb and index fingers.
Tell Your Friends
These gloves are great for wet and cold winters.  They are completely waterproof and yet breathable.  They are also extremely durable.  I unfortunately took a tumble off my bike on the ice while I was testing them, but these gloves did not tear and kept my hand safe from scratches and I was left with a bruise that could have been much worse.
Wish List
I wish for a little bit of a warmer liner for these gloves as my hand can still get cold on really chilly days.  If you are ordering these gloves online check the exchange policy first as the sizing tends to fit on the smaller side.
Summary
Overall, these gloves are great for wet and cold fall riding, or wet winter riding in milder climates.  Fully waterproof, breathable and extremely durable, the All Weather Cycle Glove has become a staple of my winter commutes in the Pacific Northwest.
---
Mia Kohout is the Editor-in-Chief of Momentum Mag. @MiaKohout
Autumn Gear Guide
Find inspiration in our Gear Guide that will keep you out on your bike through wind or rain.
Download Now