May 25, 2015
Seoul, South Korea's Burgeoning Bike Culture
Fashionable riders and steadily increasing ridership in the South Korean capital.
Seoul, South Korea, is a city with grandiose ambitions and a track record of fulfilling them through drastic measures. This capital city rose from the rubble of war and dictatorship to become an industrial and pop culture center in the 1990s by pumping millions of dollars into heavy industry, film, television, and Korean popular music (K-pop), and thereby became successful across Asia by sheer investment and determination.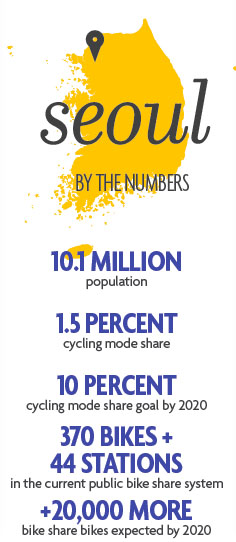 Now this mighty city has turned its sights on bicycling, announcing an aggressive plan in 2009 to build 129 miles (207 kilometers) of bike lanes. "The government has many paved paths and I am seeing more areas with cycle paths," engineer Tex Kang said. "Korea is the land of doers and they are steadily doing many great things for cycling in Korea."
South Korea as a whole has big plans for cycling and its citizens. Former President Lee Myung-bak began the construction of a loop of bicycling paths that would allow Seoul residents to traverse the entire country uninterrupted on two wheels – now also used for the Tour de Korea, a seven day professional road race.
With trips by bike clocking in at approximately one and a half percent of total transportation trips, Seoul is not the kind of massive bicycling city that Portland is, where an estimated six percent of the population cycles. But the municipality of Seoul aims to change all of that: aspiring for 7.6 percent of its population to be biking by 2016, and 10 percent by 2020.
"Bike ridership is rapidly growing in Seoul," said Stephen Kwak, a manager at the Seoul Tourism Organization. The City of Seoul hopes to relieve traffic and subway crowding through increased cycling. An aggressive campaign called the Weekly No Driving Day program holds citizens accountable by registering them online, monitoring car usage through an RFID tag on the windshield, and providing incentives such as a reduction in automobile taxes, discounted gas, free parking, and car washing.
Seoul's Weekly No Driving Day program has decreased traffic by 3.7 percent, and has reduced C02 vehicle emissions by 10 percent, according to the climate organization C40. Asthma and air quality are major issues in Seoul; this program may prove to be a boon for health. "It may be because traffic is getting more congested … or simply people discovering and prioritizing the benefits of exercise," Kang said.
Seoul takes a carrot-and-stick approach to encourage cycling – from enforcement to conveniences that sweeten the deal. To increase safety, it plans to build protected bike lanes, improve signage, and fine drivers who park in bike lanes. Bike parking at subway stations, elevators to above-ground transportation, showers, expansion of the public bike share, and extension of bicycle paths to residential areas are all part of the City's ambitious plan: Seoul Traffic Vision 2030.
Riding Around the Han River
The current biking scene in Seoul revolves around a river as central to Seoul as the Thames is to London. "I mostly ride by the Han River which is one of the best spots in world," said Kwak. With 50 miles (80 kilometers) of bike paths featuring stunning water views spanning both sides of the Han River, Kwak may be right. Like the Thames, the Han connects many neighborhoods in this massive metropolis. On sunny afternoons, riders can stop at Jamsil Swimming Pool for a swim, put on cleats for a soccer game, or head to Jamsil Baseball Stadium to take in a game. In the evening, twinkling city lights and beautifully lit bridges span the river, making night riding a scenic date activity. Riders can spend an entire afternoon just circumnavigating the river. Free bikes are available at neighborhood stations in Jamsil, YeongCheonGu, Hongjecheon, Oksu, and Sanggye.
"At night, all of the paths are lit up and the cityscape along the Han is just breathtaking. You can stop at any spot and have a picnic, beer, and relax – whatever you are into," said Luc Tremblay, owner of Seoul Cycle TEXT, a bike community group.
With their long work hours, Seoulites take recreation seriously, and the riverbanks' bike paths are crowded during weekends with pleasure riders. "Koreans love to work hard and play harder," said Tremblay. "So there is always something interesting to see and do."
There is however a new Seoul rider taking shape beyond the pleasure rider, called the ja-chuljohk. This commuter rides to work and home, often using the Han as a bicycle superhighway, blowing off steam after a hard workday. "Commuting is very popular in Seoul," said Kwak. "The Han River goes through the center of the city and became the perfect way to commute by bicycle."
Alex Paik, Director of AP Communications, commutes by bike to his office half of the week, a quick zip of 10 minutes. "Mostly it depends on whether I'm going to ride afterwards," said Paik. "The office is in the Hongdae/ Hapjeong area, five minutes away from the river that goes straight through the city, and important for bike riders because it takes you easily to any spot in Seoul." Many commuters argue, however, that Seoul must do more to make commuting convenient.
Social Cycling
One solution could be Seoul's public bikes, which are similar to those found in New York, Paris, and Montreal. The bikes feature a display showing distance biked and are a bit heavier than the average Seoulite's bike, though not as heavy as other bike share bicycles. Theft of the bikes is rare. However, time limits on the public bikes and not enough docking stations prevent their usage as quick commuting bikes. "With good knowledge of where all the stations are, the bikes could be used for commuting as well, but I think most people just use them to ride around a little bit for fun," said Paik.
Like other urban dwellers who work long, sedentary hours, Seoulites relish the chance for exercise and fun. "It's great cardio," said Kwak. "Since Seoul is surrounded by mountains, it has long been mountain biking dominated, but now the road bike population is growing very fast amongst younger generations."
Hiking in nature is a longstanding national pastime in Korea and Seoul residents are finding that biking can help them see even more of it. "A lot of people bike for seeing good nature," said Paik. "My friend bikes every weekend in the mountains, and I bike 20 minutes to all these nature preserves and feel like I'm completely out of the city, which is great. West of here, there are a bunch of camping sites with nice scenic routes that are really great for biking."
And Seoulites are social when it comes to their two wheels. "There are many bike groups that any person or any age or interest can join," said Kang. Social events like monthly, themed bike rides by the music-pumping Seoul Bike Party and Seoul Critical Mass; biking groups like the Han River Riders and the Filthy Freeriders; bike workshops; and brand launching parties also draw locals in droves. "Koreans are very group-oriented, so there are often groups just biking together, and if you sit down and chill, you can almost have your very own bike show," said Tremblay.
Paik participated in the Seoul Bike ride: 5,000 cyclists rode 19 miles (30 kilometers) down car-free main roads in the city starting at the city center Gwanghwamun. "The mayor gave a speech beforehand where he said he wanted to make Seoul a better place for bike riders," said Paik. Some of the bike socializing in Seoul revolves around popular bike shops, which have their loyal regulars. Kwak prefers Apgujeong Cycles and Watts Cycling, while Tremblay frequents Awesome Bike Store – a Trek concept store located near the bike path on Yangjae Creek. Riders often drop by to have a beer or makgeolli, Korean rice wine, and discuss biking with the employees.
"There are lots of creative shops around Seoul – too many to visit in one month," said Tremblay. "I still keep finding new stores after years of being here. It's great to have a local spot to hang out around nice bikes and feel like I'm part of a social club where I can relax and occasionally buy cool products. I got my new Trek 520 there."
Fashion or Function
Seoulites love fashion and that extends to their designer bikes; Seoul has proven to be big business for bike companies both domestic and international. "All the international brands are aggressively promoting here," said Kwak. With this rise in popularity, Seoulites are seeing a divide in the style of bikes that are popular amongst different groups.
"Personally, I've noticed a definite trend of younger kids riding fixed gears to school and business men riding to work early and taking a shower at the gym closest to their work," said Kang. Jacob Jang, a student who rides a Scott road bike, sees an age divide in the types of ridership. "Really so many people are starting to ride bikes," Jang said. "Many old people want to ride mountain bikes, but young people want hybrid bikes or road bikes."
Paik noticed the prevalence of fashionable road bikes in his neighborhood of Hongdae. "Younger, hip, trendy biking culture is mostly in Hongdae right now," he said. "If you're young, it's for fun and for getting around the neighborhood. In my neighborhood, it's a fashion statement and leisure thing, because there's a hipster culture. Definitely I see a lot more young people riding in my neighborhood, which is a bit of an anomaly, a subculture a little like Williamsburg in Brooklyn, New York. If you're looking for indie bands, indie culture, you'll most likely find it there."
From fixie fans in skinny jeans in hipster Hongdae to punk BMX to trick riders under the Banpo Bridge, style influences biking for fashionable, brand-conscious Seoulites. Several Seoulites commented on the tendency for riders in their city to pick the most expensive, trendy bike, rather than what they really need for functionality.
Seoul riders may be starting to shift gears slowly, trending away from expensive, over-the-top luxury bicycles and toward a more practical focus. "A decade ago a bike was a luxury item, and still is to a point," said Michael Eberle, owner of Zero Cycles, a custom titanium frame bike company based in Seoul. "Others are starting to ride for the fun of it, and that's awesome to see."
Cargo bikes don't seem to have caught on in Seoul the way they have in the West yet, but pedicabs ferry tourists around picturesque areas like Seoul's Bukchon Village. An extremely hilly city in certain areas, a pedicab can save tourists an uphill hike. Even though they may be on two wheels, Seoulites, in a city with lightning fast broadband and Wi-Fi, can't seem to leave behind their smartphones.
"A lot of people are always touching their phones, so they're part of the bikes. Most people have their smartphone holder up here," said Paik, gesturing to the handlebars of his bike. "So there are great bike apps for Seoul. The one I've been using is T map bike, a talking Korean app. Put in your start and end, and you'll get your distance and path log, your high speed, average speed, calories burned, everything."
Juwon Kang, author of the blog K-law Guru, sees a need for increasing protections and laws with growing ridership in Seoul. "Securing a safe bicycle path is crucial," J. Kang said. "Many cars and pedestrians drift in and out of bicycle paths. Most bicycle insurance policies only cover personal injuries to that cyclist. Very few cover injuries to others or bicycle theft. With the growing number of bicycle-related accidents, cyclists could benefit from wider coverage."
"Seoul, as any other city, has its ups and downs," Tremblay said. "However Seoul is a real cool city to cycle through. There is lots of style, there are cool bikes, and people committed to cycling." Despite challenges, bicycling in Seoul gives one of the same benefits that bicycling in Portland, New York, Paris, Beijing, or Sydney does. "No matter how long, what time of the day I ride, it feels like I'm on a fun trip," said Kwak. "I feel free."
---
Dakota Kim is a freelance writer living in Brooklyn. She was Momentum Mag's May/ June 2014 cover model, shot by Sam Polcer. She relishes slow biking to the donut shop in a long fluttery cape while singing Blondie. @dakotakim1
Photos by Aaron Choe
Spring Into Gear Giveaway
Enter to win the limited edition Bordo Black and Yadd-I helmet from ABUS
Enter Now