April 8, 2015
Spinlister is a Peer-to-Peer Bicycle Sharing Platform
As Spinlister continues to expand travelers will find it easier to rent bikes that suit their needs with ease.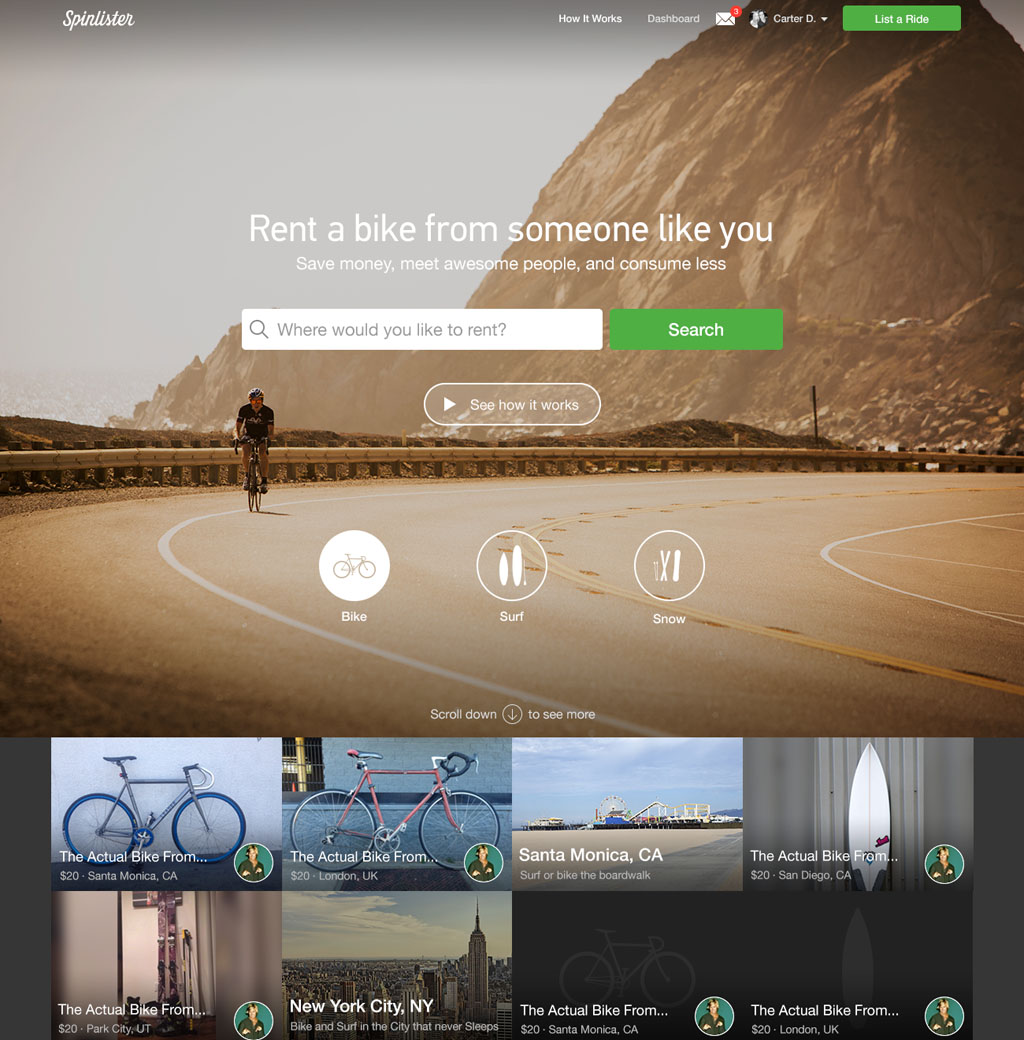 Spinlister is a smartphone/ tablet application and website that matches people to bikes rented by the owner – usually for a day or more. It's easy. List your bike for rent by posting a picture, description, and price and now you are a "lister". When traveling in other cities, use Spinlister to rent someone else's bike and you become a "renter".
Andrew Batey, Chief Marketing Officer at Spinlister, explained their brief history. "Spinlister was started by a couple of USC students who tested the app in New York City then opened for business in NYC and San Francisco at the same time in 2012. The investors bought the assets and relaunched Spinlister in spring of 2013. The current CEO, Marcelo Loureiro, was one of those investors … He calls himself the Re-Founder."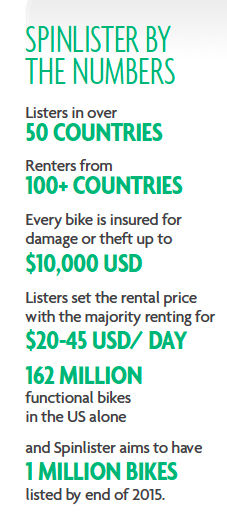 Batey further explained, "Renting a bike is a lifestyle choice. We are not Craigslist for bikes. People who chose to ride would rather visit a city and rent a bike then rent a car. You learn a city so much better by bike. Bikes have personalities – you'll see people rent fixies, cruisers, hybrids, or road bikes. Recently, we had a grandmother who flew to Austin, TX, and rented a kid's bike to teach her grandson how to bike for his first time without training wheels."
Renters usually meet with listers in person for the bike hand off. "At this point they still want to meet you and give you tips on the restaurants and bars to go to," said Batey. This personal transaction can give visitors some insight into the quirks the bike might have or the best routes to take. Alternately, some hand offs happen by locking the bike up and letting the renter know where the key is hidden or providing the combination for the lock – known as a blind drop.
"We're also bike shop friendly," explained Batey. "We'll have a tune-up day where listers bring their bikes in and get a deal. A lot of bike shops don't have rentals but those that do can list rentals on Spinlister." Bike shops are sometimes convenient pick-up locations for renters. Even bike manufacturers now list their bikes on the app as demo fleets. "We cover insurance and property damage so they rent bikes out so they can sell more."
Spinlister also allows listers to rent helmets, locks, reflectors, baskets, and child seats with the bike if they wish. Renters can filter their search based on their needs. As Spinlister continues to expand – bikes are now listed in more than 50 countries – travelers will find it easier to rent bikes that suit their needs with ease.
---
 Tanya Paz is a sustainable transportation consultant who lives in Vancouver, BC. For kicks she chairs the city's Active Transportation Policy Council, paints bikes on canvas, and copyedits for Momentum Mag.
Autumn Gear Guide
Find inspiration in our Gear Guide that will keep you out on your bike through wind or rain.
Download Now