May 13, 2015
Spinlister Review: Affordable, Easy, and Fun in New Orleans
The "Airbnb of bikes" is on the right track to connect the global cycling community.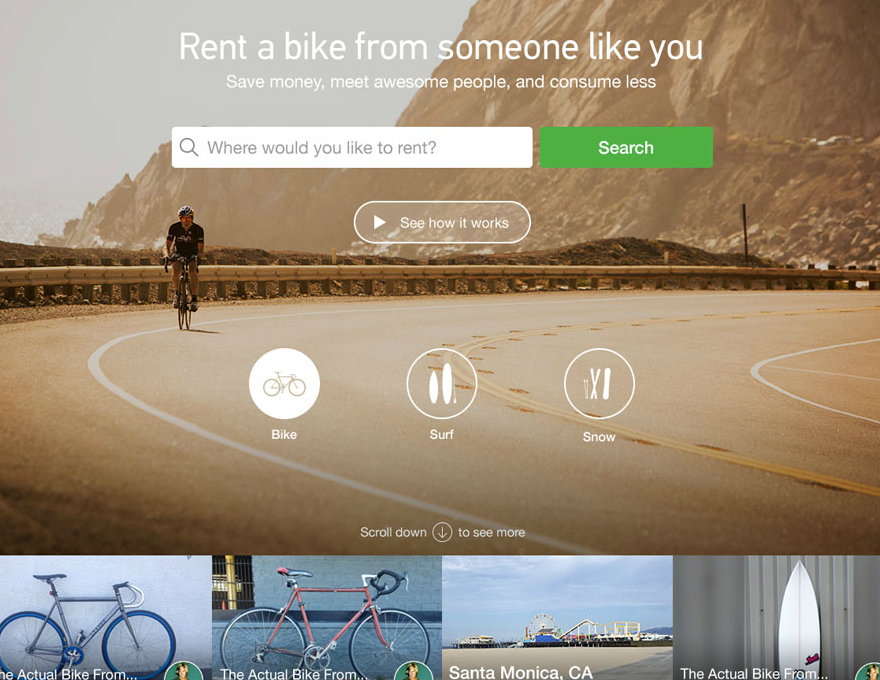 Sitting in the Denver, CO, airport on a two-hour layover en route to New Orleans, it suddenly occurred to me that I hadn't arranged for a bicycle for my trip. I had read about Spinlister and was eager to try the service out. I hastily signed up for an account on my iPhone, typed New Orleans into the "Where would you like to rent?" prompt, and waited for the rides to roll in.
As someone perhaps uncharacteristically inept at using technology for a person in their twenties, I finally found my perfect app in Spinlister. On a technological level, it just works. It covers all of the bases in a user-friendly format that makes sense for travelers.
Available bicycles are arranged on an interactive map of your destination city, so as long as you know where you'll be staying, you can start searching for bikes within walking distance. By clicking on each bicycle icon, a thumbnail image of the bike appears along with the price per day, the type of bike, and the suggested rider height. At 5'4″ and looking to spend about $20 a day for an upright ride, I was able to quickly eliminate any bike that didn't suit my needs. If a bike piqued my interest, a click on the image brought up more information including a short description, the weekly rate, whether the bike comes with any extras (lock, lights, etc.), and reviews of both the bike and the lister by previous renters. For last-minute scramblers like myself, Spinlister also has a feature that indicates how long each lister typically takes to respond to requests, so anyone with a multi-day response time got knocked off the list. If the specifications of the bicycle are more important to you than its location, filtering options allow you to limit the entire search by bike type, size, price, and whether or not it comes with any extras.
Once I'd narrowed my search down to a couple options, I simply typed when I'd like to pick up the bike and when I'd like to drop it off in the "Request ride" section of the app. My first choice responded right away with an apologetic "I won't be in town this weekend, give me more notice next time and it's yours!"
I eventually found a bike that worked for my needs and was available, but was a bit farther away than I was hoping. After a brief text message exchange with the lister, we realized we would be in the same neighborhood the next morning and she would happily bring the bike to me in the trunk of her car. We arranged to meet at a diner, and everything was set.
In my mind, this is where Spinlister really gets the edge over standard bike rental services. Beyond its relative affordability, Spinlister allows for the flexibility and social element of human-to-human exchanges that is often lost in human-to-business exchanges. Gerry and I met up at a time and in an area that worked for both of us. There were no forms to sign and no physical exchange of money as all of that is contained in the app. We talked a bit about the bike, but mostly she just told me about different routes she likes in the city, restaurants I should check out, and attractions I might want to visit.
When I returned the bike a week later, we met for a coffee and I told her all about my trip, much of which was made possible by the fact that I had the bike. In this instance, we were just two people chatting in a café. We likely wouldn't have met otherwise, but connected through the exchange of a bicycle, we quickly developed the mutual trust and respect that accompanies the sharing of cherished possessions between total strangers. In the end, the brief friendship was a valued part of my trip.
When I returned to Vancouver I wanted to continue using Spinlister, this time sharing my own bicycle. However, I only own one bicycle and I use it every day, so sadly this won't be possible in the near future. While the app also allows users to list ski and surf equipment, my snowboard is too old and damaged to be desirable and I don't have a surfboard, so I'm left not participating.
This is one hopefully temporary shortfall of Spinlister, in some areas there are simply not enough people using it. A quick look at Spinlister for Vancouver, BC, brings up surprisingly few rental options for a city with high rates of cycling and a booming tourism industry. When I narrow it down to cruiser or commuter hybrids fit for someone 5'4″, I'm left with only three options.
While the app's success depends on people renting their bicycles to complete strangers, the pool of people willing and able to do so may be too small for the demand. While Spinlister aims to capture the large numbers of people who have unused bikes collecting dust in the garage, those people likely don't have enough interest in cycling to have heard of the app. Meanwhile regular bike riders who are interested might not have the extra wheels, or have a ride they love so much they would have a hard time lending it to a friend, let alone a stranger.
In an effort to increase the supply over demand and not step on any toes in the close-knit bike industry, Spinlister does allow bike rental shops to list their rides for rent. They are also rolling out a partnership with Vanmoof that will provide individuals with high-tech bicycles to rent out, creating the world's first owner-based smart bike share.
I would love to see Spinlister gain the user base it needs to be successful in all of the areas it operates in. In a highly globalized world where urban bicycling is making its comeback and peer-to-peer seems to be the new natural business model, it only makes that a service like this would exist. In the meantime, I'll be fixing up my snowboard and scanning Craigslist for a second bicycle.
Autumn Gear Guide
Find inspiration in our Gear Guide that will keep you out on your bike through wind or rain.
Download Now