May 9, 2016
How to Start a Bike to Work Program
How can you save the environment, win your boss' heart, and get paid to ride your bike? Persuade your company to create a bike-to-work program.
As a reader of Momentum Mag, you're probably a regular bike commuter and possibly a bicycle advocate, too. You ride because it's fast, serene, and keeps you fit. Or because cycling is a sustainable way to get around in your community. Or because bikes are beautiful, energy-efficient machines. The list of reasons is diverse and all the justifications should be persuasive. Still, odds are that at your office daily bike commuters are a minority. You'd probably like to change that.
So how do you convert the unconverted? Conventional, anecdotal, and statistical wisdom all favor biking to work but often the most persuasive evidence is trying it.
One of the best ways to incentivize non-riders to get on a bike is with a Bike to Work (BTW) program. It's an easy sell for employers and Human Resources managers because it boosts the cache of organizations, leads to fewer sick days, and significantly boosts focus and happiness. BTW can be surprisingly easy to implement. Either establish a pool of common bikes for riders to share or subsidize individual bike ownership. Both systems have their strengths and weaknesses.
Bike Pool Program
A bike pool is the easiest BTW program for an organization to implement, and one of the best ways to incentivize non-cyclists to ride. All it requires is an up-front investment in a small collection of bikes – preferably low maintenance models with internal gearing – and geometry that scales well to a range of rider sizes. Establish your bike pool at the beginning of the calendar year and encourage riding with bonuses and incentives for participation. Track miles and ride frequency in an honor-system Google Doc and organize monthly group rides.
Bike Subsidies
Another BTW approach is to buy or subsidize bikes for each employee. At the beginning of spring, riders commit to a certain frequency (daily, weekly, monthly) of commutes. High frequency riders get bigger bike subsidies if they fulfill their commuting goals for the year. Track riders over the next twelve months with an honor-system spreadsheet. If they meet their riding commitment, they receive their full subsidy as a year-end-bonus. A bike subsidy program takes more planning and tracking to implement properly, but the payoff is a robust program that scales more efficiently.
Common Goods
Whatever system you choose, there are some fundamental amenities that all BTW programs should invest in. Define a dedicated and secure bike storage space, like a garage, warehouse, or storeroom. If your employees choose folding bikes for BTW, let them store their bikes under their desks. Dedicate a shower for riders, with a change-room and personal locker area. Finally, invest in a basic maintenance and repair station. This could be as limited as a bike pump, multi-tool, and bin of replacement tubes, or a full setup with a truing stand and bike repair rack.
Biking to work is easy. So is creating a Bike to Work program. Go out and build one. Your co-workers and boss will thank you.
---
Galen Crout is the Communications Manager for Tern Bicycles. He's a longtime bike advocate, daily commuter and cycle tourist. Check out ternbicycles.com for more sustainable transportation inspiration.
---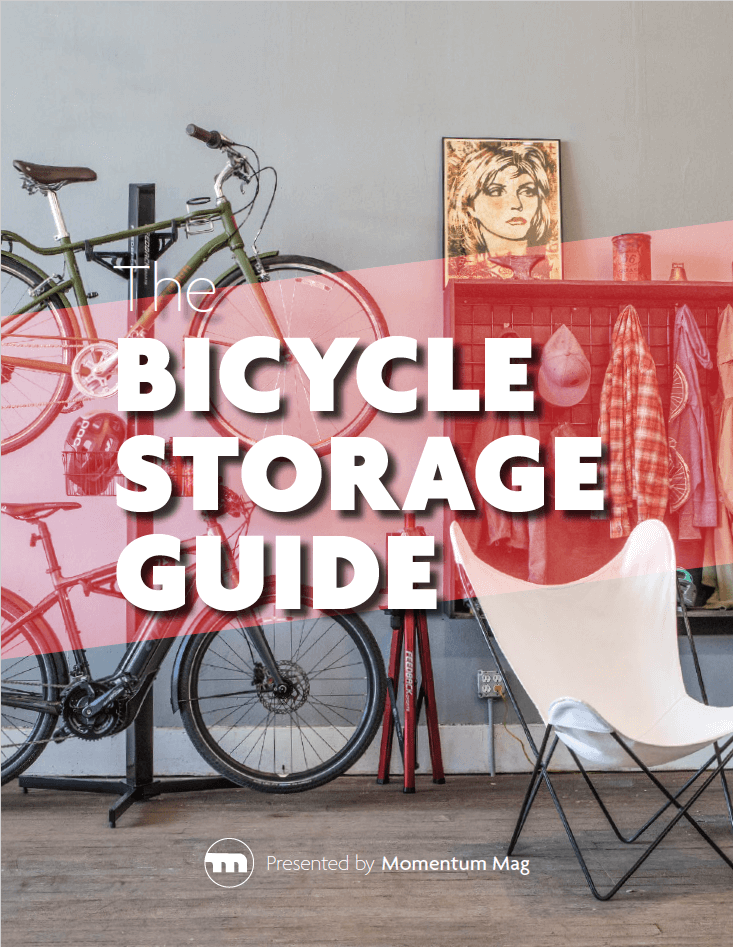 ---
Autumn Gear Guide
Find inspiration in our Gear Guide that will keep you out on your bike through wind or rain.
Download Now