January 13, 2015
Swift Industries Mini Roll Top Panniers Review
Momentum Mag reviews the Swift Industries Mini Roll Top Panniers.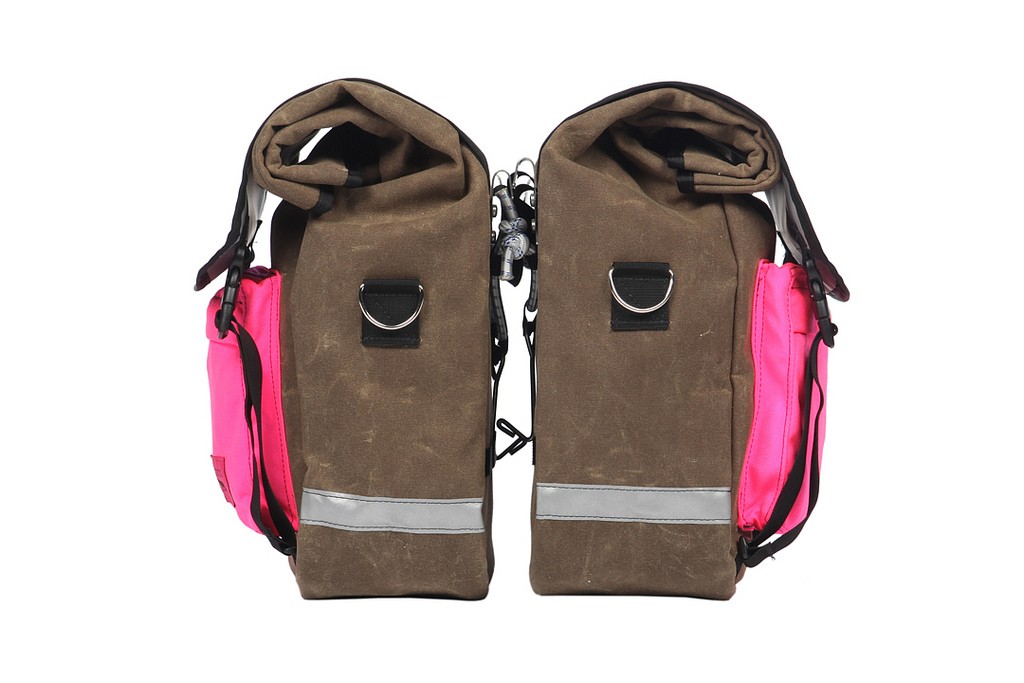 PRICE $210 USD per set
FIND IT AT builtbyswift.com
Swift Industries is a handmade bag company based out of Seattle, WA. In addition to being able to choose colors, all bags feature vinyl interior lining, external zip pockets, carrying handles, rear reflective strips, hook and cord mounting system, D-rings, and a interior organizer pocket. The panniers are capable of carrying 15 liters each. For longer trips, mounting these small panniers to a front rack would make for efficient management of space.
TELL YOUR FRIENDS
I love handmade products, one definite pro is the option for customization, which is what Swift Industries is all about. I love the bold colors on the Swift Mini Roll Top Panniers and I received a lot of compliments about the simplicity, the retro color theme, and the size of the bags. The panniers have a vinyl interior lining, making them waterproof. Swift also offers a shoulder strap, waxed canvas fabric, and Cam-Lock mounting hardware as customization options. The size was great for my office commute.
WISH LIST
As a commuter with a laptop, the bolts holding the pannier hooks firmly in place were directly in contact with my laptop. The bolts scratched my laptop heavily and I was forced to purchase a laptop case. Though it's important to own a case anyways, I was displeased to make an essential additional purchase to use these bags. The bolts also ripped a few magazines that were in the bags for a few days. Swift also states that the panniers have an interior pocket for organization, but the fabric quickly sagged and was not helpful for holding anything.
SUMMARY
I adore the size and color of these panniers. Carrying them like a suitcase when off my bike was fairly easy, though I did not use them for a night out with friends as they were a little too big. The panniers were easy to mount onto my bike rack. I found riding with them to be smooth as well, I was confident in the strong bungee and hooks, even for heavier loads.
Autumn Gear Guide
Find inspiration in our Gear Guide that will keep you out on your bike through wind or rain.
Download Now