January 26, 2016
This 26.5 lb E-Bike Looks and Feels Like a Normal Bicycle
The Freygeist is the lightest e-bike currently available.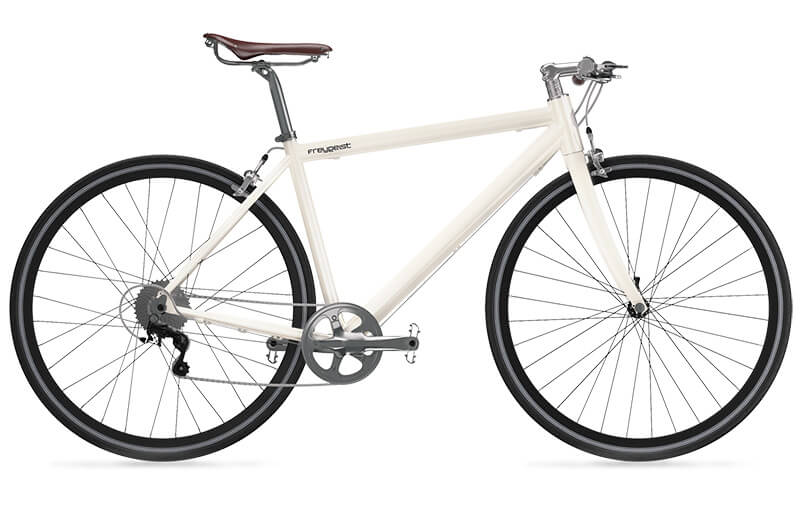 It's pretty difficult to hide a motor and a battery within the frame of a standard bicycle. That explains why, for the most part, e-bikes tend to look like e-bikes. Some more obvious than others, but almost every e-bike on the market has at least one distinguishing feature that sets it apart from regular bicycles. An unusually thick top tube, a battery pack under the back rack, or a motor built into the hub of the rear wheel. Go to lift the bike and you'll be even more certain it's an e-bike, they usually weigh in at a minimum of 40 lbs (18 kg), most much more.
But German startup Freygeist is changing the game with the Freygeist Classic, an e-bike that, to the naked eye, is virtually indistinguishable from a regular bicycle, and weighs in at a grand total of 26.5 lbs (12 kg). Freygeist hid the 33V, 337-Wh Panasonic lithium-ion battery completely within the aluminum frame's down tube, and while the tube's diameter might measure a millimetre or two more than a standard bike, we certainly can't see it in the pictures. The motor, offering 250 watts of continuous power and 500 watts of max power, is similarly tucked away into a rear wheel hub, hiding behind a Shimano 10-speed derailleur.
As impressive as the streamlined look of the bike is, it also walks the walk (or rides the ride?). Freygeist estimates a range of between 44 and 62 miles (70 and 100 km) per charge. The low weight helps to optimize motor drive efficiency, but if you get caught with no battery, 26.5 lbs is a breeze to pedal home. Because of the placement of the battery, you can't remove it for charging so the entire bike does need to be rolled up to an outlet to connect the charger to the port on the downtube, a charging process which take three to four hours from a 220V outlet.
The e-bike is topped off with a Brooks leather saddle and grips to compliment its Creme frame and complete the classic, streamlined look. The bike is on sale for €3,990 online, and takes approximately 21 days to ship from Germany.
Autumn Gear Guide
Find inspiration in our Gear Guide that will keep you out on your bike through wind or rain.
Download Now