April 30, 2015
Timbuk2 Hudson Laptop Briefcase Review
Momentum Mag reviews the Timbuk2 Hudson Laptop Briefcase.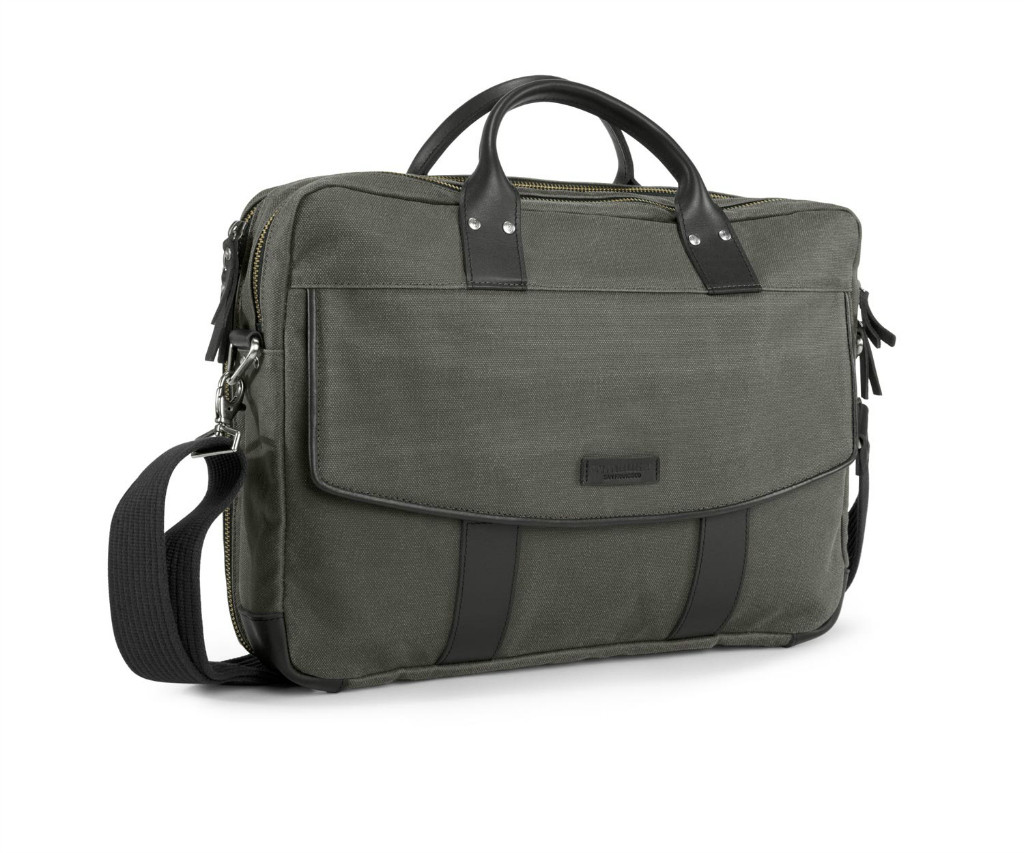 PRICE $269
FIND IT AT timbuk2.com
From Timbuk2's Distilled collection comes the Hudson Laptop Briefcase. Built with the business traveler in mind, the Hudson Briefcase dresses up or down with ease and is designed to carry and protect both your MacBook and iPad. Rugged waxed canvas, heavy duty zippers, and leather trims are tough as nails and get better with age, so you can feel good about being hard on the Hudson. Use the removable shoulder strap for an easy airport carry or go old school and carry it in-hand for an all-business entry. Also features TSA-compliant laptop access.
TELL YOUR FRIENDS
Timbuk2's Distilled collection is a welcome addition to the brand's long-standing line of cycling bags. While typical bike-friendly features like reflective accents are not present, the line's focus on classically durable yet attractive fabrics, functionality, and understated style are a welcome direction. The Hudson Briefcase is a go anywhere bag that never looks out of place. Thoughtful organizational features and surprisingly plentiful storage space make this a must-consider bag for anyone looking for a way to carry multiple electronic devices in addition to other work or school essentials whether they are traveling across town or around the globe.
WISH LIST
The lack of body strap shoulder pad was noticeable when carrying the filled bag for extended lengths of time. A simple aftermarket upgrade. Also to note, while the design is TSA-compliant this is sadly not a feature recognized by CATSA in Canadian airports and you'll still need to remove your electronics through security screening.
SUMMARY
While I have been using the Hudson regularly for several months, I still feel this is an early review. The tough leather, waxed canvas, and sturdy zippers so far show no signs of wear after many trips in my bicycle's wire basket, overhead luggage bins, and carried by hand. The fabric has kept everything inside dry during light rain showers and once during a heavier than expected snowfall. The inside fabric has a very fine feel and nicely complements the waxed canvas and leather outer.
I found the Hudson could comfortably accommodate my 13″ laptop and tablet with charging bricks and cables as well as having room for a couple of notebooks, a novel, and my smartphone and charger. A light jacket and a few magazines in the front flap pocket also fit nicely inside without overstuffing.
The body strap attaches securely to the bag and even when stuffed to the brink showed no sign of strain at the attachment points. The leather handles feel and look somewhat thin, but used as my primary means of carrying the bag have shown no sign of stretching or wear to be a concern.
Overall, the Hudson satisfied my needs as a laptop briefcase and comes from a brand that has shown a dedication to supporting how I choose to get around town. While the bags in the Distilled line don't overtly have what many may think of as typical bike-friendly features, the fact that they are designed to be useful under any condition and last a long time lines up perfectly with what I come to expect more from a bicycle than a bag.
Autumn Gear Guide
Find inspiration in our Gear Guide that will keep you out on your bike through wind or rain.
Download Now