December 3, 2014
Two Wheel Gear's Bike Suit Bag
The Bike Suit Bag with a cult following moves to Vancouver with Two Wheel Gear's expanded bag line.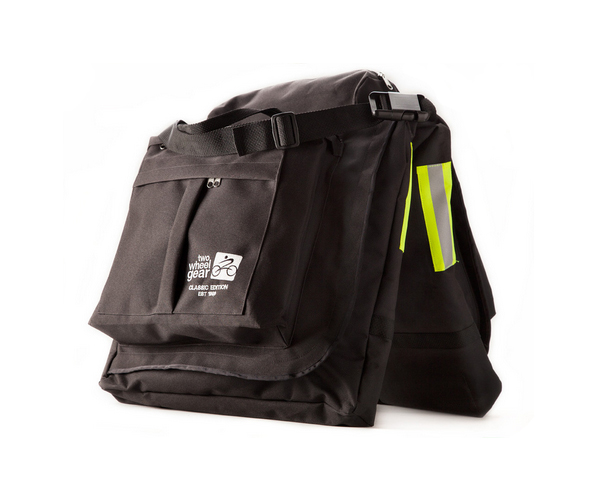 Two Wheel Gear was born of necessity. For biking to work in Calgary, AB, founders Craig Coulombe and Ken MacLean wanted a way to carry a change of clothes without using a backpack. The initial idea that founded the company in 1999 progressed from a prototype bike suit bag, that hangs over a rear rack with room for a complete change of clothes, made with Coulombe's mother-in-law's assistance to an online business with a small cult following. What is now the brand's Classic Bike Suit Bag has had fans around the world for a decade.
"The goal of the company has always been about enabling urban commuters to bike to work and The Classic Bike Suit Bag was the signature product to do it," said Two Wheel Gear's Mike Bruner from the company's current Vancouver, BC, outpost.
"When people see the the Classic (or Southwest Bike Suit Bag) for the first time, there is a sense of discovery," said Bruner. "A garment bag that easily transitions from pannier to shoulder bag seems like an obvious solution to an issue many bike commuters face, yet to many people, the idea never occurred to them that a product like that might exist. Once people discover the bag, they often become converts to the pannier system."
The most outwardly noticeable update to the Bike Suit Bag since its creation is the material used for the Southwest version. "We wanted to find materials that could be more than just "bomb-proof" or "luxurious" as both are wonderful, but neither is helpful out of its element. And being a Vancouver-based company, we need materials that are happy to be in the rain!"
"The material we ultimately chose was what we think is a revelation in waxed canvases," said Bruner. "This form of waxed cotton does not have the oily transfer you find with traditional waxed fabrics and is actually machine washable. It keeps the awesome water-resistant properties and ditches the tackiness you find left on your clothes or skin when using traditional waxed canvas products."
In addition to the Bike Suit Bag, Two Wheel Gear also makes The Heath, a messenger bag available in three waxed canvas colors. The brand is also expanding into new carrying solutions including a Leather Beer Growler Holster and Yoga Sling.
"We're really excited about a few products, projects, and items we'll be bringing forward in early 2015," said Bruner. "We are now able to provide custom monogramming on our leather and waxed cotton products in collaboration with our pals at Creative Mayhem in East Vancouver. It is a lot of fun being able to personalize a product for someone that will enjoy it for a lifetime … and playing with lasers is just plain awesome."
Autumn Gear Guide
Find inspiration in our Gear Guide that will keep you out on your bike through wind or rain.
Download Now