February 12, 2016
Would You Wear These Waxed Canvas Rain Chaps?
The creator of Splatterdashes is seeking feedback on their design.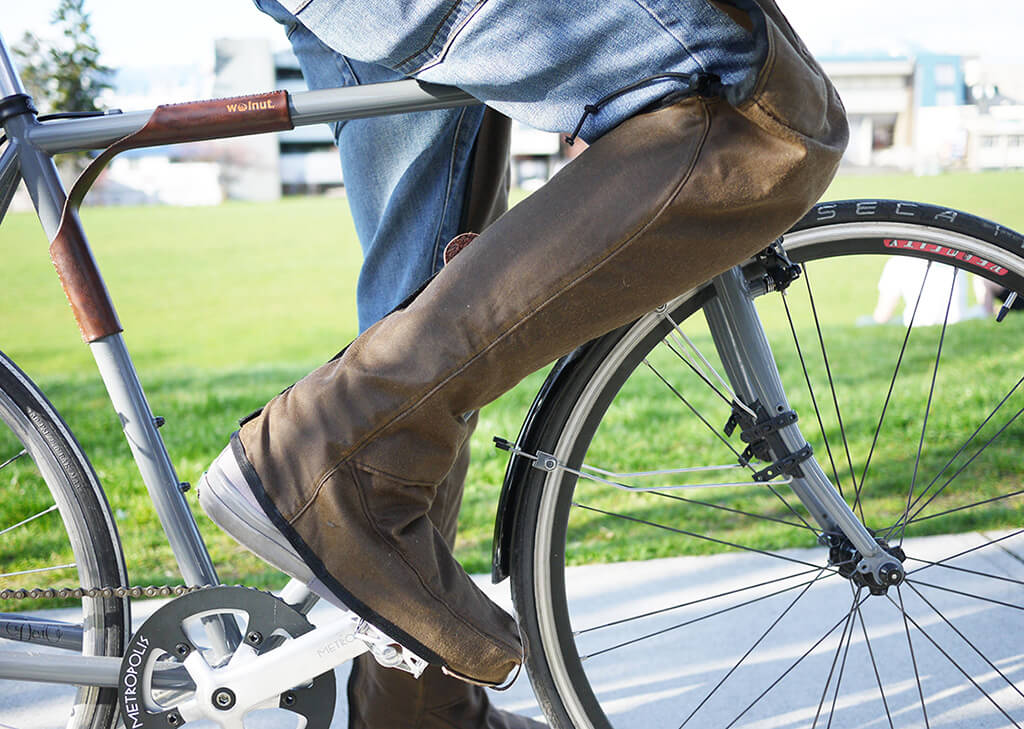 If it's raining and you're about to get on your bike, you put on your rain jacket. It's just makes sense. But if you're like a majority of bike riders cruising around the city in the wet season, you don't put on the accompanying rain pants. You just grin and bear it and let your jeans get wet.
Conventional rain pants are basically the antithesis to fashion, so it makes sense in a way that many urban cyclists eschew the Gore-tex trousers in favor of a slightly less-comfortable commute. But at the end of the day, getting wet sucks.

Andreas Eiken is hoping to solve that problem with the Splatterdashes, waxed canvas chaps that seek to provide a fashionable alternative to rain pants. The Splatterdahses cover your entire foot and extend up onto your thighs, providing coverage from the rain in all the areas you're likely to get hit, and not bothering with the areas you won't. They are also easy to put on and take off, meaning no more pulling over under an awning to take off your shoes and pull on your rain pants whenever it starts to pour. Eiken hopes that a convenient rain pant which fits better with an urban aesthetic will reduce some of the barriers that prevent people from riding through the wet months.
But Splatterdashes haven't formally hit the market yet. Eiken, a user experience and product designer from Vancouver, British Columbia, is seeking out feedback on the design before he moves ahead with the project. So what do you think? Would you wear Splatterdashes? Do you have any feedback or suggestions on the design? Share them in the comments!
Autumn Gear Guide
Find inspiration in our Gear Guide that will keep you out on your bike through wind or rain.
Download Now